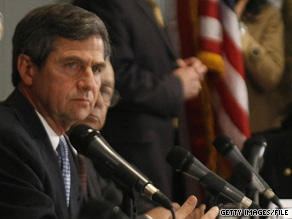 A new poll out Thursday shows Rep. Joe Sestak, D-Pennsylvania, gaining ground against the likely Republican nominee in a hypothetical general election match-up.
(CNN) – Less than a week before Pennsylvania's Democratic Senate primary, a new poll shows Democratic Rep. Joe Sestak gaining ground in a hypothetical general election match-up against former Rep. Pat Toomey, the likely Republican nominee.
In a head-to-head race between Toomey and Sestak, forty-two percent of those surveyed said they would back Toomey while 40 percent said they would support Sestak, according to a new Quinnipiac University poll.
In a Quinnipiac poll released April 8, Toomey led Sestak by 8 percentage points – with Toomey's support at 42 percent and Sestak's was 34 percent.
Related: PA Dem primary a dead heat, polls say
"The money that Sestak has been spending introducing himself to Democratic primary voters with TV ads seems to be having an effect on general election voters as well," Peter A. Brown, assistant director of the Quinnipiac University Polling Institute, said. "The difference is largely among independent voters, who favor Toomey 52 – 31 percent over Specter, but only 46 – 30 percent over Sestak."

In a race between Toomey and Sen. Arlen Specter, who left the GOP last year and became a Democrat, Toomey has a clear advantage. Forty-seven percent of Pennsylvania voters said they would support Toomey and 40 percent would vote for Specter, according to the poll.
In his effort to secure a sixth term in the Senate, Specter recently began an airing a television ad that features President Obama praising the Pennsylvania senator. "I love you," Obama tells a crowd in the 30-second spot, "and I love Arlen Specter."
But the new Quinnipiac poll suggests that Obama's support for Specter may not provide a boost in voters' eyes.
Forty-eight percent of those surveyed said they disapproved of how Obama was handling his job as president while 46 percent approved. Among independents, 49 percent disapproved of Obama's job performance and 41 percent approved.
The Quinnipiac University poll surveyed 1,161 registered Pennsylvania voters by telephone from May 4-10. The poll has a sampling error of plus or minus 2.9 percentage points.