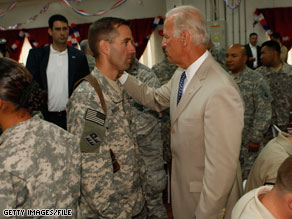 Beau Biden told supporters Saturday he will be back on the job soon.
(CNN) – Four days after apparently suffering a mild stroke, Delaware Attorney General Beau Biden - the son of Vice President Joe Biden - told supporters he is ready to get back to work soon.
The comments came in a surprise phone call to participants of a fundraising event the vice president hosted Saturday morning on his son's behalf.
"I just wanted to call and let each and every one of you know how much I appreciate your support for me and for the family on so many levels," the younger Biden said. "I'm looking forward to getting back to work and running for re-election as well."
Biden is seeking reelection to a second term as Delaware's top attorney. He recently served in Iraq for one year as a captain with the Delaware Army National Guard. He was considered a front-runner to fill his father's former U.S. Senate seat this November, but in January he announced he had decided against a run for higher office.
"I'm eager to continue [what] we started, that many of you helped me start in 2006," the younger Biden also told supporters. "I can't wait to see you all. I'll be home real soon."
The fundraising event, held at the vice president's family home in Greenville, Delaware, was scheduled before Biden's stroke Tuesday, according to a spokesman. Speaking at the event, the vice president pledged his son is back to "100 percent."
"I promise you. I give you my word as a Biden: He's doing well," Biden said. "The doctor said he's 100 percent now. Everything is squared away. Thank God for big favors."