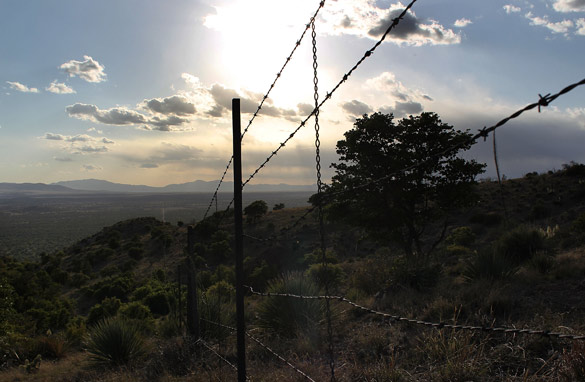 A barbed wire fence delineates the U.S.-Mexico border in Montezuma Pass, Arizona. (Photo Credit: Getty Images/File)
(CNN) - (CNN) - A broad coalition of civil rights groups filed a class-action lawsuit Monday challenging Arizona's controversial new immigration law, saying, among other things, that the measure violates the U.S. Constitution and will lead to racial profiling.
The coalition includes the American Civil Liberties Union, the Mexican American Legal Defense and Educational Fund, the National Association for the Advancement of Colored People and the Asian Pacific American Legal Center.
"Arizona's law is quintessentially un-American: we are not a 'show me your papers' country, nor one that believes in subjecting people to harassment, investigation and arrest simply because others may perceive them as foreign," ACLU attorney Omar Jadwat said in a written statement.
"This law violates the Constitution and interferes with federal law, and we are confident that we will prevent it from ever taking effect."

The recently enacted Arizona law initially allowed police to ask anyone for proof of legal U.S. residency, based solely on a police officer's suspicion that the person might be in the country illegally. Arizona lawmakers soon amended the law so that officers could check a person's status only if the person had been stopped or arrested for another reason.
Critics insist the law will lead to racial profiling; supporters deny the charge and insist the measure is needed to crack down on increasing crime involving illegal immigrants.
The lawsuit claims that the Arizona law violates of the U.S. Constitution's Supremacy Clause, under which federal statutes trump state laws. It also argues that the measure violates the Constitution's equal protection and free speech guarantees, as well as the prohibition of unreasonable seizures.
In Arizona, the city councils of Tucson and Flagstaff also have decided to challenge the new immigration law in court. U.S. Attorney General Eric Holder recently said the Justice Department is also considering filing a
lawsuit against the controversial measure.
President Barack Obama has criticized the measure, saying that in dealing with the immigration issue, "the answer isn't to undermine fundamental principles that define us as a nation."
Forty-two percent of adults nationwide support the Arizona law while 24 percent oppose it, according to a May 7-11 AP-GfK poll. Only 15 percent of Hispanics back the measure, however, while 67 percent oppose it, according a May 7-12 AP-Univision survey.
Fifty-nine percent of adults nationwide supported the measure in a May 6-9 Pew Research Center Poll. Thirty-two percent opposed it.
Updated: 2:13 p.m.