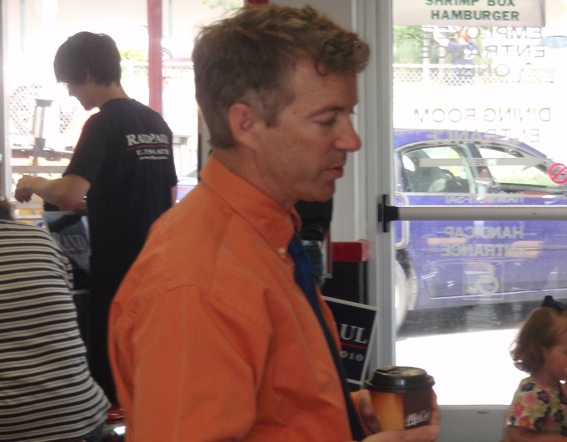 Rand Paul campaigns in Kentucky one day before the Senate primary there.
Corbin, Kentucky (CNN) – The two top Republicans vying for the Senate GOP nomination will be barnstorming the state Monday looking for a last minute boost of support and jostling over everything from farm subsidies and the future of coal to whether the state should continue to receive congressional earmarks.
But one of the key questions for those in the state, as well as the national observers looking at this primary, is what impact will the anti-tax, anti-Washington Tea Party movement have on this race?
Rand Paul, an ophthalmologist and first-time political candidate, has drawn a large amount of support from Tea Party activists in the state that has helped propel him into the lead, according to recent Louisville Courier-Journal/WHAS Bluegrass Polls.
"If we win, it will be a huge election for the Tea Party movement around the country," Paul said in an interview with CNN at a drive-in diner in Lexington. "Everywhere I have gone around Kentucky, the largest events I have been, have been Tea Party movements. I think it is not just about the heart and soul of the Republican Party, but really what direction the country takes."
Although there is no incumbent running in this race, Paul is still trying to use the frustration and anger with the establishment against his opponent, current Secretary of State Trey Grayson.
"What you will find is that people don't trust the career politicians anymore," he said. "They don't trust the people who are part of the establishment to fix it anymore because we have trusted them before, and we have elected them and we get the same old politics."
For his part, Grayson tries to tap into that voter anger by touting his experience and saying he has cut his office's budget and is a problem solver.
"I think one of the things we have been trying to argue, when you have all of those feelings, when you feeling like Washington is broken, you are mad at people who have been there saying one thing and doing something else that the kind of guy who actually has kept promises, done a good job, that is the kind of person you actually want," Grayson told CNN in an interview after appearing at a fundraiser for a volunteer fire department in the southwest part of the state.
Grayson has been working that region hard in the past few days, because it has a large amount of Republican primary voters.
Regarding the Tea Party activists, Grayson said he believes their impact may not be the largest factor in the election.
"The Tea Party movement, there is a lot of folks who identify with the Tea Party, but there are a fair number of those folks though who have been long term Republican Party activists. The Tea Party is not a monolith. Every group is a little bit different. I have my fair share of Tea Party support. To me the biggest factor in Dr. Paul's success is his ability to raise money out of state from his dad's contacts. Otherwise he wouldn't be in this race. That is the biggest factor- not the Tea Party, not the national environment."
Grayson is referring to Rand Paul's father, Texas Rep. Ron Paul, who ran for the Republican presidential nomination in 2008.
Meanwhile, several Democrats are battling for the Democratic nomination for the Senate seat with Lt. Gov. Daniel Mongiardo and Attorney General Jack Conway in a very tight race. The Democratic race has not drawn nearly the amount of attention as their GOP counterparts, a television network from Denmark will be one of those on hand at Tuesday's Rand Paul election night event.