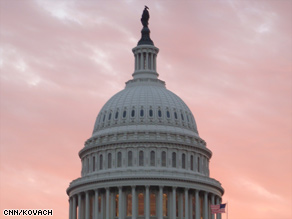 The CNN Washington Bureau's morning speed read of the top stories making news from around the country and the world.
WASHINGTON/POLITICAL
For the latest political news: www.CNNPolitics.com
Los Angeles Times: Tuesday primaries may be first expressions of voters' wrath
With anger all around, voters in three states will signal on Tuesday the depth of the country's anti-establishment mood, which threatens lawmakers in both parties and raises prospects for an even more polarized Congress after November. On the left, two veteran U.S. senators, Democrats Blanche Lincoln of Arkansas and Arlen Specter of Pennsylvania, are fighting for political survival, despite the support of party leaders from President Obama on down. On the right, the hand-picked candidate of Kentucky Sen. Mitch McConnell, the GOP leader on Capitol Hill, is struggling to rally against a "tea party" insurgent who spends nearly as much time criticizing Republicans as he does Democrats. More broadly, Tuesday's primaries could test Obama's campaign vow to achieve a more harmonious Washington.
CNN: 'I had a clear shot at re-election,' Specter says
Just days before he stands before Pennsylvania's Democratic primary voters, Sen. Arlen Specter, a former Republican, sought to cast his party switch of a year ago as a matter of principle rather than self-interested politics. Specter added that he was at odds with the GOP because of his vote in favor of President Obama's $787 billion stimulus package. Asked by CNN Chief Political Correspondent Candy Crowley about the anti-incumbent mood in the country with midterm elections six months away, Specter championed his record of ideological independence during his three decades in the Senate.
CNN: Sestak: Specter's 'a poster child' for what's wrong in Washington
Two days before voters go to the polls in Pennsylvania's closely watched Democratic Senate primary, Rep. Joe Sestak predicted Sunday he will emerge victorious over longtime Sen. Arlen Specter, partly because of the public's anti-incumbent, anti-Washington mood. The latest polls show Sestak, once the underdog against Specter's 30 years of incumbency, is now in a virtual tie with him and running competitively in a possible general election match-up against the likely Republican nominee.
New York Times: In Three Primaries, a Vital Test of the Tea Party's Strength
Rand Paul grabbed a microphone, climbed onto a short brick wall and told a gathering crowd of supporters to brace for an Election Day uprising on Tuesday. If his confidence is borne out by victory, it would mark one of the most important moments yet for the Tea Party, the anti-Washington, anti-big government movement that was partially inspired by the quixotic 2008 presidential race of his father, Representative Ron Paul of Texas. Establishment Republicans — including Senator Mitch McConnell of Kentucky, the minority leader, former Vice President Dick Cheney and the Chamber of Commerce — have united in opposition to Mr. Paul, but optimism was diminishing that their candidate, Trey Grayson, could prevail.
Washington Post: TARP becomes prime target for senators facing reelection battles
It was the chant heard around the Senate: Angry GOP delegates in Utah calling out "TARP! TARP! TARP!" as they tossed Sen. Robert F. Bennett from the primary ballot, punishment for the veteran lawmaker's 2008 vote to bail out the financial sector. Now, as the Senate works through a massive regulatory overhaul bill, some lawmakers are using the legislation as an opportunity to redeem themselves in the eyes of an angry electorate - a second chance to get on the right side of the Wall Street vs. Main Street argument.
Washington Post: Palin calls Fiorina and other Republican candidates 'mama grizzlies'
Sarah Palin appears to be building a pack of "mama grizzlies" in the 2010 elections that could send a powerful political message if she decides to run for president in 2012. In the past 10 days, Palin has thrown her endorsement behind former Hewlett-Packard executive Carly Fiorina, who is running for the Republican Senate nomination in California; state Rep. Nikki Haley, a candidate for governor in South Carolina; and Susana Martinez, the Dona Ana County district attorney seeking the GOP nod in the New Mexico governor's race. All three of the races in which Palin endorsed feature a female candidate running against one - or several - men.
Wall Street Journal: Oregon Rookie Republicans Get Boost
Republicans rarely win statewide in this bluest of West Coast electorates, which usually means the party's candidates tend not to be professional politicians. This year, that's a real plus. With Oregon's primary on Tuesday, the latest polls here show two rookies are likely to emerge as GOP nominees in both statewide races—governor and U.S. Senate. Both are tailoring campaigns to appeal to voters in an anti-insider mood, raising concerns among Democrats that incumbents, who usually see only token challenges, could face tough fights.
Miami Herald: U.S. Rep. Kendrick Meek tied to failed Poinciana Park project fraud case
As U.S. Rep. Kendrick Meek championed a proposed biopharmaceutical complex for Liberty City in 2003, his Miami chief of staff received $13,000 from the project's developer to help the aide buy a house, newly released police records show. The developer, Dennis Stackhouse, is now awaiting trial, accused of stealing nearly $1 million from the failed Poinciana Park project that was supposed to revitalize the blighted Liberty City community. Nothing was ever built. The police records show that Stackhouse engaged in an elaborate campaign to curry favor with Meek as the builder sought the congressman's help in obtaining federal funding for the project. Meek twice sought congressional earmarks to benefit the project but has insisted that was unrelated to his mother's work for the developer. On Friday, he repeated that his efforts were designed to help bring jobs and development to the heart of his district — not to provide political payback to Stackhouse.
Washington Post: Obama's terms for financial overhaul remain mostly intact
The Senate this week could hand President Obama his second major legislative victory of the year, both on administration priorities that seemed in doubt not long ago. Passage of a 1,400-page bill to overhaul the nation's financial regulations would come just two months after Obama signed a landmark health-care overhaul. But in the case of financial regulation, much more so than with health care, the Senate bill largely reflects the administration's initial blueprint, despite the fervent efforts of lobbyists and lawmakers of all stripes to alter it. Democratic leaders and administration officials have been careful not to boast about their success in keeping the legislation mostly intact, with some provisions growing even tougher during the Senate debate.
Politico: Encore? Giuliani sets stage for 4th act
He was on political life support after his disastrous 2008 presidential run, but Rudy Giuliani has positioned himself in a critical year as a potent Republican fundraiser and the party's star surrogate for hammering the White House on terror. After deciding against a run for governor after a prolonged flirtation with a bid, the former New York City mayor has upped his political and paid-speaking travel schedule. His high-profile reemergence, coinciding with the return of terror to the national headlines and numerous Sunday shows appearances bashing the president on the issue, leaves little doubt that he wants to be in the national mix. What's less clear is what Giuliani is looking for in his next act.
Dallas Morning News: Hutchison 'hasn't missed a beat' in D.C.
Sen. Kay Bailey Hutchison still lives out of a hotel here and calls herself a "commuter" from Dallas. But she has otherwise cemented her return to the Senate since losing the Republican primary for governor to Rick Perry. After announcing in late March that she would stay in the Senate through the end of her term in early 2013, Hutchison has rejoined the Senate GOP leadership, hired a new chief of staff and generally taken on the more public persona that has marked her career. Hutchison's increased exposure is partly a function of her expertise on several current hot-button issues, including NASA and financial regulations. But friends and colleagues said it is also a sign that any fatigue from the governor's race has dissipated. And being active in Texas issues during the remaining 2 ½ years of her term could help her rehabilitate her political image after her resounding loss to Perry.
Indianapolis Star: Democratic committee vote launches Ellsworth's Senate run
Off to a late start and an unorthodox selection as Indiana's Democratic nominee for U.S. Senate, Brad Ellsworth officially launched his campaign Saturday, calling himself a former county sheriff "increasing my patrol zone." In a morning meeting in Downtown Indianapolis, the Democratic State Central Committee voted to nominate Ellsworth as the party's candidate to succeed Evan Bayh, a two-term Democrat whose last-minute decision not to seek re-election left the party without a candidate in the May 4 primary. Ellsworth, 51, in his second term as a congressman from southwestern Indiana's 8th District, will run against Republican Dan Coats, who held the Senate seat before Bayh. Coats defeated four other primary candidates.
CNN: Palin to Obama: 'Do your job, secure our border'
Former vice presidential candidate Sarah Palin joined the national battle over Arizona's controversial new immigration law Saturday, appearing with Gov. Jan Brewer in Phoenix to denounce the Obama administration's criticism of the law. Brewer used the event to announce her first appointment to the state's new Joint Border Security Advisory Committee and the launch of a Website to combat what she said was a national misinformation campaign about the state's new law. Palin and Brewer, both Republicans, decried plans by opponents of the new law to boycott the state in protest.
CNN: WH to archives: Release Kagan documents from Clinton years
The White House has asked the National Archives to release 160,000 pages of documents from Elena Kagan's time in the Clinton White House to aid upcoming Senate confirmation hearings on her nomination to the Supreme Court. A letter Saturday from Robert Bauer, the counselor to President Barack Obama, asked the archives to release all records involving Kagan's work as associate counsel to Clinton and deputy director of the Domestic Policy Council, as well as all e-mails and some other documents. Kagan worked in the Clinton administration from 1995 to 1999.
CNN: Beau Biden says he'll be back soon
Four days after apparently suffering a mild stroke, Delaware Attorney General Beau Biden – the son of Vice President Joe Biden – told supporters he is ready to get back to work soon. The comments came in a surprise phone call to participants of a fundraising event the vice president hosted Saturday morning on his son's behalf.
CNN: Speakers at NRA convention target Washington, midterms
Speakers at the National Rifle Association's annual leadership forum on Friday touted Second Amendment rights and also set their sights on the upcoming midterm elections. Earlier, Haley Barbour, chairman of the Republican Governors Association, used his speech to rally support not only for gun rights, but for energized involvement in this year's midterm elections. The NRA has long been considered an influential force in elections. Pictures of politicians holding guns are as ubiquitous as them kissing babies.
NATIONAL
For the latest national news: www.CNN.com
CNN: BP says tube successfully inserted back into Gulf leak
Oil company BP says it has resumed pumping oil to a ship on the surface after a weekend setback that halted efforts to siphon off the crude spewing from a damaged well at the bottom of the Gulf of Mexico. Crews re-inserted the tube into the well's riser stack Sunday. The 4-inch pipe is now connected to a ship on the surface, 5,000 feet above the sea floor, and is pumping oil back to the surface, BP spokesman Mark Proegler told CNN. If successful, the technique will capture most of the oil that is pouring out of the well. The well has been spewing an estimated 210,000 gallons, or 5,000 barrels, of light sweet crude a day into the Gulf since the sinking of the drill platform Deepwater Horizon in late April.
CNN: Rhode Island school reaches deal to rehire fired teachers, union says
A Rhode Island high school that fired all its teachers in February has reached a tentative agreement with the school's teachers union to rehire them, the union announced Sunday. The school board of the Central Falls School District, outside Providence, had voted to fire 93 staff members from its high school - including teachers, administrators and other personnel - over low student performance. The agreement, which must still be ratified by teachers, includes measures to improve student achievement, including a longer school day, targeted professional development for teachers and more after-school tutoring, the statement from the Central Falls Teachers Union said.
CNN: UVA women's lacrosse honors slain teammate in first game since death
Love was present everywhere at the University of Virginia's Klockner Stadium on Sunday - in the stands, over the loudspeaker and on the field. "One Team; One Heart; One Love," read the warm-up T-shirts that members of the school's women's lacrosse team wore. Spectators waved a sign reading "No. 1 Yeardley in our hearts." At the end of the game, as the team celebrated its 14-12 victory over Towson University, the song "Believe" by Cher played over the stadium sound system. Its lyrics: "Do you believe in life after love?" The tribute was in honor of slain teammate Yeardley Love, the 22-year-old senior found dead in her off-campus apartment on May 3. A former boyfriend and member of the school's men's lacrosse team, George Huguely, has been charged with first-degree murder in her death.
INTERNATIONAL
For the latest international news: http://edition.cnn.com
CNN: Iran agrees to send uranium to Turkey, report says
Iran has agreed to ship its low-enriched uranium to Turkey, state media said Monday. Western nations had been asking Iran to send the low-level uranium out of the country to be enriched elsewhere, but the country had resisted until now. On Sunday, Turkish Prime Minister Recep Tayyip Erdogan announced he was heading to Iran to join nuclear talks in Tehran involving Brazilian President Luiz Inacio Lula da Silva and Iranian President Mahmoud Ahmadinejad. The meeting in Tehran sought to reach a breakthrough in the showdown over Iran's nuclear program, according to Erdogan.
CNN: Volcanic ash prompts UK, Dutch, Irish airport closures
London's two major airports were closed Monday as a cloud of ash from a volcano in Iceland moved east into England, British air authorities said. All flights into and out of Heathrow and Gatwick airports have been canceled for a six-hour period beginning early Monday, airport officials said. The Monday cancellations were the latest in a round of weekend closures of airports across the United Kingdom and into continental Europe. The problems began in mid-April, when the volcano beneath the Eyjafjallajokull glacier in southern Iceland erupted and sent a cloud of ash into the atmosphere, disrupting international travel for several days. There's no way to know how long the volcano will continue spewing ash into the air, Georgia Tech scientist Josef Dufek told CNN.
CNN: Thai Red Shirt leader dies
A leader of the anti-government Red Shirts has died after being wounded by a sniper's bullet during protests last week, hospital officials confirmed Monday. The government declared a holiday Monday and Tuesday "in order to ensure the safety of the public" after the protests paralyzed the city center. At least nine international embassies in Bangkok - including the U.S., British, Belgium, Canadian, German, Japanese, New Zealand, Swedish and Australian embassies - said they will remain closed until Tuesday at the earliest as a result of the clashes.
Wall Street Journal: Mexico Seeks Missing Politician
Mexican authorities scrambled over the weekend to locate Diego Fernández de Cevallos, a former presidential candidate and wealthy lawyer whose disappearance is the most high profile apparent kidnapping since President Felipe Calderón began his war on drugs in 2006. Mr. Fernández, who ran for president with the National Action Party, or PAN, in 1994, disappeared Friday night in the central state of Querétaro, officials from the attorney general's office said. His car was found abandoned with bloody footprints nearby. The officials said on Sunday they had no knowledge about who might have kidnapped him.
CNN: Iraq PM suffers blow as Baghdad recount shows no change
A recount of votes in the Iraqi election found no change in seat allocation for any of the blocs in the most populous province, Baghdad, officials said Sunday. That is a blow to Prime Minister Nuri al-Maliki, who claimed there was election fraud and won a court appeal for the recount after his coalition came in second by two seats. Many international observers, however, described the March 7 elections as fair. Saad al-Rawi, commissioner of the Independent High Electoral Commission, said the recount of Baghdad votes has been completed. The province is allowed 68 seats out of 325 in Iraq's parliament.
CNNMoney: Greek leader: Banks bet against us
The prime minister of Greece said Sunday that he would not rule out taking legal action against banks that may have preyed on his country's precarious fiscal state. "You have banks funding hedge funds that are actually then betting against governments," George Papandreou told CNN's Fareed Zakaria. He said his government is investigating potential "negative practices" in the financial sector and called for greater regulation. Greece is the flash point for a government debt crisis gripping Europe and roiling markets worldwide. Last week, European leaders announced a massive, nearly $1 trillion, rescue package in a bid to contain the crisis by helping the weakest nations.
Times of London: Coalition creates 100 peers with Lords deal
David Cameron and Nick Clegg will create more than 100 peers to ensure that controversial legislation gets through Parliament. The coalition government has agreed to reshape the House of Lords, which is currently dominated by Labour, to be "reflective of the vote" at the general election. That saw the Tories and the Liberal Democrats together get 59 per cent. None of Labour's 211 existing peers can be removed, so the coalition must appoint dozens of its own to rebalance the upper chamber. The first wave is expected soon, to enable additional ministerial appointments to take place, with further announcements within the parliament.
Bloomberg: North Korea Aid Request Rejected by China's Wen, JoongAng Says
China rejected North Korea's request for aid at a meeting between Premier Wen Jiabao and Kim Jong Il, which may explain why Kim cut short his stay in Beijing, the Seoul-based JoongAng Ilbo newspaper reported.
CNN: Reports: Sudanese opposition leader arrested
Sudanese Islamist opposition leader Hassan al-Turabi - once President Omar al-Bashir's main ally - was arrested Saturday night, according to state media and al-Turabi's political colleagues. State-run Ashorooq network said al-Turabi, head of Popular Congress Party (PCP), was detained after remarks he made in a local newspaper criticizing al-Bashir's regime and its handling of last month's elections. Ibrahim al-Senousi, PCP deputy, said that security forces raided al-Turabi's house and detained him.
BBC News: NATO future strategy to be set out by expert panel
A group of experts led by former US Secretary of State Madeleine Albright is due to report on the future strategy it recommends for NATO. The challenges facing NATO include the war in Afghanistan, relations with Russia and missile defense. Afghanistan has been a huge strain on the alliance and fuelled tensions on whether its future focus should be on distant missions or closer to home. NATO is due to agree on a new strategic concept at a summit in November. The experts will present their report at NATO headquarters in Brussels on Monday morning.
CNN: BA says crew strike will cost $200M
British Airways will tell the High Court on Monday that a 20-day cabin crew strike due to start on Tuesday will cost the airline £138m ($199.3 million), as it launches a last-ditch legal attempt to avert the walkout. But with a volcanic ash cloud threatening to close much of British airspace in the next two days, the Unite union representing 12,000 cabin crew said it was "seriously considering" calling off the first of four back-to-back five-day strikes. BA, which took legal action that halted a planned 12-day strike over Christmas, is hoping to repeat its success in the High Court amid a day of frantic meetings aimed at resolving the bitter dispute over wage and staff levels.
BUSINESS
For the latest business news: www.CNNMoney.com
CNNMoney: Investors: All eyes abroad
Another tough week for the markets has left investors wary of equities and more focused on bonds, gold and the dollar. Worries that Europe's debt crisis will spread have driven the selling. At the same time, stocks are amidst what some analysts say is an unsurprising pullback after a 14-month advance.
Business Week: Asian Stocks Fall Most in Six Months on Europe Deficit Concerns
Asian stocks fell, dragging the MSCI Asia Pacific Index down the most in nearly six months, as the euro declined against the yen and the dollar on concern measures to reduce fiscal deficits will hurt European growth. HSBC Holdings Plc, Europe's biggest bank, dropped 2.6 percent in Hong Kong. Esprit Holdings Ltd., which gets more than 80 percent of its revenue from Europe, plunged 7 percent. Sony Corp., which gets 21 percent of its revenue from Europe, lost 4.2 percent. BHP Billiton Ltd., the world's No. 1 mining company, sank 3.9 percent in Sydney on lower commodity prices.
CNNMoney: Stocks: $2.9 trillion on the sidelines
Investors have socked away billions of dollars since March 2009 and it's unlikely that money will come pouring into the stock market anytime soon. After getting slammed by the housing collapse and a recession that nearly became the second Great Depression, individual investors have reason to be skittish. Stocks have been trading in jerky, volatile trading, with the three major gauges currently just barely higher for the year. That seesawing is probably going to be the trend for the near term as the markets work their way higher. On top of that, many investors who got out of markets in the huge 2008-09 market selloff still haven't returned and it's unclear when that might change.
Business Week: Shoppers Check Out of Stores Via Cell Phone
On May 4, Visa and contactless device vendor DeviceFidelity briefly posted online—and then removed—a press release that said the companies are building a contactless microSD payment card, coupled with a protective case that fits iPhones. Consumers could use the technology to pay at fast food outlets, in taxis, and at train stations, the press release said. Visa spokeswoman Elvira Swanson later declined to comment on any aspect of the information, as did DeviceFidelity co-founder Deepak Jain. The card issuers' goal is to decrease the use of cash, still involved in half of all point-of-sale transactions. Each purchase conducted with a contactless card affords issuers a small fee. The financial institutions also share in late charges consumers can accrue on their credit cards. "For us, it's real growth if we can be more competitive with cash," says James Anderson, a vice-president at MasterCard.
CNNMoney: No pain at the pump this Memorial Day
Gas prices have been drifting lower over the past week, which is welcome news for drivers who are gearing up to hit the road for Memorial Day weekend. The average price for a gallon of unleaded gas sits at about $2.89 a gallon. That's about 27% higher than last year, but about 1.4% below the 2010 peak of about $2.93 a gallon set on May 6, according to motorist group AAA. With just two weeks to go until the official start of the summer driving season in the United States, prices could continue to ease, which analysts call an abnormality.
Wall Street Journal: Joblessness Hits the Pulpit
While the economy appears to be recovering from the worst downturn in generations, more clergy are facing unemployment as churches continue to struggle with drops in donations. In 2009, the government counted about 5,000 clergy looking for jobs, up from 3,000 in 2007 and 2,000 in 2005. Church staff are feeling the pinch, too. In an October survey, about one in five members of the interdenominational 3,000-member National Association of Church Business Administration said they had laid off staff amid the recession. The official unemployment rate among clergy sits at 1.2%, far below the national average jobless rate, but layoffs can be particularly painful for ministers. Churches aren't subject to unemployment taxes, so laid-off employees can't collect the benefits available to other workers.
In Case You Missed It
Three-term Senator Robert Bennett (R-Utah) talks to CNN's Candy Crowley about his recent defeat and his past votes.
A sign of success at curtailing the disastrous oil spill, as Pat St. Claire reports.
Subscribe to the CNN=Politics DAILY podcast at http://www.cnn.com/politicalpodcast
And now stay posted on the latest from the campaign trail by downloading the CNN=Politics SCREENSAVER at http://www.CNN.com/situationroom