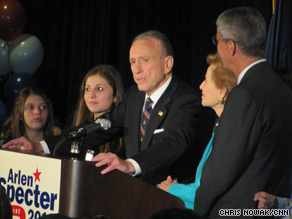 Sen. Arlen Specter was defeated Tuesday night by Rep. Joe Sestak.
Washington (CNN) – So much for political kingmakers and the machine, at least in Kentucky and Pennsylvania. National and statewide political officials and operatives watched their chosen candidates fall Tuesday in two separate primaries with two different narratives weaved together by the common thread of anti-establishment sentiment.
Republican-turned-Democratic Sen. Arlen Specter of Pennsylvania saw his 30-year career in the Senate come to an abrupt end at the hands of Rep. Joe Sestak despite being endorsed by President Obama, Vice President Joe Biden, Pennsylvania Gov. Ed Rendell and just about every big-name Democrat.
In Kentucky, Senate Minority Leader Mitch McConnell failed in his attempt to crown Secretary of State Trey Grayson the GOP Senate nominee in the race to succeed retiring Sen. Jim Bunning. Grayson lost in a landslide to Rand Paul, whose campaign was fueled by Tea Party activists.
Meanwhile in Arkansas, Sen. Blanche Lincoln failed to beat back a challenge from the liberal wing of the Democratic Party and will face Lt. Gov. Bill Halter again in a primary runoff. Round two takes place June 8.
CNN Radio: Voters send a message in Tuesday night's primaries: Insiders are out. CNN's John Lisk and CNN Deputy Political Director Paul Steinhauser examine a common thread in the races.

These three races all have unique storylines with their own set of actors, subplots and circumstances. Yet each political contest shares the overarching themes of anti-Washington and anti-establishment exacerbated by a sluggish economy and high unemployment rate.