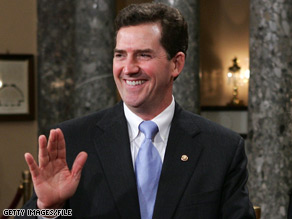 Sen. Jim DeMint has made a series of endorsements in 2010.
Washington (CNN) - Jim DeMint has a message to the Washington political establishment: An "American awakening" is taking place across the country, as seen in the Tea Party-backed Rand Paul's win in Kentucky's Republican Senate primary.
"It shows that Americans want strong leaders who will stand up to the massive spending, bailouts, and debt in Washington that are bankrupting our country," DeMint said in a statement.
Among conservatives and Tea Party groups, DeMint - a first-term Republican senator from South Carolina - has become a political heavyweight, lending conservative credentials and financial resources to little-known, outside-the-beltway candidates.
His efforts, an expert said, is geared towards building support for himself with the conservative base and positioning himself as a leading voice in the anti-Washington movement.
"I would characterize his efforts to position himself as an attempt to be seen as the thinking person's Sarah Palin," said Jeremy Mayer, a political scientist and professor of public policy at George Mason University. "He has a lot of the same positions as Sarah Palin, he speaks to a lot of the same constituencies but he has a much longer record of public service" and isn't as polarizing.