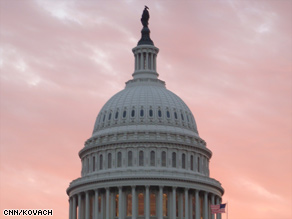 The CNN Washington Bureau's morning speed read of the top stories making news from around the country and the world.
WASHINGTON/POLITICAL
For the latest political news: www.CNNPolitics.com
CNNMoney: Senate passes sweeping Wall Street reform
The Senate on Thursday passed the most sweeping regulatory overhaul of the financial system since the New Deal. The bill, which passed 59-39, imposes more oversight and stronger capital cushions for the largest banks and Wall Street firms, while aiming to stop bailouts, shine a light on complex financial products and strengthen consumer protection. The bill only needed 51 votes to pass. Four Republicans voted for it and two Democrats voted against it. Earlier in the evening, the bill cleared a tougher hurdle, a 60 vote threshold, to end debate.
CNNMoney: Lawmakers hit BP: 'Live video doesn't lie'
After days of badgering from lawmakers seeking greater access to video footage of the Gulf of Mexico oil spill, BP Thursday made a live camera available for the public to view the disaster site 5,000 feet below water. The camera is moved periodically. Some of the shots show oil gushing from pipes or the above the well head. The new video has drawn scrutiny on BP's claim of how many barrels of oil were leaking out daily. Lawmakers seized the opportunity to criticize the company, accusing it of purposely misleading the public.
Lexington Herald Leader: Paul's statements on discrimination stir controversy
Fresh from Tuesday's victory to become the Republican candidate for U.S. Senate in November's general election, Rand Paul got hammered Thursday as political observers parsed statements he made in the national media about anti-discrimination laws. The Bowling Green eye surgeon and Tea Party movement favorite had to hustle to try to quell the firestorm of criticism that greeted comments he made on MSNBC and National Public Radio on Wednesday. Similar views from Paul had surfaced first in the Courier-Journal on April 25, when the newspaper's editorial board wrote following an interview with him that Paul "holds an unacceptable view of civil rights, saying that while the federal government can enforce integration of government jobs and facilities, private business people should be able to decide whether they want to serve black people, or gays, or any other minority group." While those statements received little attention, there was a different result when Paul reiterated on NPR and MSNBC's Rachel Maddow Show that anti-discrimination laws should only apply to public institutions.
The Hill: Pelosi delays floor vote on tax extensions
Facing a Blue Dog revolt, Speaker Nancy Pelosi (D-Calif.) delayed the floor vote on a bill extending several individual and business tax breaks, which had been due Friday. The centrist Democrats object to several things — to how quickly the bill was being brought up, to the designation of unpaid-for provisions as emergency measures and to the lack of a price tag from the Congressional Budget Office. Brushing aside the notion that she lacked the support to pass the bill, Pelosi said its timing would be announced after Thursday afternoon's caucus meeting.
Washington Post: Sen. Chuck Schumer is poised to be the Senate majority leader
During his three-decade legislative career, Schumer, 59, has developed a reputation as a razor-elbowed, shamelessly self-serving, media-addicted political monster. He is also arguably the single most effective lawmaker of his generation. Now, with confidant Senate Majority Leader Harry Reid (Nev.) hanging on to his seat by a thread, the Brooklynite is nearing the goal line of his long game. Succeeding Reid would make Schumer the highest-ranking Jewish elected official in American history and, more important for the uber-competitive politician, the first among peers.
CNN: What will Specter do with the rest of his Senate term?
After being beaten in his bid to keep his seat, Sen. Arlen Specter will make the most of the remainder of his term in office, some observers predict. Specter became the biggest incumbent to be beaten in this anti-Washington election year, losing to fellow Democrat, Rep. Joe Sestak, in Tuesday's primary election in Pennsylvania. Specter was a Republican for most of his 30 years in the Senate but switched parties last year after voting with Democrats on President Obama's stimulus bill. Specter will re-emerge in the political stage at the end of June when the Senate Judiciary Committee, on which he serves on and previously chaired, will hold confirmation hearings for Supreme Court nominee Elena Kagan.
CNN: Arkansas Dem candidate borrows 'Change' slogan
A Democratic candidate, who does not have President Obama's endorsement, is happy to borrow a signature slogan from the president's 2008 campaign: "Change." That familiar one-word motto is the title of a new TV ad, released Thursday, from Arkansas Lt. Gov. Bill Halter. The Democrat is locked in a run-off with Sen. Blanche Lincoln after neither candidate captured 50-percent of the vote in Tuesday's primary. The run-off is set for June 8.
St. Petersburg Times: Unfettered by party, independent Crist backs constitutional ban on gerrymandering
Here's proof that Gov. Charlie Crist is flexing his muscles as a candidate not tethered to a party platform: This week he endorsed two constitutional amendments that attempt to ban incumbency protection when the Republican-controlled Legislature rewrites the political boundaries starting next year.
CNN: Haley has momentum in South Carolina race, rivals admit
After a poll Thursday showed Tea Party favorite Nikki Haley surging to the front of the pack in the race for the South Carolina's Republican gubernatorial nomination, her opponents acknowledged – but sought to downplay – her fresh momentum. Haley, a state representative with little money and a meager statewide profile, entered the race last year as a dark horse candidate after supporters of Gov. Mark Sanford urged her to run under the reform mantle. Her small government views won over national conservative activists, but she struggled to make headway in her own four-way GOP primary.
Wall Street Journal: Cuomo's Message: Don't Cross Me
As Democrats in Albany prepare to celebrate the kickoff of Andrew Cuomo's campaign for governor next week, Mr. Cuomo is quietly putting out the word that if he's elected lawmakers who resist his agenda will be punished. Mr. Cuomo, who holds a wide lead in polls over possible challengers, has said he would even go so far as to support rival candidates against recalcitrant legislators of either party, according to people familiar with private discussions the attorney general has had with potential supporters.
Las Vegas Sun: GOP Senate race tightens, turns testy
The Republican Senate primary, just days before early voting begins, has gained new intensity, as leading candidates fight for the chance to take on Sen. Harry Reid. Former Assemblywoman Sharron Angle continued to show momentum by winning the endorsement of the Club for Growth, a conservative group that often opens deep pockets to its favored candidates. Angle won the group's endorsement in 2006 in a Republican primary she would eventually lose to Rep. Dean Heller in the 2nd Congressional District.
Indianapolis Star: Stutzman announces run for Souder's seat
State Sen. Marlin Stutzman announced this morning that he will seek the nomination in a special election to replace U.S. Rep. Mark Souder who will resign Friday. Souder announced Tuesday that he's had an extramarital affair with a part-time member of his staff, who Capitol Hill sources have identified as Tracy Jackson. Stutzman, who finished second in the Republican primary for U.S. Senate behind Dan Coats, said after consulting with his family and getting hundreds of phone calls, e-mails and Facebook messages, he decided to throw his hat in the 3rd Congressional District's ring.
CQ Politics: DCCC Hits Downer on Gulf Crisis
The Democratic Congressional Campaign Committee took a particularly tough shot at former Louisiana Speaker Hunt Downer (R) - who retired late last month from his post as a major general in the Louisiana National Guard - after he announced today that he filed to run in Louisiana's 3rd district this fall." Now is one of the times that Louisiana families need Hunt Downer at the National Guard the most, but he chose to put his own politics first," said DCCC spokesman Jesse Ferguson, referring to the ongoing oil spill in the Gulf of Mexico that was caused by an explosion at a drilling platform on April 20.Downer responded Thursday evening noting that his decision to retire was made long before the spill.
The Hill: Oil spill taxes prove handy for funding summer jobs
The Gulf oil spill that began flooding Louisiana marshlands Wednesday is creating billions of dollars in ghost money for tax writers on Capitol Hill. Democrats are proposing a tax increase on oil to pay for cleanup efforts, but an accounting loophole also allows them to use the extra revenue to offset the cost of a massive economic aid package. They say all the excise tax proceeds will go to the Oil Spill Liability Trust fund, but they are also using it as a counterweight for unrelated spending, such as on a $1 billion summer jobs program.
NATIONAL
For the latest national news: www.CNN.com
CNN: 'Reason to believe' Pakistani Taliban plotting to strike U.S.
U.S. intelligence has strong reason to believe that the Pakistani Taliban is actively plotting to hit interests in the U.S. and American targets overseas, a U.S. official told CNN Thursday. The concerns about the group that authorities say directed the Times Square bombing plot are coming from multiple streams of information, including from Faisal Shahzad, the Times Square bombing suspect, the official said.
CNN: Obama's top intelligence adviser resigns
The president's top intelligence adviser, Director of National Intelligence Dennis C. Blair, has announced his resignation, effective Friday. Blair, a retired four-star Navy admiral, has served in the post since January 29, 2009. His office oversees 17 federal agencies of the U.S. intelligence community, including the CIA, the FBI and the Department of Homeland Security. Word of Blair's resignation comes two days after the Senate Intelligence Committee released a report that sharply criticized the National Counterterrorism Center, overseen by Blair's office, for failing to properly coordinate intelligence activities to detect the alleged attempted Christmas Day airline bombing in advance.
CNN: BP: Oil leak could be stopped by next week
A BP official says a gusher of oil pouring from its damaged Gulf of Mexico well could be shut off as early as next week. BP Managing Director Bo Dudley said Thursday night the company will pump fluids into the well this weekend in the beginning of a process that - if successful - could lead to the leak finally being closed off in a matter of days. Earlier in the day, BP acknowledged that the underwater gusher is bigger than estimated to date, as new video showed a cloud of crude billowing around its undersea siphon.
Washington Post: Scientists create cell based on man-made genetic instructions
Scientists reported Thursday that they have created a cell controlled entirely by man-made genetic instructions - the latest step toward creating life from scratch. The achievement is a landmark in the emerging field of "synthetic biology," which aims to control the behavior of organisms by manipulating their genes. Although the ultimate goal of creating artificial organisms is still far off, the experiment points to a future in which microbes could be manufactured with novel functions, such as the ability to digest pollutants or produce fuels. Some ethicists fear that the strategy could also be used to produce biological weapons and other dangerous life forms.
INTERNATIONAL
For the latest international news: http://edition.cnn.com
CNN: Mothers meet with detained hikers in Iran
The mothers of three American hikers detained in Iran met with their children Thursday, Iran's Press TV reported, airing pictures of the tearful reunion. Sarah Shourd, 31; Shane Bauer, 27; and Josh Fattal, 27, were detained in July. Their families have said the three accidentally strayed across an unmarked border into Iran while on a hiking trip in Iraq's Kurdistan. The hikers' mothers have requested a meeting with Iranian President Mahmoud Ahmadinejad and Supreme Leader Ayatollah Ali Khamenei, Shafii said.
CNN: North Korea threatens to exit pact
Tensions between North Korea and South Korea escalated Friday, a day after Seoul blamed the North for sinking one of its warships in March. North Korea threatened to back out of a nonaggression pact between the nations, while the South Korean president accused its northern neighbor of engaging in military provocation, South Korea's Yonhap news agency reported.
Bloomberg: Clinton Heads to China in North Korea Torpedo Crisis
Secretary of State Hillary Clinton arrives in Asia today for talks with China and U.S. allies now focused on how to manage a crisis over suspected North Korean involvement in the sinking of a South Korean warship. Kurt Campbell, the U.S. assistant secretary of state for East Asia, said the "central issue" for Clinton will be getting assessments of how to respond to North Korea after an international probe blamed the communist regime for firing a torpedo that killed 46 South Korean sailors on March 26.
CNN: Thailand to prosecute protest leaders
Many streets in Bangkok were eerily calm Thursday; a day after the city devolved into deadly clashes between protesters and government forces. Government officials extended a dusk-to-dawn curfew for 24 provinces until Sunday in the hopes that their successful crackdown on protesters would sustain. "We are confident that in the next few days peace and civility will return to Thailand," said Panitan Wattanayagorn, a government spokesman. The spokesman said the government would quickly move to prosecute the Red Shirt protesters that were arrested during the riots.
Wall Street Journal: France, Germany Urge New Discipline
France joined Germany in calling for tougher rules to prevent big government deficits and said they would work together on measures to stabilize the euro zone, as the currency bloc struggles to restore markets' shaken confidence about its future. Germany's government also called on leading economies to accelerate the overhaul of financial-market rules, and on euro-zone members to coordinate economic policies more closely. France said Thursday it is considering amending its own constitution to make budget discipline a mandate for future French governments. German Chancellor Angela Merkel, hosting an international conference on financial regulation in Berlin, sought to address criticism at home and abroad of her handling of Europe's debt crisis. Germany's initiatives have so far drawn a skeptical response from governments in and outside Europe.
CNN: Pakistan blocks YouTube, Facebook over 'sacrilegious content'
Pakistan on Thursday blocked access to YouTube - a day after it shut down the social networking site Facebook - in response to an online group calling on people to draw the Prophet Mohammed. The Pakistan Telecommunication Authority ordered operators to shut down YouTube "in view of growing sacrilegious contents on it," officials said in a statement.
CNN: Ex-president Musharraf vows return to Pakistan politics
Former Pakistani President Pervez Musharraf plans to return to Pakistan and to re-enter politics, he told CNN Thursday. Musharraf declined to commit to seeking a particular office, telling CNN's Wolf Blitzer that "the question... of whether I am running for president or prime minister will be seen later." But he strongly implied he wants to be prime minister.
Wall Street Journal: China Plans to Keep Iran Oil Projects Moving Ahead
China's biggest oil company is pressing ahead with oil-and-gas projects in Iran valued at billions of dollars, its top executive said, highlighting Beijing's strong economic ties to Tehran even as China has signed onto a U.S.-led sanctions effort against Iran. The longstanding initiatives by China National Petroleum Corp., running in tandem with a $60 billion global investment plan over the next decade, wouldn't violate the United Nations Security Council draft resolution devised by the U.S. to punish Iran for its nuclear program. China, along with Russia, agreed to that draft after concessions from Washington that protects energy and financial ties to Iran.
New York Times: Repression Is Alleged Before Vote in Ethiopia
Diplomats, human rights groups and witnesses say the Ethiopian government is methodically stifling dissent in the prelude to this weekend's national elections, denying food aid to opposition supporters, jailing political opponents and possibly killing a few activists, part of a broader pattern of repression in several of America's closest allies in Africa, especially during election time. Ethiopia is one of the poorest and most aid-dependent countries in the world, and the American government and the World Bank, two of its biggest donors, are investigating potential leaks in the aid system and allegations that the government is manipulating food aid to reward political allies and literally starve out political opposition.
BBC News: President reinstates prime minister of Somalia
The president of Somalia has backed down on his decision to sack the country's prime minister. In a statement, the president said he has asked the prime minister to continue his duties. Internal splits in the government erupted first with the resignation of the parliamentary speaker. President Sheikh Sharif Ahmed then dismissed both the prime minister and his cabinet in an apparent attempt to establish his own authority. The latest twist in Somalia's political turmoil comes at time when the UN-backed government is battling an insurgency against Islamist extremists.
BUSINESS
For the latest business news: www.CNNMoney.com
CNNMoney: Toyota to partner with electric carmaker Tesla Motors
Toyota Motors will invest $50 million in electric car maker Tesla, the companies announced Thursday, and form a partnership aimed at developing new technology. Tesla also announced plans to purchase part of a plant owned by Toyota in Fremont California, which had been operated as a joint venture between General Motors and Toyota. Toyota said it has agreed to purchase $50 million of Tesla's common stock issued in a private placement. The deal will close immediately after the completion of Tesla's currently planned initial public offering.
CNNMoney: Fear spikes, stocks tank
Stocks got pummeled Thursday, with the Dow, Nasdaq and S&P 500 losing enough to fall into "correction territory" – marked by a drop of more than 10% off the rally highs. Worries about how the European debt crisis and slump in the euro will impact the global recovery fueled the selling, extending the month-long declines. The Dow Jones industrial average fell 376 points, seeing its biggest one-day point loss since February 10, 2009. Thursday's point loss was equivalent to 3.6%, the biggest one-day percentage loss since March 5 of 2009.
CNNMoney: Goldman glitters less
With Thursday's 3% tumble, Goldman shares have dropped $50 each since the Securities and Exchange Commission announced April 16 that it was suing the firm for fraud in a 2007 subprime debt sale. The plunge – half coming the day of the SEC announcement and half since then - has cut the firm's market capitalization by almost $26 billion. Perhaps even more poignantly, it has made CEO Lloyd Blankfein, the firm's biggest individual shareholder and the guy who unintentionally brought you the rich "God's work" trope, $87 million poorer on paper. His Goldman stock is worth a mere $235 million now.
CNNMoney: Nearly 75% of homes are affordable
It's prime time for house hunters. Nearly anyone with a decent job and a good credit score can afford to buy in their home towns. More than 72% of American families making the nation's median income of $63,800 a year could afford to buy a home during the first three months of 2010, according to a report from the National Association of Home Builders and Wells Fargo. The national median home price for the quarter was $175,000.
New York Times: Calling on Sony and Others, Google Makes a TV Move
Google recruited a solid lineup of high-tech companies on Thursday to help it introduce Google TV, a new service that merges the predictable world of television programming with the more chaotic expanse of the Web. Now it has to persuade the TV audience to turn the living room television into the newest on-ramp to the Internet. Google TV, which the company introduced at its annual developer conference here, lets people visit any Web site from their televisions and easily search for programs and Web video without scrolling through unwieldy on-screen TV directories.
CNNMoney: Dell profit jumps on strong sales to businesses
Dell Inc. said Thursday that strong demand from business customers helped drive the PC maker's profit up 52% in its most recent quarter. The Round Rock, Texas, company reported net income of $441 million, or 22 cents per share, for the quarter ended April 30. That's up 52% from $290 million, or 15 cents per share, in the same period a year ago. Excluding certain accounting charges, Dell reported earnings of $824 million, or 30 cents per share, in the quarter. Analysts polled by Thomson Financial, who typically exclude one-time items from their estimates, were looking for 27 cents.
In Case You Missed It
Kentucky Senate Candidate Rand Paul answers whether or not he supports the 1964 Civil Rights Act.
Mexican President Felipe Calderon pushes Congress on immigration reform. CNN's Dana Bash reports on the politics.
Subscribe to the CNN=Politics DAILY podcast at http://www.cnn.com/politicalpodcast
And now stay posted on the latest from the campaign trail by downloading the CNN=Politics SCREENSAVER at http://www.CNN.com/situationroom