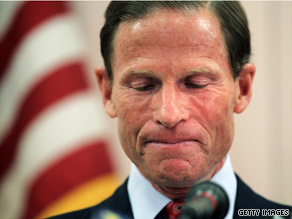 'I truly regret offending anyone,' Connecticut Attorney General and Senate candidate Richard Blumenthal said in a statement issued to a newspaper Sunday night.
(CNN) - Democratic Senate candidate and Connecticut Attorney General Richard Blumenthal has apologized for misstating his military record during the Vietnam War.
"I have made mistakes and I am sorry. I truly regret offending anyone," Blumenthal said in a statement sent to the Hartford Courant Sunday night. "I will always champion the cause of Connecticut's and our nation's veterans."
Blumenthal's comments come one week after the New York Times reported that he distorted his military service record. The article alleges that Blumenthal lied about serving in Vietnam and says that he never served in that war, even though the candidate has claimed he did in speeches before veterans groups and military families.
Blumenthal acknowledged last Tuesday that he has not always accurately described his military service during the Vietnam War.
"On a few occasions I have misspoken about my service and I regret that and I take full responsibility," Blumenthal said while surrounded by Vietnam veterans at a news conference in West Hartford. "But I will not allow anyone to take a few misplaced words and impugn my record of service to our country."
Blumenthal served in the Marine Corps Reserves during the Vietnam War, and was stationed stateside. He says he mistakenly said he served "in" Vietnam rather than "during" Vietnam in his previous speeches.
The absence of a strong apology in his remarks last Tuesday fueled criticism from Republicans and even some Democrats.

Last Friday night, at the Connecticut Democratic state party convention, Blumenthal acknowledged that "I have made mistakes," according to media reports, adding that "I regret them. And I have taken responsibility."
In the statement to the Courant, Connecticut's largest daily newspaper, Blumenthal said that "at times when I have sought to honor veterans, I have not been as clear or precise as I should have been about my service in the Marine Corps Reserves."
"I have firmly and clearly expressed regret and taken responsibility for my words," added Blumenthal, who's served as Connecticut attorney general for nearly two decades.
Notwithstanding the controversy, Blumenthal easily won the state Democratic Party's endorsement at the convention. Democratic candidate Merrick Alpert, a businessman, ended his bid for the Senate after trailing badly in the vote count for the party endorsement.
Connecticut Republicans backed Linda McMahon as their Senate nominee, endorsing the former professional wrestling executive at the state GOP convention Friday night. But McMahon, who has spent tens of millions of her own money so far on her Senate bid, will still face a challenge for the Republican nomination in Connecticut's August 10 primary. Former Rep. Rob Simmons, who came in second in the endorsement battle, said he would challenge McMahon in the primary.
Businessman Peter Schiff, another GOP candidate, failed to capture enough votes at the convention to qualify for the primary, but indicated he might launch a petition effort to get his name on the August primary ballot.
Polls conducted prior to the past week's controversy indicated that Blumenthal was ahead by a more than two-to-one margin in hypothetical general election matchups against all three GOP candidates.
The race is to succeed Sen. Chris Dodd. The five-term Democratic senator announced in January that he would not run for re-election this year. Dodd had been considered one of the most vulnerable Democrats in this November's midterms.
Follow Paul Steinhauser on Twitter: @psteinhausercnn