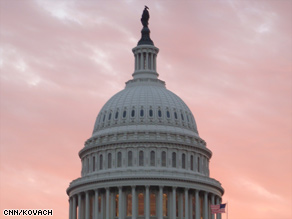 The CNN Washington Bureau's morning speed read of the top stories making news from around the country and the world.
WASHINGTON/POLITICAL
For the latest political news: www.CNNPolitics.com
CNN: Democratic infighting gives GOP rare victory in Hawaii
Republican Charles Djou took advantage of an intra-party fight among Democrats to snatch a House seat that Democrats had held for 20 years in Hawaii. Djou, a Honolulu city councilman, won 67,274 votes or 39.5 percent of those cast. The special election was for the state's 1st congressional district, which opened up after 10-term Democratic lawmaker Rep. Neil Abercrombie stepped down earlier this year to concentrate full-time on his bid for Hawaii governor.
CNN: Pawlenty, Rendell disagree on Tea Party movement's impact
In the wake of Rand Paul's win last week in Kentucky's Republican Senate primary, both national parties are trying to figure out just what to make of the Tea Party movement, the conservative, grassroots movement that backed Paul and has coalesced in opposition to policies of the Obama administration and congressional Democrats. Democrats and Republicans disagree on the impact of the movement, and those differences were on display Sunday on CNN's State of the Union.
New York Times: Republicans See Big Chance, but Are Worried, Too
Republicans remain confident of making big gains in the fall elections, but as the midterm campaign begins in earnest, they face a series of challenges that could keep the party from fully capitalizing on an electorate clamoring for change in Washington. There are growing concerns among Republicans about the party's get-out-the-vote operation and whether it can translate their advantage over Democrats in grass-roots enthusiasm into turnout on Election Day. They are also still trying to get a fix on how to run against President Obama, who, polls suggest, remains relatively well-liked by voters, even as support for his agenda has waned. Republicans are working to find a balance between simply running against Democrats and promoting a specific alternative agenda.
Washington Post: Are Democrats pulling back on faith outreach?
If 2008 was the year Democrats finally got religion, will 2010 be the year the party loses it again? This is the worry among some religious progressives, who worked to transform the image of Democrats from wary - or even hostile - toward religion to a party that hired faith consultants, advertised regularly on Christian radio and featured candidates, including Barack Obama, who spoke openly about their relationship with God. These days, the Democratic National Committee's faith staff of more than a half-dozen has dwindled to one part-time slot.
CNN: Sestak: White House offered a job to keep him out of primary
Rep. Joe Sestak says he was offered an unspecified job by the White House in an attempt to stop him from challenging Sen. Arlen Specter in Pennsylvania's Senate Democratic primary. Sestak, who defeated the veteran Specter in last week's primary election for the Democratic nomination, answered "yes" Sunday when asked by CNN about the White House offer. Sestak has previously acknowledged the offer in other interviews. However, Sestak refused to provide any further details "about something that happened months earlier," saying "beyond that, there's nothing to add."
Pittsburgh Post-Gazette: State coming to grips with loss of clout in Washington
Arlen Specter's pending departure from the Senate and the February death of Rep. John P. Murtha represent a double blow to the ability of the region and the state to attract federal dollars. Gov. Ed Rendell, an ally of both lawmakers, called the impact of the twin loss "incalculable." Between them, the two veterans had amassed decades of seniority on the appropriations panels in the House and Senate, the crucial arbiters of congressional spending bills. With that longevity came their ability to steer millions of dollars to myriad state and local interests, ranging from the military industrial complex in microcosm around Mr. Murtha's Johnstown home base to medical and scientific research at the region's universities.
CNN: Ex-WWE exec wins CT GOP Senate endorsement
Connecticut Republicans are backing former wrestling executive Linda McMahon as their Senate nominee. McMahon was endorsed at a state GOP convention Friday night. But McMahon, who has spent tens of millions of her own money so far on her Senate bid, will still face a challenge for the Republican nomination in Connecticut's August 10 primary. Former Rep. Rob Simmons, who came in second in the endorsement battle, said he would challenge McMahon in the primary.
CNN: Paul says Obama being too tough on BP
Republican Senate candidate Rand Paul is taking aim at President Barack Obama's handling of the oil crisis off the Gulf Coast. The president, Paul told ABC, is being too tough on BP – the oil giant that controls the well that has been leaking thousands of barrels of oil a day in the Gulf since late last month.
Cincinnati Enquirer: A Senate primary Democrats didn't want
This is the contest no one in the leadership of the Ohio Democratic Party wanted to happen. Lee Fisher, the Democratic lieutenant governor, once the state's attorney general, is eager to move up to an open U.S. Senate seat. Jennifer Brunner, who won the secretary of state's office four years ago, is equally determined to become Ohio's first woman senator. The two of them now are going at it hammer-and-tong for the Democratic nomination and the task of taking on Cincinnati Republican Rob Portman this fall for the U.S. Senate seat opened up by the retirement of Republican George Voinovich.
Charleston Post and Courier: Bauer rips Haley for missing vote
Lt. Gov. Andre Bauer challenged one of his Republican gubernatorial primary opponents during a debate Saturday, claiming state Rep. Nikki Haley was missing votes in the Legislature and not earning her paycheck. 'With all due respect, if you're going to push for roll-call voting, you ought to be there to vote on it especially when you got paid that day,' Bauer told Haley in one of the most animated exchanges. The issue of recorded voting in the Statehouse has bloomed in the June 8 primary, particularly for Haley. The Lexington lawmaker has pressed for it for more than two years, but Bauer pointed out she missed the House's key vote on the issue when it came up this year. Haley said she had been stripped of prestigious committee assignments for fighting for roll-call votes.
Denver Post: Romanoff wins top billing on Democrats' U.S. Senate ballot
Andrew Romanoff won more than 60 percent of state delegates Saturday, pushing him to the top line of the Democrats' primary ballot over Sen. Michael Bennet and giving his supporters new hope for August. Romanoff, the former state House speaker, won 60.4 percent of more than 3,500 delegates at the Democratic State Assembly, improving on his earlier caucus totals of about 57 percent. U.S. Sen. Michael Bennet, appointed to the seat 16 months ago, won 39.6 percent of the delegates. That guarantees Bennet the second line on the primary ballot but is a slight drop from his caucus totals. Romanoff said after the ballots were counted that some fundraisers had told him they were waiting for good results Saturday before committing money to him.
Washington Post: Democratic Official Says Blumenthal Claims Were 'Wrong'
A top Democratic Party official said Sunday that Richard Blumenthal, the attorney general of Connecticut, had "clearly overstated" the extent of his military service during the Vietnam War, a blunt assessment that came as Mr. Blumenthal is trying to recover from reports that he misrepresented his war record. Tim Kaine, the chairman of the Democratic National Committee, said he expected Connecticut voters to weigh the recent controversy against Mr. Blumenthal's record in a state where he has long enjoyed a Boy Scout reputation. "The Connecticut voters will wrestle with it," he said. "But they just happen to know this guy very, very well." he Blumenthal campaign declined to comment on Sunday.
CNN: Cuomo officially jumps into NY governors race
New York State Attorney General Andrew Cuomo formally announced Saturday that he's running for governor. New York's current governor, fellow Democrat David Paterson, announced in March that he would not run this year for a full term in office. Paterson became governor in 2008 after Eliot Spitzer resigned in disgrace following a sex scandal. Cuomo, the son of former three-term New York Gov. Mario Cuomo, has been widely expected for many months to make a bid for Paterson's job.
Wall Street Journal: Connecticut's Candidates Are Clustered
Nearly all of the candidates in the wide-open races for Senate and governor in Connecticut are wealthy and from the two towns closest to New York City: Stamford and Greenwich. Southwest Connecticut has long been a center of power in the Nutmeg State. But there is usually more geographic diversity among the state's high officeholders and business elite. Retiring Republican Gov. M. Jodi Rell is from a more rural town in northern Fairfield County. Retiring Democratic Sen. Christopher Dodd lives in East Haddam, a small town in the eastern half of the state. The candidates running for Senate and governor are in many ways emblematic of southwest Connecticut's success. The glut of hopefuls from southwest Connecticut also reflects the rise of self-financed candidates in the state. While that leads to voters deluged with commercials and mailers, it also can create a backlash.
Politico: Dems play old school hard ball
To finish the Wall Street reform bill, Democrats are resurrecting a casualty of Washington's hyperpartisan culture: the House-Senate conference committee, in which lawmakers from both parties will hash out differences between the two chambers' bills. House Financial Services Committee Chairman Barney Frank (D-Mass.) even wants C-SPAN there, he said, to capture their decision making — and expose members who vote with Wall Street. Proponents of this approach say it could be a 180-degree shift from the endgame negotiations on health care reform, which took place entirely behind closed doors and involved only Democrats.
NATIONAL
For the latest national news: www.CNN.com
CNN: Louisiana demands federal action on dredge plan
Frustrated Louisiana officials Sunday demanded the federal government approve their plans to dredge up walls of sand to protect delicate inland estuaries from the Gulf of Mexico oil spill. With oil sloshing ashore along the state's barrier islands and seeping into marshes around the mouth of the Mississippi River, state and parish leaders want to use dredges to close channels between the Gulf and the coastal estuaries.
New York Times: Despite Obama's Moratorium, Drilling Projects Move Ahead
In the days since President Obama announced a moratorium on permits for drilling new offshore oil wells and a halt to a controversial type of environmental waiver that was given to the Deepwater Horizon rig, at least seven new permits for various types of drilling and five environmental waivers have been granted, according to records. The records also indicate that since the April 20 explosion on the rig, federal regulators have granted at least 19 environmental waivers for gulf drilling projects and at least 17 drilling permits, most of which were for types of work like that on the Deepwater Horizon shortly before it exploded, pouring a ceaseless current of oil into the Gulf of Mexico. Department of the Interior officials said in a statement that the moratorium was meant only to halt permits for the drilling of new wells. It was not meant to stop permits for new work on existing drilling projects like the Deepwater Horizon. But critics say the moratorium has been violated or too narrowly defined to prevent another disaster.
INTERNATIONAL
For the latest international news: http://edition.cnn.com
CNN: South Korea suspends trade with N. Korea
South Korean President Lee Myung-bak announced Monday his country is suspending trade with North Korea, closing its waters to the North's ships and adopting a newly aggressive military posture after the sinking of a South Korean warship. South Korean military officials on Thursday announced the results of an official investigation into the sinking of the ship, the Cheonan, which concluded that North Korea fired a torpedo that cut the vessel in half.
CNN: Jamaica: State of emergency in Kingston
Jamaican authorities declared a state of emergency in Kingston after gang members supportive of an alleged drug lord wanted by the United States attacked police stations and blockaded a large swath of the city. Two police stations were evacuated after being hit with Molotov cocktails, while the status of a third was unclear. Gang members blocked off a miles-long area of Jamaica's capital city - mostly in West Kingston - using vehicles, sandbags, barbed wire and anything else they could find. The standoff revolves around attempts by the United States to extradite suspected drug kingpin Christopher "Dudus" Coke.
CNN: Japanese PM: U.S. military base will stay in Okinawa
Japanese Prime Minister Yukio Hatoyama went back on a campaign promise and announced Sunday that a U.S. military base would remain in Okinawa. He called his decision "heartbreaking." The U.S. Marine Corps Futenma base will be relocated to the Henoko area of the island, which is less densely populated, Hatoyama said.
Wall Street Journal: Turkey's Main Opposition Party Elects Its New Leader
Turkey's main opposition party chose a new leader over the weekend, potentially transforming the political landscape of this increasingly important nation linking Europe and the Middle East. The Republican People's Party, or CHP, elected Kemal Kilicdaroglu at an enthusiastic party conference Saturday, injecting new life into a political movement that had appeared to sink into near irrelevance under former leader Deniz Baykal. Mr. Baykal recently resigned in the wake of a sex scandal. The 61-year-old Mr. Kilicdaroglu defied his nickname as Turkey's soft-spoken Mahatma Gandhi in an acceptance speech to party delegates. He delivered a stinging attack on the ruling Justice and Development Party, or AKP, portraying it as corrupt and dictatorial.
CNN: Australia wants Israeli diplomat expelled
Australia has called for the expulsion of an Israeli diplomat after it said an investigation confirmed that Israeli agents were behind the forgery of four Australian passports used in the assassination of a Hamas operative in the United Arab Emirates. "It is beyond doubt that the Israeli government is responsible for cloning and counterfeiting these passports," Foreign Minister Stephen Smith said Monday.
BCC News: Iceland's Eyjafjallajokull volcano reduces activity
The Icelandic volcano which has been disrupting air traffic for more than a month is showing a marked drop in activity, new measurements suggest. Experts say the temperature in Eyjafjallajokull's crater appears to have fallen to 100C, meaning it is now producing steam, not magma. But officials warned that it was too early to say whether the eruption was over completely. Ash clouds from the volcano grounded thousands of flights last month.
CNN: Ethiopia poll tipped to return PM to power
Ethiopians went to the polls Sunday in an election analysts say will likely return the prime minister back into power after more than a decade leading the Horn of Africa nation. Prime Minister Meles Zenawi is a major western ally who has helped battle Islamic rebels in the region. Ethiopia neighbors volatile Sudan and Somalia, the latter mired in violence as al-Shabaab militants demand a stricter form of Islamic law. The opposition decried Ethiopia's last election in 2005 as rigged, and has said it does not expect Sunday's poll to be any better.
Washington Post: In devastated Bangkok, residents join city workers in cleanup efforts
Armed with brooms, rubber gloves and a torrent of detergent, middle-class Thais took to the streets of central Bangkok on Sunday to remove the detritus of protests, reclaiming the city from their now-banished and despised "red shirt" country cousins. The cleanup crew scoured anti-government graffiti off walls and swept streets clean of reminders of a nine-week protest movement that ended Wednesday in a blaze of bullets and flaming buildings. The cleansing was also symbolic: a final purge of a red shirt occupation that had brought rice farmers and ill-shod residents of Bangkok's slums to the city's most upscale shopping district to press demands that the government step down and hold early elections.
CNN: Air India's flight data recorder sought
Searchers on Sunday combed through the charred wreckage of the Air India plane that crashed in southern India, looking for the flight data recorder. The recorder - commonly known as the "black box" - will allow authorities to piece together the flight's last minutes. Some clues to what happened could come from the plane's cockpit voice recorder, which was recovered Sunday, the civil aviation ministry said. The device had suffered some fire damage, but it is expected to yield information, the agency said. It could take two weeks to analyze the information on the cockpit voice recorder, the ministry said.
BBC News: British Airways cabin crew begin five-day strike action
British Airways cabin crew have begun a five-day strike, in a resumption of industrial action in their long-running dispute over jobs and pay. The Unite union is also demanding the restoration of travel concessions to staff who took part in the last series of stoppages in March. The latest strike is expected to be confined to some flights in and out of Heathrow airport. BA has accused union leaders of failing to take up an offer of further
BUSINESS
For the latest business news: www.CNNMoney.com
CNNMoney: Jobs and tax bill to cost $134 billion
Congressional budget scorekeepers said that a grab-bag bill of spending and tax measures to be taken up this week would increase federal deficits by $134 billion over a decade. The bill, which is likely to become a flash point in the debate over the federal debt, would raise $40 billion worth in additional revenue, according to estimates by the Congressional Budget Office and the Joint Committee on Taxation. But that's not enough to fully offset the $174 billion in additional federal outlays that would occur as a result under the bill. CBO released its cost estimate late Friday.
CNNMoney: Bonds ring economic alarm bells
Economists generally aren't worried about the U.S. or global economy falling into another recession. Looking at the bond market, many investors don't agree. The yields on long-term U.S. Treasurys, such as the benchmark 10-year bond, have tumbled sharply over the last six weeks, hitting as low as 3.1% in early trading Friday before they rebounded to 3.2% late in the day. Some experts say this is a sign a lot of major investors are betting on tough times ahead.
CNNMoney: Wall Street reform: Next steps
Now that Wall Street reform has passed both chambers of Congress, the next step for lawmakers is to work out the differences. Within days, congressional leaders will appoint members of the House and Senate to a special conference committee to meld two bills into one. The first negotiations are set to begin the week of June 7. After they reach agreement, each chamber will vote. The goal is to send final legislation to President Obama before the July 4 recess. The good news: The two Wall Street reform bills have a lot in common.
Wall Street Journal: Mortgage Rates Decline
The financial turmoil in Europe is providing an unexpected windfall for American home buyers, as international money seeking a safe haven is flowing into the U.S., pushing domestic mortgage rates to the lowest levels of the year and back near 50-year lows. The housing industry had been bracing for months for a period of rising mortgage rates, triggered by the end of the Federal Reserve's $1.25 trillion mortgage-securities purchase program. Conventional wisdom held that mortgage rates would rise as the Fed pulled back from propping up the market. Instead, many in the industry now say rates could drift as low as 4.5% this summer from 4.86% now, instead of rising to 6% as some economists projected, making for significantly lower payments for Americans buying homes or refinancing their mortgages.
CNNMoney: Oil spill: How much is a pelican worth?
Just how much is a dead pelican worth? BP is about to find out. As the owner of the still-leaking oil well in the Gulf of Mexico, the oil giant will pay billions of dollars in damages, much of which will compensate for the birds, fish, mammals and plants that are killed by the accident. Exxon paid nearly a billion dollars in damages into a wildlife conservation fund following the 1989 Valdez disaster, roughly a quarter of the company's entire tab for the spill.
New York Times: Asian Stock Markets Rebound a Bit
Asia-Pacific stock markets started the week mostly higher, taking heart from a firm performance on Wall Street on Friday and buoyed by speculation that the Chinese authorities will ease some of their tightening measures. Asian markets on Friday saw steep sell-offs as investors fretted about the prospects that the tepid economic recovery in Europe could be nipped in the bud by the Greek debt crisis and by the savings measures being put into place by governments desperate to rein in their budget deficits. On Monday, many of the key market indexes in Asia recouped some of those losses: the Straits Times index in Singapore, the Taiex index in Taiwan and the S&P/ASX 200 in Australia were up about 1 percent by about midday.
CNNMoney: Google wins regulatory OK for AdMob deal
Google won regulatory approval Friday for its $750 million acquisition of mobile ad firm AdMob. The Federal Trade Commission said the merger would not harm competition, citing Apple's recent acquisition of Quattro Wireless as one factor since it allowed the tech giant to launch its own mobile ad platform, iAd. AdMob, which Google agreed to buy last November, provides display advertising technology for mobile Internet sites. The acquisition would compliment Google's big push into the mobile phone arena with its increasingly popular Android operating system.
Business Week: Microsoft's Bing Is Gaining Share
If Microsoft's (MSFT) goal was to hear Bing used as a verb, there are signs of success. In April about 12 percent of all Web searches were performed using Microsoft's year-old search engine. While that doesn't exactly make Bing a Google (GOOG) killer, it seems to be holding its own. Searches on Bing are up 4 percent since its launch a year ago, according to comScore. Meanwhile, Google's share is flat at 64 percent. "I do hear people saying 'I Binged it,' " says Danny Sullivan, who runs the search-analysis Web site Search Engine Land. For Bing to be successful, the bump-up in searches will have to translate into more business from advertisers.
In Case You Missed It
CNN's Candy Crowley talks with the Coast Guard commander about his level of trust in BP.
CNN's David Mattingly gets an exclusive look at the oil spill, using CNN's own ROV camera to go 50 feet underwater.
Subscribe to the CNN=Politics DAILY podcast at http://www.cnn.com/politicalpodcast
And now stay posted on the latest from the campaign trail by downloading the CNN=Politics SCREENSAVER at http://www.CNN.com/situationroom