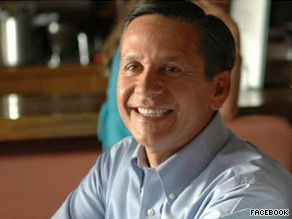 Dino Rossi will run for the Senate in Washington state, according to a GOP source.
(CNN) - Two-time GOP gubernatorial candidate Dino Rossi will run for the Senate in Washington state, two republican sources confirm to CNN.
Rossi's announcement could come as early as Wednesday, according to the sources, one of whom also adds that the candidate is in the process of hiring campaign staff.
Rossi, a businessman and commercial real estate investor, is arguably the best known Republican in Washington state, thanks to his two two bids for governor. In 2004, in an election that went into overtime, Rossi lost to Democrat Christine Gregoire by just a handful of votes. Rossi was defeated in a 2008 rematch by a wider margin.
Polls of Washington state voters conducted this year suggest that Rossi could be competitive with three term Democratic Sen. Patty Murray, who's up for re-election this November.
Last Thursday former Alaska Gov. Sarah Palin bucked the GOP establishment by endorsing Washington state Tea Party activist Clint Didier in his bid for the Senate. Palin said on Twitter that she is "inspired" by Didier and added that he is a "patriot running for U.S. Senate to serve his state & our country for all the right reasons!"
Didier has already attacked Rossi, painting him as a firmly entrenched in the Republican establishment. A recent poll indicated that Rossi would be more competitive that Didier against Murray in hypothetical general election matchups.
The filing deadline in Washington state is June 11 and the primary will be held on August 17.
Follow Paul Steinhauser on Twitter: @psteinhausercnn