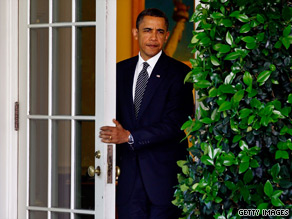 President Obama will meet with small business owners Tuesday.
Washington (CNN) - President Barack Obama will use a meeting with small business owners Tuesday to urge Congress to pass a proposed package that will allow small business to expand and create jobs.
Obama will welcome mom-and-pop business owners from around the country to the event, as part of Small Business Week observances.
Since October, the president has pledged to increase small business lending and provide tax incentive to jump-start new jobs– going so far as to mention "small business" 14 times in his State of the Union address in January.
Data from Small Business Administration (SBA) show that small companies have generated 64 percent of net new jobs every year over the past 15 years.
Yet, these businesses have been particularly hard hit by the recession.
A Senate report last year found that American businesses with fewer than 20 employees have suffered steeper job losses than bigger companies.
But in order for Obama to push through his Small Business Jobs Package, Congress will have to act.
"Government can't create jobs, but it can help create the conditions for small businesses to grow and thrive and hire more workers," Obama will say in his remarks Tuesday. "Government can't guarantee a company's success, but it can knock down the barriers that prevent small business owners from getting loans or investing in the future."
One of his proposals is for Congress to recycle $30 billion of the remaining Troubled Asset Relief Program (TARP) funds into a new government lending program offering capital to community banks that boost their small business lending this year.
In the current economic climate, small companies are still widely reporting problems finding the capital they need to fund their operations.
The Small Business Lending Fund would target banks with assets of under $1 billion, which collectively account for more than half of the nation's small business lending, according to White House estimates.
Those banks would be able to borrow money from the Treasury at a dividend rate as low as 1 percent if they use the cash to make more small business loans this year than they did in 2009.
Other proposals include giving businesses tax credits for hiring new workers, eliminating capital-gains tax on investments in small business, and allowing companies to write off, instead of depreciate, new equipment.
"I urge both chambers to act on these proposals as soon as possible," Obama will say in his remarks. "This shouldn't be a partisan issue. This shouldn't be an issue of big government versus small government. This is an issue of putting our government on the side of the small business owners who create most of the jobs in this country."