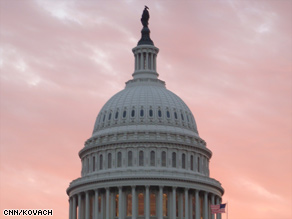 The CNN Washington Bureau's morning speed read of the top stories making news from around the country and the world.
WASHINGTON/POLITICAL
For the latest political news: www.CNNPolitics.com
CNN: Sources: Agreement possible on push by Congress to repeal 'don't ask, don't tell'
Congressional Democrats were working toward an agreement Monday with the White House and possibly the Pentagon on a legislative step toward repealing the "don't ask, don't tell" policy that bars openly gay soldiers from the military, sources told CNN. In a letter to President Barack Obama obtained by CNN, three congressional sponsors of legislation to repeal the policy outlined the proposed agreement that would set contingencies based on completion of a military review of the matter already underway and subsequent final approval from the president and military leaders.
CNN: Sestak, White House dodge questions about job offer
Pennsylvania Senate candidate Joe Sestak and a close aide to President Obama both dodged pointed questions Monday about whether White House officials pressed Sestak to drop his Democratic primary challenge to Sen. Arlen Specter in exchange for an administration job. Sestak defeated Specter in last Tuesday's primary, but three months ago, when he faced longer odds against his Democratic opponent and his backers in the administration, the Philadelphia-area congressman said that someone in the White House offered him a job on the condition that he quit the race.
The Hill: Dem lawmaker urges White House to release details on Sestak job
Democratic Rep. Anthony Weiner (N.Y.) called on the White House Monday to detail conversations it allegedly had with Rep. Joe Sestak (D-Pa.) to try to convince him to drop his Senate bid. Weiner said allegations that White House officials had offered Sestak an administration job in exchange for his dropping his primary bid against Sen. Arlen Specter (D-Pa.) had become a growing political liability.
Charleston Post and Courier: Rep. Haley fires back at blogger
Somebody's lying. On Monday, with about two weeks before Republican voters will select their nominee for governor, Will Folks, a political blogger and former spokesman for Gov. Mark Sanford, announced he had an "inappropriate physical relationship" with Rep. Nikki Haley, a married mother of two. Haley wasted no time firing back. She said Folks, who is her former campaign consultant, is lying. It was a brutal introduction to the last-minute, take-no-prisoner nature of South Carolina politics for Haley, who last week was deemed the frontrunner in the four-way race for the GOP nomination to succeed the term-limited Sanford.
CNN: Palin to Haley: 'Hang in there'
Drawing parallels to her own experiences with rumor and political sniping, Sarah Palin used a Facebook posting Monday to defend the candidacy of South Carolina Republican gubernatorial hopeful Nikki Haley. "As I said to Nikki this morning, 'Hang in there. I've been there. Any lies told about you will strengthen your resolve to clean up political and media corruption. You and your supporters will grow stronger through things like this.'" Palin's reaction comes just hours after Haley denied a claim that she once had an extramarital affair with a prominent South Carolina political blogger.
CQ Politics: California: Boxer Raises $2 Million More
Sen. Barbara Boxer (D-Calif.) raised $2 million in the most recent campaign finance reporting period, her re-election campaign announced Monday. Boxer, who is seeking a fourth term, had $9.6 million cash-on-hand on May 19 after raising the $2 million in the previous seven weeks.
The Hill: Durbin's Dream Act could run afoul of Schumer's bill
Sen. Dick Durbin is soft-pedaling his Dream Act immigration bill for fear of undercutting the comprehensive reform pushed by his Democratic leadership rival, Sen. Charles Schumer. Schumer (N.Y.) spearheads efforts to pass the bigger bill this year, but activists believe Durbin's (D-Ill.) scaled-back version has a better chance of passing. But there is a complication: Durbin, the second-ranked Dem, cannot want to burnish the reputation of Schumer, ranked third, who is jockeying to take charge if Senate Majority Leader Harry Reid (Nev.) loses reelection in November.
Politico: Case won't quit Hawaii race
Despite a disappointing third-place finish in the Hawaii special election, former Democratic Rep. Ed Case said Monday he will still compete for the Democratic nomination and declared that there is no way state Sen. Colleen Hanabusa can defeat Rep.-elect Charles Djou in November. "I went surfing; I went to the beach; I did look at the results, and I made the decision that I'm running again," Case told POLITICO. His comments make clear that the bad blood between Case and Hanabusa during the special election has not subsided, and that both are headed towards a repeat of their divisive special election feud, which led to Republican Charles Djou winning Hawaii's traditionally Democratic 1st District this past weekend.
CQ Politics: Murtha Donors Breathe Life Into Critz Coffers
Rep. John P. Murtha (D-Pa.) died in February, but his political fundraising machine is alive and well. Rep. Mark Critz (D) was sworn in May 20 to replace Murtha, whom he succeeded after winning a special election. A longtime Murtha district staffer, Critz handily defeated his Republican opponent, Tim Burns, in the mostly rural southwestern Pennsylvania district, which the GOP carried in the 2008 presidential election. Although the May 18 race was dominated by parochial issues, its financing reached beyond the district. Critz relied heavily on Murtha's vast fundraising network of lobbyists and defense contractors in and around Washington, D.C., and Johnstown, Pa. — Murtha's hometown, which became a defense-sector dynamo during the appropriations cardinal's 35 years in the House.
CNN: Will the third time be the charm for Dino Rossi?
Two-time GOP gubernatorial candidate Dino Rossi will run for the Senate in Washington state, two republican sources confirm to CNN. Rossi's announcement could come as early as Wednesday, according to the sources, one of whom also adds that the candidate is in the process of hiring campaign staff. Rossi, a businessman and commercial real estate investor, is arguably the best known Republican in Washington state, thanks to his two bids for governor.
DesMoines Register: Democratic Senate debate: Fiegen jabs Conlin over tax credits
Former state Sen. Tom Fiegen today described fellow Democratic candidate for U.S. Senate Roxanne Conlin as disingenuous for her husband's receiving millions in federal tax credits for low-income housing projects while she criticizes Sen. Chuck Grassley for receiving farm subsidies. The exchange between Fiegen and Conlin, two of three Democrats running in the June 8 primary, was the only testy moment during a debate that also featured Bob Krause.
Lincoln Journal Star: Ben Nelson says earmarks vital for Nebraska
Sen. Ben Nelson on Monday mounted a vigorous defense of his efforts to seek earmarked federal appropriations for worthy projects in Nebraska. All four Republican members of Nebraska's congressional delegation have decided not to seek earmarked funding for the state this year. The projects he supports are not "pork," Nelson said, but are vital to Nebraska and often important to the nation.
Hartford Courant: Sources say Rob Simmons will drop out of U.S. Senate race tomorrow
Rob Simmons will hold a press conference for this morning in New London to announce he's leaving the U.S. Senate race, sources said late today. The former congressman and Vietnam War veteran lost the Republican convention's endorsement on Friday to former World Wrestling CEO Linda McMahon. Simmons entered the Senate race in the winter of 2009, when a politically ailing Sen. Christopher Dodd was the presumptive Democratic nominee. Throughout the spring and summer and into the fall, Simmons sat atop public opinion polls. Then McMahon entered the race in September and began spending millions on television ads and direct mail.
Washington Post: Rep. James Moran's investments illustrate Congress's leeway in trading
He was a stockbroker before he became a politician, and he continued playing the markets during his rise through Congress. Rep. James P. Moran Jr. (D-Va.), a member of the powerful House Appropriations Committee, brought a swagger to both endeavors, sometimes winning big, sometimes losing big. At times, his investing became so busy it verged on what later came to be known as day trading. Moran's dual focus illustrates the latitude that every lawmaker has under congressional rules to invest largely as each chooses, a much less regulated approach than what Congress has required for other government officials and private-sector executives.
CNN: RNC document reveals bleak financial standing
An internal Republican National Committee document obtained by CNN paints a damning picture of the committee's financial standing compared to the past five election cycles. The document, pulled together during a recent review sparked by concerns over RNC spending practices, said the committee had $12.5 million in cash on hand at the end of April. By comparison, the average cash on hand at the end of April from 2002-2009 was $40.4 million. And that average includes the odd numbered years when there are fewer election contests.
NATIONAL
For the latest national news: www.CNN.com
CNN: BP vows to 'clear every drop of oil off the shore'
BP is doing all it can to respond to the oil leak in the Gulf of Mexico, a top BP official said Monday, even as criticism of the company's handling of the crisis was growing. "We are going to clear every drop of oil off the shore," Tony Hayward told reporters at Fourchon Beach, Louisiana, where cleanup efforts were under way. The company's next effort to plug the leak is to come at dawn Wednesday. BP plans to pump thick, viscous fluid twice the density of water into the site of the leak to stop the flow so the well can then be sealed with cement - the "top kill" procedure. Hayward, noting that the attempt will be carried out on the seafloor a mile below the sea surface, estimated the odds of success for the method at 60 percent to 70 percent.
CNN: CNN Poll: Anger at BP as most Americans say spill will affect them
Most Americans say that the oil spill in the Gulf of Mexico will personally affect them, and more than three quarters say they disapprove of how BP has handled the situation, according to a new poll. A CNN/Opinion Research Corporation survey released Monday also indicates that a slight majority of the public disapproves of how the Obama administration's handling the spill. Fifty-three percent of people questioned in the poll say the spill will affect them or their families indirectly, with another 31 percent saying the spill affects them directly. Only 16 percent of people questioned say they and their families will not be affected by the spill.
New York Times: U.S. Is Said to Expand Secret Military Acts in Mideast Region
The top American commander in the Middle East has ordered a broad expansion of clandestine military activity in an effort to disrupt militant groups or counter threats in Iran, Saudi Arabia, Somalia and other countries in the region, according to defense officials and military documents. The secret directive, signed in September by Gen. David H. Petraeus, authorizes the sending of American Special Operations troops to both friendly and hostile nations in the Middle East, Central Asia and the Horn of Africa to gather intelligence and build ties with local forces. Officials said the order also permits reconnaissance that could pave the way for possible military strikes in Iran if tensions over its nuclear ambitions escalate. While the Bush administration had approved some clandestine military activities far from designated war zones, the new order is intended to make such efforts more systematic and long term, officials said.
INTERNATIONAL
For the latest international news: http://edition.cnn.com
CNN: Obama talks security with Lebanon's prime minister
Lebanese Prime Minister Saad Hariri met with President Barack Obama on Monday for a discussion tackling a range of security issues relating both to Lebanon and the broader Middle East, according to the White House. The meeting was part of Hariri's first official visit to Washington after assuming office. It was also the first face-to-face talk between the two men since the United States moved to put an ambassador back in Syria, a country with which Lebanon has a difficult relationship.
CNN: U.S., South Korea to conduct joint military exercises
The U.S. military will conduct joint exercises with the South Korean military in response to that country's announcement that North Korea was behind the recent sinking of one of its warships, the Pentagon said Monday. The United States and South Korea will conduct both anti-submarine and maritime interdiction training exercises in the future, Pentagon spokesman Bryan Whitman said. Whitman would not discuss details or timelines on the two exercises, but noted that they are being planned in response to the March 26 sinking.
Bloomberg: Kim Jong Il Orders Military to Get Ready for Combat
North Korean leader Kim Jong Il ordered the country's military to get ready for combat in a message broadcast nationwide last week following South Korea's announcement that North Korea torpedoed the South's warship. The message was broadcast on May 20 by O Kuk Ryol, vice chairman of the National Defense Commission, according to the website of North Korea Intellectuals Solidarity, a Seoul-based group run by defectors from the communist country. Yonhap News agency reported on the group's posting earlier today. While Kim doesn't want war, North Korea is ready to counter any attacks from South Korea, O said in the message, according to the group, which cited an unidentified person in the country. North Korea Intellectuals Solidarity is one of the Seoul-based agencies to first report on North Korea's currency revaluation late last year.
CNN: Unrest spreads in Jamaica over attempts to extradite drug suspect
Violence in Jamaica surrounding the planned extradition to the United States of an alleged drug kingpin continued Monday, with police saying a number of people had died in an attack on the suspect's stronghold in West Kingston. Police would not divulge the number of casualties. The unrest revolves around U.S. attempts to extradite suspected drug kingpin Christopher "Dudus" Coke, who was charged last year in federal court with conspiracy to distribute marijuana and cocaine and with conspiracy to illegally traffic in firearms. Residents said government helicopters dropped explosives into the area near Coke's stronghold, though it was not clear whether he was there.
BBC News: Cameron plans for new laws due in Queen's Speech
David Cameron's coalition government is due to outline what laws it wants to pass in the next year when the Queen's Speech is delivered to Parliament. Measures are set to include the repeal of ID cards, powers for parents to set up schools, reforms to policing and a referendum on the voting system. The programme will reflect compromises reached by the Conservatives and Lib Dems when they agreed to share power. The state opening of Parliament will feature its traditional pageantry. It will be the 56th time that the Queen has opened a new session of Parliament during her reign.
CNN: Israel denies apartheid South Africa nuke talks
Israel "has never negotiated the exchange of nuclear weapons with South Africa," its president's office said Monday, after a British newspaper claimed such talks had taken place. The Guardian published what it said were previously secret South African documents saying the two countries' defense ministers had discussed the possible Israeli sale of nuclear weapons to the apartheid-era state in 1975. The newspaper said the documents were the first written proof that Israel had nuclear weapons. Israel has always refused either to confirm or deny that.
Wall Street Journal: IMF Urges Spain to Cure Its Ailing Economy
The International Monetary Fund issued an unusually blunt warning to Spain that it needs a "radical overhaul" of its labor laws, a "bold" reform of its government pension system and accelerated consolidation of its banks to stave off the kind of economic problems that have undermined Greece. "Time is of the essence," the IMF said in a statement issued after its economic team finished an annual review of Spain's economy. The IMF didn't release the full report of its findings, which will be discussed at the IMF board meeting next month. The review came as Spanish central bank officials took over ailing CajaSur, a mutually owned savings bank that holds 0.6% of the banking system's assets. Central-bank officials dismissed CajaSur's management and tried to reassure nervous local depositors that their savings are safe.
BBC News: German military security firm helps Somali warlord
German lawmakers have voiced concern about a deal between a German military security firm and a warlord hostile to the UN-backed government in Somalia. Asgaard German Security Group, which hires former German troops, has signed a contract with Abdinur Ahmed Darman, who claims to be the Somali president. MPs from three German parties said the deal would aggravate the conflict in Somalia and violate UN sanctions.
BUSINESS
For the latest business news: www.CNNMoney.com
CNNMoney: Offshore drilling showdown looms
Despite the massive oil leak in the Gulf of Mexico, the government is under pressure to issue new permits for offshore drilling as early as next week. Permits to drill offshore were suspended last month pending an Interior Department safety review after the explosion of the Deepwater Horizon drill rig. The safety review is due this Friday, and the Obama administration will use it to help decide when and how drilling should resume.
CNNMoney: BP cuts checks for workers' lost wages
The scope of the damage from the Gulf Coast oil spill is still hard to calculate, but here's a grim tally: More than 23,000 workers and business owners along the Gulf Coast have filed claims so far for lost income. BP has made payments already on 9,000 of those claims, disbursing $27.8 million to fishermen, shrimpers, charter boat captains and others whose livelihoods are now in limbo, according to BP spokesman David Nicholas. The company has 420 claims adjusters staffing nearly two dozens processing centers in Alabama, Florida, Louisiana and Mississippi.
CNNMoney: Wall Street hopes to dodge two reform bullets
With any luck, Wall Street can still escape two of the harshest elements of Washington's reform efforts. The two measures, included in the Senate bill passed last week, take direct aim at some of the more risky - and profitable - parts of banks' business. One proposal would require financial firms to spin off their trading desks that deal in derivatives. The other - dubbed the Volcker Rule for its proponent, former Federal Reserve Chairman Paul Volcker - would ban banks from wagering with the firm's own money, what the industry calls "proprietary trading." Firms would also be restricted from investing in or sponsoring private-equity funds or hedge funds.
Investors Business Daily: White House Wants Leverage To Erase Wasteful Spending
Sen. Obama fought the idea three years ago. But President Obama's White House urged Congress on Monday to give it new leverage to cut specific budget items. Budget Director Peter Orszag requested that Congress pass a bill giving President Obama "expedited rescission authority." Essentially, he would be able to force lawmakers to reconsider earmarks and other spending projects they had just approved.
CNNMoney: Wal-Mart slashes iPhone price to $97
Wal-Mart, the world's largest retailer, plans to slash the price of Apple's 16GB 3GS iPhone to $97 beginning Tuesday. Apple is widely expected to unveil a brand-new iPhone next month, and could be working with retailers to clear out its remaining inventory of the about-to-be-outdated model. At the new price, customers will save $100 on Apple's smart phone, which currently sells for $199. The deal requires that the phone be purchased with a two-year contract from AT&T, the iPhone's exclusive service provider.
Wall Street Journal: Europe's Banks Hit By Rising Loan Costs
European banks are being forced to pay more for short-term dollar borrowings than banks in the U.S. and Asia—suggesting that lenders world-wide are increasingly nervous about the risks ahead for European banks as financial pain cascades across the continent. On Monday, the London interbank offered rate, or Libor—the rate at which banks lend money to each other, and thus a vital sign of their mutual trust—rose to its highest level for the three-month dollar rate since last July. While the current Libor, at just above 0.5%, is far below the sky-high levels of 4.81875% reached at the height of the financial crisis in 2008, it is still a significant jump from 0.25% as recently as March. But Libor's jump is more pronounced at European banks.
CNNMoney: Dow falls to 3-month low
Stocks tumbled Monday, with the Dow ending at a three-month low as worries about the global economic outlook overshadowed a bigger-than-expected rise in existing home sales. The Dow Jones industrial average lost 126 points, or 1.2%, closing at its lowest point since Feb. 2. The S&P 500 index declined 14 points, or 1.3%. The Nasdaq composite lost 15 points, or 0.7%. Stocks had fallen in the early going, turned mixed through the afternoon and then turned lower near the close.
Bloomberg: Asian Stocks Fall to 10-Month Low, Won Dives, Commodities Drop
Asian stocks and the won plunged to the lowest in 10 months after a report that North Korean leader Kim Jong Il ordered his military to prepare for combat last week. The euro weakened and commodities declined on concern Europe's debt crisis may spread. The MSCI Asia Pacific Index dropped 2.2 percent to 109.82 as of 12:09 p.m. in Tokyo, set for its lowest close since July 30. Standard & Poor's 500 stock index futures lost 1.3 percent. The won plunged to a 10-month low and the nation's stock benchmark slumped 3.4 percent. The euro fell for a second day against the yen and the dollar. Crude oil slipped below $70 a barrel in New York and copper declined for the first day in four.
Wall Street Journal: Disney Formally Calls Off Miramax Talks With Weinsteins
Walt Disney Co. on Monday formally terminated negotiations with Harvey and Bob Weinstein to buy back Miramax Films, according to people familiar with the matter. The end of the talks, which began to fall apart last week, could pave the way for another bid by billionaire brothers Tom and Alec Gores. The Gores brothers are separately pursuing another independent film studio.
In Case You Missed It
Anderson Cooper talks with critics along the Gulf coast who discuss the effects the BP oil spill is having on wildlife.
The State Dept. says escalating violence will not halt the extradition of Christopher Coke to the U.S.
Subscribe to the CNN=Politics DAILY podcast at http://www.cnn.com/politicalpodcast
And now stay posted on the latest from the campaign trail by downloading the CNN=Politics SCREENSAVER at http://www.CNN.com/situationroom