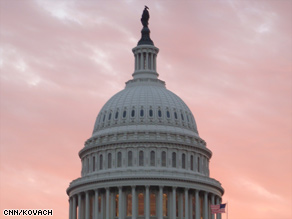 The CNN Washington Bureau's morning speed read of the top stories making news from around the country and the world.
WASHINGTON/POLITICAL
For the latest political news: www.CNNPolitics.com
CNN: Poll: Support for border crackdown grows
Public support for beefing up security along the U.S. border with Mexico and deporting all illegal immigrants has grown significantly, according to a new national poll. A CNN/Opinion Research Corporation survey indicates that nearly nine out of ten Americans want to beef up U.S. law enforcement along the border with Mexico. The poll's Wednesday morning release comes one day after an administration official told CNN that President Barack Obama will deploy up to 1,200 more National Guard troops to the U.S. border with Mexico and will request $500 million to supplement current spending for enhanced border protection and law enforcement activities.
CNN: 'This did not have to happen,' Stupak says of oil spill
A Democrat leading congressional hearings into the causes of the Gulf oil spill said Wednesday that the catastrophe could have been avoided if the companies responsible for the Deepwater Horizon oil rig had heeded a series of warning signs in the hours leading up to the rig's explosion. And Rep. Bart Stupak, D-Michigan, also said that many of the federal regulatory agencies charged with protecting the public have been "devastated" due to a lack of funding during the Bush administration. Stupak sits on the House Energy and Commerce Committee and is the chair of the Energy and Commerce Subcommittee on Oversight and Investigations. Stupak's subcommittee issued a report Tuesday that detailed a number of warning signs missed by rig operators prior to its explosion on the night of April 20.
CNN: Plaquemines Parish president blasts federal response to oil spill
Plaquemines Parish President Billy Nungesser on Wednesday blasted the federal government's response to the oil spill that has fouled more than 100 miles of the state's coast, and called for its point man to step aside. "Thad Allen should resign," Nungesser told CNN, referring to the U.S. Coast Guard admiral who has been leading the government's effort. "He's done absolutely nothing. He's an embarrassment to this country."
Washington Post: 100,000 teachers nationwide face layoffs
Senior congressional Democrats and the Obama administration scrambled Wednesday to line up support for $23 billion in federal aid to avert an estimated 100,000 or more school layoffs in a brutal year for education budgets coast to coast. As early as Thursday, the House Appropriations Committee expects to take up a bill that couples the school funding with spending for the Afghanistan war - a measure that has bipartisan support. But a parallel push in the Senate stalled this week after a leading proponent concluded that he couldn't muster enough votes to surmount Republican opposition.
CQ Politics: Ross Says Tea Party Is Fueling His Momentum
When former Fox News political commentator Angela McGlowan entered Mississippi's 1st district GOP primary in February, there was some speculation that she might harness the anti-establishment sentiment and give highly touted state Sen. Alan Nunnelee a run for his money. Four months later, McGlowan seems to have flamed out while former Eupora Mayor Henry Ross, who filed for the Republican race in early January, has suddenly found himself with late momentum. With just days to go before the June 1 primary, Ross is working to force Nunnelee into a June 22 runoff.
CNN: Cheney picks a side in South Carolina governor's race
Former Vice President Dick Cheney is picking a side in yet another contested Republican primary, this time endorsing Rep. Gresham Barrett in his bid for South Carolina governor. Cheney weighed in to defend Barrett's biggest liability in the four-way GOP primary – his vote in favor of the 2008 Wall Street bailout.
Los Angeles Times: Nevada Sen. John Ensign hangs on to his seat despite affair
After delivering a floor speech against the financial overhaul bill last week, Sen. John Ensign walked out of the Capitol into the spring sunshine and spoke optimistically of getting back to raising money for his reelection campaign — never mind the looming ethics cloud stemming from his admitted affair with an aide.
Politico: Does Minuteman support come with a price tag?
To win the endorsement of the Minuteman Project and its founder, Jim Gilchrist, you need to believe in federal troop deployments to stop illegal immigrants from entering the U.S. and stepped-up deportations of those who do. You may also need to pay several thousand dollars, according to documents from three Republican campaigns that sought Gilchrist's endorsement. The decorated Marine veteran best known for leading his group of outraged, armed citizens on freelance border patrols is an icon of the grass-roots battle against illegal immigration.
Seattle Times: Rossi turns spotlight on U.S. Senate race
Republican Dino Rossi's long-awaited entry into the U.S. Senate race Wednesday pushes Washington onto the national political map this year, morphing the state from a footnote into a more closely watched battleground that could shape control of Congress. Translation: Get ready for a deluge of political attack ads paid for by millions of dollars in out-of-state money from both parties. Rossi's announcement, via a five-minute video on his campaign website, catapults him to the top of the list of Republicans vying to challenge three-term Democratic incumbent Sen. Patty Murray.
CNN: Conservative group: DADT repeal will increase 'homosexual misconduct'
As lawmakers consider a compromise plan to repeal "don't ask, don't tell," a prominent conservative group is arguing that overturning the policy against gays in the military will increase "homosexual misconduct" – even "sexual bullying, male rape, and forcible sodomy" – in the armed services. On Wednesday, the Family Research Council held a conference call with reporters featuring retired military leaders and officials from the conservative group. Senior Fellow for Policy Studies Peter Sprigg argued that publicly available information from the Pentagon on sexual assaults in the military, along with other information, proves that the military currently has a problem with "homosexual misconduct."
Las Vegas Sun: Sharron Angle campaign working to quiet Scientology question
Surging Republican Senate candidate Sharron Angle has had to defend her support of a prison program that her opponents linked to Scientology. Trying to head off that theme, Angle has eliminated from her campaign website mention of prominent members of the church, whom she worked with on other legislative efforts. Angle has removed the claim that she, along with actresses Kelly Preston and Jenna Elfman, approached Sen. John Ensign to sponsor legislation prohibiting school employees from requiring students to take psychotropic drugs, such as anti-depressants.
New York Times: Initiative in California Would Change How It Votes
In another indication of how frustrated voters have grown with politics as usual, California — home of initiative-happy democracy — is considering a radical overhaul. On June 8, voters will decide the fate of a ballot measure that would replace traditional primaries in state and Congressional elections with, effectively, two rounds of voting. All candidates would run in the first round, and the top two vote-getters — regardless of party affiliation, or unaffiliation — would then face each other in the general election. Voters' ultimate choice could be two Republicans or two Democrats, or two candidates with high name recognition, or deep pockets, or populist appeal.
Wall Street Journal: Arizona Law Cuts Two Ways in GOP Races
Many candidates in Republican primaries have embraced Arizona's new immigration law, but that could hurt a few of them in November. While a majority of voters tell pollsters they support the law, and tough stances on illegal immigration are likely to resonate this fall in such states as Nevada and Florida, Republican candidates in California might face a potential backlash from the state's more liberal electorate. Among the leading GOP candidates to succeed Arnold Schwarzenegger as California's governor, Steve Poizner has used his embrace of the Arizona law to try to convince voters in California's June 8 primary that he would represent GOP interests better than front-runner Meg Whitman, who doesn't support the law.
CNN: Videographer, three others get probation in Senate office incident
Conservative videographer James O'Keefe and three co-defendants pleaded guilty Wednesday to entering federal property under false pretenses for a January incident in which they tried to tamper with the phone system in the New Orleans office of Sen. Mary Landrieu. O'Keefe, 25, and co-defendants Joseph Basel, 24, Robert Flanagan, 24, and Stan Dai, 25, were each fined $1,500, placed on probation and ordered to do community service, according to a Department of Justice statement.
Washington Post: Political donations from business sector down from 2008 elections
A weak economy has led to an unusual decrease in the money that corporations and their employees are directing toward congressional campaigns and political parties this election cycle. Data released this week by the nonpartisan Center for Responsive Politics show that political contributions from 10 major business sectors are down about 5 percent from this point in the 2008 cycle. That contrasts with the last midterm election, when contributions were up 6 percent.
NATIONAL
For the latest national news: www.CNN.com
CNN: BP's bottom line on 'top kill' - wait a day
More than six hours after BP's latest attempt to cap the runaway leak in the Gulf of Mexico got under way Wednesday afternoon, officials said it was too soon to say whether it was working. In Robert, Louisiana, BP Chief Operating Officer Doug Suttles would not comment on the impact of the "top kill." "It's too hard to say," he said. "I think we just need to take the next 24 hours and actually see what the results are." But the operation was going according to plan, he said, with more than 7,000 barrels of drilling mud applied by 7 p.m. (8 p.m. ET) at a rate of up to 65 barrels per minute, he said.
CNN: Document says number of attempted attacks on U.S. is at all-time high
Just weeks after the failed car bombing of New York's Times Square, the Department of Homeland Security says "the number and pace of attempted attacks against the United States over the past nine months have surpassed the number of attempts during any other previous one-year period." That grim assessment is contained in an unclassified DHS intelligence memo prepared for various law enforcement groups, which says terror groups are expected to try attacks inside the United States with "increased frequency."
CNN: Homegrown terrorist threat to be part of National Security Strategy
Homegrown terrorism will be part of the United States' National Security Strategy for the first time, according to President Barack Obama's chief counterterrorism adviser, who called it a new phase of the terrorist threat. When the Obama administration unveils its National Security Strategy on Thursday, it will be the first time any president "explicitly recognizes the threat to the United States posed by individuals radicalized here at home," National Security Adviser John Brennan said Wednesday. The strategy acts as a blueprint for how a White House administration intends to protect Americans.
INTERNATIONAL
For the latest international news: http://edition.cnn.com
CNN: UK has 'fewer than 225 nuclear weapons'
Britain has a total nuclear arsenal of fewer than 225 weapons, with 160 currently operational, Foreign Secretary William Hague said Wednesday. The British disclosure follows similar recent announcements by France and the United States, the other nuclear-armed Western allies. Britain had previously disclosed that it had 160 operational warheads, which since 1998 have been based aboard a squadron of four ballistic missile submarines.
Wall Street Journal: U.S. Chides Europe's Crisis Response
U.S. Treasury Secretary Timothy Geithner landed in Europe and reasserted a traditional American role of dispenser of financial advice to the world, telling European governments to get their fiscal houses in order. Inside No. 11 Downing Street, the home of his British counterpart, Mr. Geithner pushed continental Europe to speed up the rescue of debt-laden economies, and to not stint on fiscal stimulus. Thursday, in Frankfurt and in Berlin, he will chide the Germans about their recent move to ban certain financial practices, which has spooked markets. The resumption of U.S. fiscal lecturing marks a turnaround from late 2008, when Asians and Europeans largely blamed the U.S. for dumping the world into a recession.
CNN: Dozens dead, more than 500 in custody after violence in Jamaica
Police in Jamaica have more than 500 people in custody, the government said Wednesday, after a failed attempt to arrest a suspected drug kingpin resulted in violence that left dozens of people dead. Some semblance of calm appeared to have taken hold in Kingston, though, after four days of gun battles between security forces and supporters of the alleged drug lord. No murders were recorded in the capital overnight, and although there were "a number of shooting incidents," security forces were able to "repel" them, the government said Wednesday.
Wall Street Journal: Beijing Is Shifting on Korea, U.S. Says
North Korea's new belligerence has exposed cracks in the thinking of Chinese officials toward their erratic neighbor, but leaders in Beijing appear to be edging toward criticizing Pyongyang for its alleged role in sinking a South Korean warship. U.S. officials said Wednesday they expect China to move cautiously toward the stance taken by South Korea, the U.S. and others—that the North is responsible for sinking the South Korean warship Cheonan and must be held accountable. China has taken pains in the two months since the sinking to remain neutral, calling for international restraint. A departure from that tack could signal a shift in the relationship between North Korea and China—the impoverished country's chief supplier of food, energy and arms and by far its biggest international backer.
Washington Post: Mayor of Cancun, Mexico, charged with drug trafficking, money laundering
The smooth-talking mayor of Cancun, Mexico's top resort destination and world-famous party town, was arrested by federal police Wednesday on charges of drug trafficking, money laundering and serving as a go-between for violent drug cartels. Gregorio Sánchez, who calls himself "Greg" but speaks little English, was arrested at the Cancun airport upon his return from Mexico City. Critics of the arrest also described it as no different from the controversial sweep last year that netted 10 mayors in Michoacan state before they were released. The mayors were all accused of aiding the cartels, but the government lacked evidence to continue with prosecutions.
New York Times: Electronics Maker Promises Review After Suicides
With about 800,000 Chinese employees, revenue of about $60 billion a year and a reputation for military-style efficiency, Foxconn is possibly the world's biggest electronics maker. It is now also the focus of criticism and troubling questions about a wave of suicides among its workers at a pair of factories here that serve as major suppliers to global brands like Apple, Dell and Hewlett-Packard. Sensing a public relations fiasco and facing questions from Foxconn suppliers, Mr. Gou traveled here Wednesday from Taiwan on what company executives said was an emergency trip. As part of a hastily assembled, carefully orchestrated news conference and tour led by Mr. Gou, Foxconn executives defended their labor practices, even as they vowed to do everything possible to prevent more young people from taking their own lives.
CNN: Anti-whaling activist to go on trial in Japan
The trial of an activist accused of interfering with Japan's whaling fleet is scheduled to begin in a Japanese court Thursday. Peter Bethune, 44, faces five criminal counts, including trespassing, in an incident earlier this year in the waters off the Antarctic where Japan conducts its annual whaling expedition. If convicted, he could spend years in prison and pay thousands of dollars in fines.
BBC News: Ethiopia opposition leaders call for new elections
Ethiopia's opposition leaders have called for a rerun of Sunday's elections, saying they were flawed. Head of the main opposition coalition Merera Gudina said he will not accept the results, which gave Prime Minister Meles Zenawi a landslide victory. Mr. Merera says two party members were killed by security forces, reports say. The EU and US have both criticized the polls, saying they fell short of international standards. Ethiopian officials have denied fraud.
BUSINESS
For the latest business news: www.CNNMoney.com
CNNMoney: Apple topples Microsoft's throne
Microsoft's dominance as the tech industry's most valuable player has ended. On Wednesday, Apple's market capitalization edged past its longtime rival's as investors made official what consumers have long suggested: Microsoft is no longer the industry's alpha dog. Just last month, Microsoft's market cap exceeded Apple's by about $25 billion, but now Apple is in the lead by nearly $3 billion. Microsoft's consumer products business is struggling to compete as Apple's hot new items like iPad and iPhone capture the attention of customers.
CNNMoney: Disney worker arrested in insider trading scheme
The FBI arrested a Disney employee and her boyfriend Wednesday on charges that the couple tried to sell inside information about the company to hedge funds, federal regulators said. The Securities and Exchange Commission has charged Bonnie Jean Hoxie and her boyfriend, Yonni Sebbag, for offering a total of 20 hedge funds early access to Disney's second-quarter financial results in a "brazen scheme" to profit from inside information. In addition to the SEC's civil complaint, the U.S. Attorney's Office, working with the FBI, filed criminal charges against Hoxie and Sebbag in New York.
CNNMoney: City budget cuts mean fewer cops on the beat
Better hope your car isn't stolen or your home burglarized in Huntington Beach, Calif. Tight fiscal times have forced the police department there to cut back on investigating certain crimes, including those involving property, unless there are hard leads. Detectives once dedicated to those incidents have been reassigned to patrol. The Huntington Beach police agreed to slash $1 million from its $58 million budget earlier this year to help close a $4 million city budget gap. The department has been unable to replace the 22 officers who retired in recent years, leaving it with a force of 237.
CNNMoney: Dow ends below 10,000
Stocks erased gains by the close Wednesday, with the Dow ending below 10,000 for the first time in three months, as worries about global growth and a slide in the euro overshadowed upbeat economic news. The Dow Jones industrial average (INDU) lost nearly 70 points, or 0.7%, ending at the lowest point since Feb. 8. The S&P 500 (SPX) index lost 6 points, or 0.6%, and the Nasdaq (COMP) lost 15 points, or 0.7%. A global market rally and a strong housing market report gave stocks a boost in the morning, but trading was choppy through the rest of the session as the euro weakened. Stocks slipped in the last hour of trading.
Bloomberg: Honda Halts China Plants Amid Parts-Factory Strike
Honda Motor Co., Japan's second- biggest carmaker, halted production at its four Chinese auto plants after workers at a parts factory went on strike demanding a pay raise. The walkout is the first to affect Honda's production in China, said Yasuko Matsuura, a Tokyo-based spokeswoman for the carmaker. Trade unions and employers appear to be reporting a growing number of strikes in China, although there are no official numbers, said Chang-Hee Lee, a Beijing-based industrial relations specialist at the International Labor Organization.
CNNMoney: Lehman sues JPMorgan over its collapse
Lehman Brothers' bankruptcy estate filed suit against JPMorgan Chase Wednesday, alleging that the bank demanded billions of dollars more than it needed in the firm's final days contributing to Lehman's ultimate demise. The suit, filed in the U.S. Bankruptcy Court in the Southern District of New York, contends that Lehman, which was scrambling to stay afloat, invited JP Morgan to assist it in securing emergency financing. The suit alleges that JP Morgan then used the intimate knowledge it learned about Lehman's books to demand as much as $8.6 billion in cash from its rival in the last four business days before it filed for bankruptcy.
Fortune: Treasury whittles away at its Citi stake
Treasury said Wednesday afternoon that it received $6.2 billion in its first sale of Citi shares and added that it "expects to continue selling its shares in the market in an orderly fashion." The government sold 1.5 billion shares over the past month through Morgan Stanley and has arranged to sell that much again between now and June 30. The agreement gives Morgan Stanley, as Treasury's investment banker, "discretionary authority to sell an additional 1.5 billion shares under certain parameters," the government said.
CNNMoney: Youth jobless crisis could have lasting impact
The recession has fueled a record level of unemployment among young workers and is likely to have a lasting impact on their job prospects, according to a congressional report released Wednesday. The Joint Economic Committee's (JEC) report found that one in five workers between the ages of 16 and 24 was unemployed in April, even as the economy showed signs of recovery, adding more than 570,000 jobs during the first four months of the year. The youth unemployment rate of 19.6% is the highest for the age group since the government began tracking the data in 1947, the JEC said.
Business Week: Nissan's Ghosn gambles big on electric cars
Nissan Motor Co. CEO Carlos Ghosn made the rounds in the U.S. the last two days pumping up his electric-car plans. He said the automaker and its global partner, French carmaker Renault SA, will be able to build 500,000 electric cars a year by 2014. To back up his bold plan, he announced a $1.7 billion investment in a lithium-ion battery plant in Smyrna, Tenn. All told, Nissan is dropping $5 billion from 2007 to 2012 for its ambitious play to be the leader in electric cars. The U.S. government loaned Nissan $1.4 billion of the cash for the battery plant. So in essence, we all have a piece of his gamble. And it's a big one.
In Case You Missed It
James Carville and Mary Matalin tell CNN's John King that Pres. Obama needs to take more action to clean up the oil spill.
Vice President Joe Biden cracks a joke at the expense of Connecticut Attorney General Richard Blumenthal on Tuesday.
Subscribe to the CNN=Politics DAILY podcast at http://www.cnn.com/politicalpodcast
And now stay posted on the latest from the campaign trail by downloading the CNN=Politics SCREENSAVER at http://www.CNN.com/situationroom