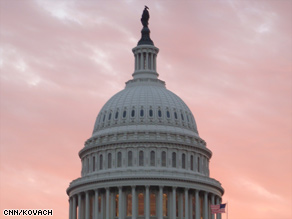 The CNN Washington Bureau's morning speed read of the top stories making news from around the country and the world.
WASHINGTON/POLITICAL
For the latest political news: www.CNNPolitics.com
CNN: Senate panel, House approve 'don't ask, don't tell' compromise plan
The U.S. House and a Senate committee approved amendments to a military bill on Thursday that would repeal the "don't ask, don't tell" policy barring openly gay and lesbian soldiers from military service, but only after some conditions are met. The Senate Armed Services Committee voted 16-12 to approve compromise language on the repeal in an amendment to the military policy bill. The panel then voted 18-10 to send the bill to the full Senate. In the House, the chamber voted 234-194 to add the amendment to its version of the defense policy bill. A final vote on the full bill was expected Friday.
CNN: Poll: Americans slightly less pessimistic on economy
The vast majority of Americans still say economic conditions in the country remain poor, but the public appears less pessimistic about the economy than they did earlier this year, according to a new national poll. A CNN/Opinion Research Corporation survey released Thursday morning indicates that 78 percent say economic conditions today are somewhat or very poor, with 22 percent saying the economy's in good shape.
CNN: President Obama shares little about Sestak job speculation
Amid a press conference that largely focused on the BP oil spill in the Gulf of Mexico, President Barack Obama refuted allegations of impropriety surrounding reports that his administration offered Rep. Joe Sestak a position several months ago if he would drop his Pennsylvania Senate bid. "I can assure the public that nothing improper took place," the President said, at the end of his hour-long press conference. But Obama refused to give any more details on the alleged offer, even as several Republicans and a handful of Democrats have demanded the White House be more upfront on the matter.
Washington Post: President Obama will skip Memorial Day visit to Arlington National Cemetery
President Obama is skipping the traditional Memorial Day visit to Arlington National Cemetery, a move that has dismayed some veterans - and comes at a sensitive moment in the administration's relationship with the military. Instead of speaking at Arlington, as he did last year and as most presidents have done, Obama will appear at the Abraham Lincoln National Cemetery outside Chicago, the White House said. Vice President Biden will take his place at Arlington, the most prestigious military cemetery in the country and home to Section 60, a large burial ground for soldiers killed in Iraq and Afghanistan.
CNN: Halter outraises Lincoln in Arkansas runoff
Fresh fundraising numbers might spell trouble for Sen. Blanche Lincoln of Arkansas. The Democrat raised less money in the last filing period than run-off opponent, Lieutenant Gov. Bill Halter. Both campaigns released campaign finance reports on Thursday. For the period between April 29 thru May 19, Lincoln's net contributions totaled $552,289.91. Halter raked in $777,119.94. That means Halter outpaced Lincoln by just over $224,830.
The Hill: Durbin upbraids credit card giants
Senate Majority Whip Dick Durbin on Thursday sent a terse letter to Visa and MasterCard, asking them to stop "threatening" small banks and credit unions by "distorting" his legislation cracking down on swipe fees. Writing separately to Visa Inc. Chairman and CEO Joseph Saunders and MasterCard Worldwide CEO Robert Selander, Durbin accused the card giants of trying to intimidate small financial firms into opposing the amendment by warning them of changes to fee rates and operating rules. If the companies don't stop, Durbin said, they could be investigated.
CNN: McCain: Hayworth an 'Avid Earmarker'
Sen. John McCain has released more tough ads against his Republican primary opponent, now saying that J.D. Hayworth is an "Avid Earmarker." That is the title of the television and radio spots that the McCain campaign released statewide on Thursday. Sen. McCain is locked in a battle with the former congressman to win the GOP senate nomination in Arizona. Both the radio and television ads cite Hayworth being "described as an 'avid earmarker.'" In a corresponding e-mail to reporters, the McCain campaign listed media reports to bolster their claim.
CQ Politics: Wisconsin: Wall Confirms Decision To End Senate Bid
Real estate developer Terrence Wall confirmed Thursday that he is ending his campaign to unseat Sen. Russ Feingold (D), a decision he said he arrived at "with great reluctance."Wall's statement didn't elaborate on his reasons for exiting the race, though his announcement came just a few days after businessman Ron Johnson decisively defeated Wall for the endorsement of the state GOP organization. Wall's statement didn't mention Johnson.
Politico: Mary Landrieu: President Obama will pay politically for spill
Sen. Mary Landrieu said Thursday that President Barack Obama will pay a political price for his lack of visibility in the Gulf region during the catastrophic BP oil spill. Landrieu's comments came as Obama spoke to reporters in the East Room of the White House, defending his administration's response to the ecological disaster. The president plans to head to the Gulf to inspect the oil spill on Friday.
Honolulu Advertiser: Djou backs budget proposal
Newly elected U.S. Rep. Charles Djou, R-Hawai'i, is backing a proposal for a constitutional amendment requiring the federal government to balance its budget. Djou yesterday joined more than 170 other co-sponsors of House Joint Resolution 1. The measure, introduced by Rep. Bob Goodlatte, R-Va., would prohibit most federal spending from exceeding total receipts in a fiscal year.
Charleston Post and Courier: Folks' data shows 600 Haley calls
In 2007, the year political blogger Will Folks claims he had an affair with state Rep. Nikki Haley, the two spoke by phone at least 600 times. Some of those calls came late at night, lasted for hours - and one did not end until nearly 5 a.m. At the time, Folks was a part-time consultant for Haley. According to Folks' personal cell-phone records, which he provided to The Post and Courier on Thursday night, he and the current frontrunner for the Republican gubernatorial nomination spoke almost daily, sometimes for a minute at a time, a half-dozen times a day, and other times for upwards of an hour in the middle of the day.
St. Paul Star Tribune: Entenza chooses Robinson as his running mate
Hoping to inject a surge of energy into a struggling campaign, DFL gubernatorial candidate Matt Entenza tapped former television news anchor Robyne Robinson on Thursday to be his running mate. In choosing Robinson, Entenza fuses his deep pockets with her local celebrity status in a package that could give the campaign new reach into the black community and a closer look by female voters. Entenza, abandoned as a child by his alcoholic father, said he connected to Robinson's up-from-the-bootstraps story. But some of his opponents questioned his choice as dubious or desperate.
Wall Street Journal: Probe Complicates Endorsement
Andrew Cuomo defended accepting the state Independence Party's backing for governor on the grounds that it wasn't involved in a continuing criminal investigation—but a person familiar with the case said Thursday that the party remains in prosecutors' cross hairs. A Manhattan grand jury is currently looking into the circumstances surrounding $1.2 million that Mayor Michael Bloomberg transferred to the Independence Party of New York. The party then funneled $750,000 of that sum to a firm operated by John Haggerty, a Republican political operative from Queens. Mr. Haggerty has been publicly identified as a target of the investigation, according to people familiar with the case. But prosecutors could still consider filing criminal charges against the party and its operatives, a person familiar with the case said. The party has never been advised that it isn't under investigation, the person said.
Washington Post: Republicans criticize Obama administration brochure on health-care overhaul
As the secretary of health and human services explains it, the government has an obligation to spread the word about the new health-care law. To that end, the department spent millions of dollars printing a glossy brochure and mailing it this week to 40 million Medicare beneficiaries detailing what Secretary Kathleen Sebelius called "the facts." Not surprisingly, Republicans see it differently. In Washington's political hothouse, one person's recitation of the facts is another's "gross misuse of taxpayer funds to provide biased information for political purposes."
NATIONAL
For the latest national news: www.CNN.com
CNN: Obama to visit Gulf, defends oil spill response
President Obama is expected to visit Louisiana on Friday to observe cleanup efforts and speak to local officials about capping the undersea oil gusher in the Gulf of Mexico. His visit will be the second to the region since the spill occurred on April 20. His visit also comes amid criticism that his administration has been slow in its response to the environmental disaster. Obama insisted that the federal government was fully engaged, adding "and I'm fully engaged."
CNN: Feds give partial OK to Louisiana dredge plan
The federal government gave partial approval Thursday to Louisiana's plan to keep oil out of coastal estuaries by dredging up new barrier islands, the official leading the government's response to the Gulf of Mexico spill said. Coast Guard Adm. Thad Allen called for a prototype project to begin on one of six segments approved by the Army Corps of Engineers. Louisiana Gov. Bobby Jindal later told a news conference that the work on the initial project should start immediately to prove how effective the dredged barriers can be.
New York Times: Performers to Stay Away From Arizona in Protest of Law
A coalition of music groups has announced that its members will boycott all performances in Arizona to protest a tough new anti-immigration law there, and it has urged fans to sign a petition demanding the revocation of the legislation, which it calls "an assault on the U.S. Constitution." The campaign, called the Sound Strike, has been organized by Zack de la Rocha, the lead singer of the rap metal band Rage Against the Machine, and is endorsed by English-language rock and rap performers like Massive Attack, Kanye West, Conor Oberst, Sonic Youth and Joe Satriani. But the signatories also include Spanish-speaking reggaetón artists and Los Tigres del Norte, perhaps the most popular and influential exponent of Mexican regional music in the United States.
INTERNATIONAL
For the latest international news: http://edition.cnn.com
CNN: North Korea warns it will meet war with 'all-out war'
North Korea reacted to a South Korean anti-submarine exercise early Thursday by saying it would meet "confrontation with confrontation" and war with "all-out war," according to North Korean state-run media. "Now that the puppet group challenged the DPRK [North Korea] formally and blatantly, the DPRK will react to confrontation with confrontation, and to a war with an all-out war," according the KCNA news agency. The news agency referred to South Korean leaders as a "group of traitors" and said they would experience "unheard of disastrous consequences" if they misunderstand North Korea's will.
CNN: Trains collide after suspected Maoist blast in India
At least seven bodies have been pulled out of the mangled wreckage left when two trains collided in eastern India early Friday, a railway spokesman said. About 45 passengers have been hospitalized. An explosion triggered by suspected Maoist rebels is believed to be the cause of the accident, officials said.
Wall Street Journal: In Vote, Colombia Ponders Two Paths
President Alvaro Uribe, a take-no-prisoners rancher, transformed Colombia over the past eight years by getting tough on leftist guerrillas who had destabilized this Andean nation for decades. Now, as Colombians go to the polls Sunday to elect a successor to Mr. Uribe, they face a tough choice. They can pick a macho-style candidate who promises to finish what Mr. Uribe started. Or they can pick a philosopher who vows to clean up Colombia's politics, focuses on issues like education and cries in public. The candidates in effect pose a referendum on whether Colombia is safe enough to become a kinder, gentler place where human rights and the law are given the same priority as security.
Washington Post: Thailand tries to go after financial backers of 'red shirts'
Victorious over rice farmers in flip-flops and riffraff with slingshots, molotov cocktails and a few guns, the commander in chief of the Royal Thai Army has moved swiftly to contain another menace: a golf-loving steel tycoon and maker of Nestle instant coffee. Multimillionaire businessman Prayudh Mahagitsiri is now No. 21 on the latest installment of an expanding financial blacklist issued by the Center for the Resolution of the Emergency Situation, a body handling Thailand's gravest political crisis since the founding of the modern Thai state in 1932.
CNN: OAS body raises concerns over Jamaica as death toll rises
An Organization for American States body expressed "deep concern" Thursday over the violence engulfing the Caribbean nation of Jamaica and wants an inquiry into the unrest that has left at least 67 dead. The Inter-American Commission on Human Rights said it "deeply regrets the deaths that have occurred in this context, and urgently calls on the State of Jamaica to conduct a diligent, effective, and impartial investigation of these events."
The Guardian: Torture inquiry should leave no stone unturned, says Amnesty
The coalition government should "leave no stone unturned" in the search for the truth about the UK's complicity in foreign torture, the head of Amnesty International has said. An inquiry promised by William Hague, the foreign secretary, needs to be both independent and able to decide whether any individuals should be prosecuted, said Amnesty's interim secretary general, Claudio Cordone. Launching its annual human rights report, Amnesty was highly critical of the last Labour government for "stonewalling" in the face of repeated calls for an independent investigation into the mounting allegations that UK intelligence officials were complicit in abductions, illegal detention and torture since the al-Qaida attacks of September 2001.
CNN: American paroled in Peru could be expelled, official says
Lori Berenson, a U.S. citizen imprisoned in Peru since 1995 for helping leftist rebels, was released on parole Thursday afternoon. Government-run TV Peru showed Berenson walking out of Chorrillos Penitentiary in Lima, Peru's capital, and getting into a waiting car. She did not respond to shouts from a throng of photographers and reporters.
BBC News: Singapore oil slick closes beach after ship collision
The authorities in Singapore have closed beaches on its east coast because of an oil slick from a damaged tanker. The order affects 7km (4.3 miles) of the coastline. It has forced the closure of the national sailing centre and a popular area for swimming, cycling and picnicking ahead of school holidays. The pungent oil spill resulted from a collision on Tuesday between a Malaysian oil tanker and a cargo ship.
CNN: Sudanese president starts new term amid boycott calls
Sudanese President Omar al-Bashir was to be sworn in for a new term Thursday amid an outcry from human rights groups over his international war-crimes indictment. Al-Bashir won the country's controversial but historic presidential election with roughly two-thirds of the vote, the nation's election commission said. The elections were the first in 24 years in the oil-rich African nation, which has seen deadly violence in Darfur and a civil war between north and south. International observers, including the United States, criticized the elections and said there were irregularities in many parts of the country.
Wall Street Journal: Nepal Faces a Constitutional Crisis
Nepal's leading politicians say they will miss a crucial deadline of midnight Friday to give South Asia's youngest republic a new constitution aimed at institutionalizing democracy, restructuring the state and concluding a four-year-old peace process that brought Maoist rebels into the political mainstream. The leaders of the three top political parties—the largest in the Constituent Assembly—were holding meetings in Kathmandu on Thursday to try to stitch together a consensus to extend the deadline for rewriting the constitution by at least another six months. If no consensus is reached, Nepal will face a constitutional crisis and an uncertain future.
BUSINESS
For the latest business news: www.CNNMoney.com
CNNMoney: Jobless benefits dwindle as lawmakers dither
Some 1.2 million people will run out of their jobless benefits in June if Congress fails to act, according to the National Employment Law Project. Federal unemployment benefits, which last up to 73 weeks, kick in after the state-funded 26 weeks of coverage expire. These federal benefits are divided into tiers, and the jobless must apply each time they move into a new tier. Nearly 10 million people are collecting unemployment insurance. A record 46% of the 15.3 million jobless Americans have been out of work six months or longer.
CNNMoney: FDA warns another drugmaker over tainted meds
You may have thought you were playing it safe by avoiding recently-recalled Johnson & Johnson products, but another drugmaker is now in the hot seat for some of the same problems, including the release of metal-tainted pills. On Thursday, the U.S. Food and Drug Administration issued a warning letter to one of the world's largest manufacturers of generic drugs, Michigan-based Perrigo Co.
Fortune: Warren Buffett to testify under FCIC subpoena after resisting commission's request
When Warren Buffett testifies before the Financial Crisis Inquiry Commission next Wednesday, it will be because he was subpoenaed. If you don't know how a subpoena works, this one begins with capital letters, "YOU ARE HEREBY COMMANDED to appear and give testimony." As Buffett characterizes it, "This is an offer you can't refuse." And to all that there's naturally a backstory - a very interesting one at that.
Wall Street Journal: Ford Plans to Kill Storied Mercury
Ford Motor Co. is preparing to phase out its 71-year old Mercury brand, adding to the list of storied Detroit nameplates that reached the end of the road in recent years as the industry has become more competitive. Ford Chief Executive Alan Mulally and his top lieutenants have won the backing of key members of the Ford family and are expected to seek approval from the car maker's board to kill Mercury after years of dwindling sales, a person familiar with the matter said Thursday.
Bloomberg: Prudential's Bid for AIA Sours as Investors Swap Risk
Prudential Plc Chief Executive Officer Tidjane Thiam was handed the chance to make a $35.5 billion bid for insurer AIA Group Ltd. after his firm's share price almost tripled. The biggest decline in equity markets since the financial crisis may derail his plans. Falling investor confidence sparked by Europe's sovereign debt crisis hampered corporate fundraisings in the past two months as Thiam, 47, asks investors for $21 billion, the biggest rights offer for an acquisition on record.
Financial Times: Investors reassured by China's eurozone support
A brighter outlook for the euro provided a positive backdrop for risk appetite yesterday as China reiterated its commitment to investing in the eurozone. Global equity and commodity prices jumped, and government bond yields rose, as welcome news also came from Spain as the country's parliament passed the latest austerity package, while Japan registered a fifth successive month of export growth.
New York Times: Public Offering Said Likely for Toys 'R' Us
The private equity firms that own Toys "R" Us plan to file for an initial public offering within the next few days, people briefed on the matter said Thursday. The company, once the nation's largest seller of toys, has rebounded since its 2005 takeover by Kohlberg Kravis Roberts, Bain Capital and Vornado Realty Trust for $6.6 billion. Many private equity firms this year have sought to cash in on their investments as markets rose earlier in the year. The recent market volatility has discouraged many planned offerings, however, and analysts have pointed out that offerings by companies owned by private equity have generally fared worse than the average.
In Case You Missed It
President Obama faces the media in an effort to staunch criticism of his response to the oil spill. Ed Henry reports.
Senators react to the passage out of committee of a measure to repeal the 'don't ask, don't tell' policy in the military.
Subscribe to the CNN=Politics DAILY podcast at http://www.cnn.com/politicalpodcast
And now stay posted on the latest from the campaign trail by downloading the CNN=Politics SCREENSAVER at http://www.CNN.com/situationroom