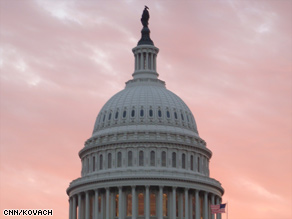 The CNN Washington Bureau's morning speed read of the top stories making news from around the country and the world.
WASHINGTON/POLITICAL
For the latest political news: www.CNNPolitics.com
CNN Poll: Regardless of experience concerns, majority back Kagan
Many Americans express concern over Elena Kagan's lack of experience as a judge, but they currently don't think she is too liberal for a seat on the Supreme Court and a majority say that the U.S. Senate should vote for confirm her, according to a new national poll. A CNN/Opinion Research Corporation survey released Tuesday indicates that 54 percent of the public says that Kagan should be confirmed to the high court, with 36 percent saying that senators should not confirm President Obama's nominee for associate justice to the high court.
CNN: Obama to talk economy in Pittsburgh
President Obama will be talking jobs and the economy when he travels to Pittsburgh, Pennsylvania on Wednesday. A White House official tells CNN the president will deliver remarks on "the state of the economy, the future we need to seize, and the path we choose to get there."
CNN: Arizona governor defends immigration law; will meet with president
Arizona Gov. Jan Brewer made clear Tuesday she's not worried about a potential legal challenge from the Obama administration over her state's controversial immigration law. "We'll meet you in court," Brewer told CNN' when asked how she would respond if President Barack Obama's Department of Justice decided to challenge the law. "I have a pretty good record of winning in court." The American Civil Liberties Union is currently leading a court challenge. Attorney General Eric Holder, who met with a delegation of police chiefs from Arizona and elsewhere this week to discuss the law, has yet to indicate whether the federal government would file a legal challenge.
The Hill: Hispanic Caucus wants Napolitano to cut ties with Arizona police
Members of the Congressional Hispanic Caucus (CHC) have called on the Department of Homeland Security to sever its ties with Arizona police in response to the state's new immigration enforcement law. Calling Arizona's recently-enacted law requiring police to question and verify the citizenship of anyone they reasonably suspect to be an illegal immigrant "appalling," three leaders of the Hispanic Caucus wrote Homeland Security Secretary Janet Napolitano to demand the termination of its immigration-enforcement partnerships with law enforcement entities in the state.
Washington Post: Money intended to help candidates often ends up funding PACs themselves
Minority Leader John A. Boehner has collected more than $1.4 million from business interests this election cycle for a committee he says he created to help fellow Republican lawmakers. But Boehner's committee has spent only about a third of its money helping other candidates. About two-thirds of its expenditures have gone instead to costs the committee describes as necessary to raise money, including fine meals and trips to luxurious resorts where the congressman mingles with corporate-directed groups and lobbyists. Boehner (Ohio) has spent more than $182,000 through the committee on frequent travel with donors to Florida and similar vacation spots, according to Federal Election Commission records, including $70,403 at the Ritz-Carlton in Naples and more than $30,000 at Disney Resort Destinations. As it turns out, Boehner's use of funds collected for others by his "leadership PAC," or political action committee, is more the rule than the exception among Republican and Democratic lawmakers.
CNN: Gibbs declines to give more Sestak details
White House Press Secretary Robert Gibbs declined Tuesday to name what position was offered to Pennsylvania Rep. Rep. Joe Sestak last year in an effort to dissuade him from launching a primary challenge against incumbent Sen. Arlen Specter.
New York Times: Hero to Conservatives Often Follows Centrist Path
After a pair of votes the other day on some fine points of a major financial regulatory bill, Senator Scott Brown of Massachusetts ducked out of the Capitol and back to his office, where he traded his suit and tie for softball gear to lead his staff in an afternoon match-up against the office of Senator Lamar Alexander of Tennessee. Four months after being elected to fill the seat of the liberal lion Edward M. Kennedy and becoming a national hero to conservative Americans, Mr. Brown still has an air of celebrity about him. But a pinup boy for the Tea Party he is not.
Los Angeles Times: GOP candidate Tom Campbell pulls TV ads for U.S. Senate race in California
Capitulating to his dwindling campaign treasury, Republican Senate candidate Tom Campbell pulled his television advertising Tuesday and in the closing days of the primary race will rely on Internet appeals and telephone calls to make his case to GOP voters. The move creates an enormous hurdle for the former congressman at a time when his chief rival, Carly Fiorina, has loaned several million dollars to her campaign and, on the strength of a generous round of TV ads, has shot ahead in what was once a close contest to replace Democratic Sen. Barbara Boxer.
Idaho Statesman: Gubernatorial candidate Allred courts Idaho's moderates
Keith Allred has had a pretty good couple of months leading up to his 80-plus percent win in the Democratic primary. He's gained on Gov. Butch Otter in some polls. He's raised more campaign money than Otter. Even the bad stuff has worked out for him. An attack ad funded by a coalition of the state's largest industries underscored Allred's message that he's taking on special interests – and showed they consider him a threat. Of course, the challenge is keeping the pace.
Charleston Post and Courier: Senate runoff rivals appeal to different party factions
Who would be the stronger foe for Republican Sen. Richard Burr in the fall: Elaine Marshall, the folksy secretary of state, or Cal Cunningham, the young Army captain who served in Iraq as a lawyer? That's the question that will confront Democratic primary voters starting Thursday when early voting begins for the runoff June 22. In some respects, Democrats have been wrestling with the question for the past year.
Wall Street Journal: Alabama Democrat Davis Is Rebuffed
A Democratic congressman appeared on the way Tuesday night to losing his bid to become Alabama's first African-American governor, as the state, as well as Mississippi and New Mexico, held primary elections. With 58% of precincts reporting, two-term state Agriculture Commissioner Ron Sparks led Artur Davis, a 42-year-old former prosecutor from Birmingham, winning 65% of the vote. Mr. Sparks had trailed in the polls throughout the contest, but began to close the gap over the past month through aggressive campaigning, including negative attacks on Mr. Davis, paid for by a late surge of donations.
Washington Post: Elections held in Alabama, Mississippi and New Mexico
Alabama Agriculture Commissioner Ron Sparks trounced Rep. Artur Davis in the state's Democratic primary for governor Tuesday night, a shocking result for a national figure once regarded as a heavy favorite to be on the ballot in November.
NATIONAL
For the latest national news: www.CNN.com
CNN: Robots succeed, cut well pipe; oil gushes into Gulf
A new flow of oil emerged from BP's damaged undersea well in the Gulf of Mexico on Tuesday evening after a remote-controlled submarine successfully cut into the well's riser pipe. BP used robots in its latest attempt to curtail the flow of crude from the largest spill in U.S. history, which spread to barrier islands off Alabama and Mississippi on Tuesday.
CNN: Feds have launched criminal oil spill investigation, AG says
U.S. Attorney General Eric Holder said Tuesday the Justice Department has launched a criminal investigation into the massive oil spill spreading through the Gulf of Mexico. Holder said the investigation, which began "some weeks ago," would be comprehensive and aggressive. He promised that the federal officials will prosecute anyone who broke the law. Holder emphasized that the investigation will cover all aspects of the oil spill, including the deaths of 11 workers in the April 20 explosion and fire on the Deepwater Horizon rig that started the leak.
INTERNATIONAL
For the latest international news: http://edition.cnn.com
CNN: Israel begins freeing foreigners held from Gaza flotilla
Israel began releasing activists detained from a Gaza aid flotilla Tuesday as humanitarian cargo aboard the ships was unloaded and taken into the blockaded Palestinian territory. Israel's moves came as the Jewish state came under blistering international criticism, especially from Turkey, its closest Muslim ally.
CNN: Turkey demands U.S. solidarity in response to Israeli attack
Turkey's foreign minister said Tuesday that his government is "not happy" with the U.S. response to Israel's raid on an aid flotilla carrying humanitarian goods bound for blockaded Gaza. "We expect full solidarity from the United States," Foreign Minister Ahmet Davutoglu said before a meeting with U.S. Secretary of State Hillary Clinton. "We are not happy with the U.S. statement from yesterday." Davutoglu called on the United States to condemn the attack, express solidarity with the families of the victims and exert pressure on Israel to free prisoners taken during the raid.
Jerusalem Post: 'Equipment not in shortage in Gaza'
Twenty-four hours after the last ship of the Gaza aid flotilla entered the Ashdod Port under the watchful eye of the Israeli Navy, all of the equipment on board was examined Tuesday and the majority of it was loaded onto trucks headed to the Kerem Shalom border crossing. The flotilla's flagship, the Marmara – where the clash between Israeli commandoes and the passengers took place and which held the participant's personal belongings – had yet to be fully inspected. In a statement to reporters at the port on Tuesday, Colonel Moshe Levi, commander of the IDF's Gaza Strip Coordination and Liaison Administration (CLA), said that none of the equipment found on board the three cargo ships was in shortage in Gaza.
CNN: Japanese PM Yukio Hatoyama to resign
Japanese Prime Minister Yukio Hatoyama told parliamentary officials Wednesday he will resign. "I'm going to step down," Hatoyama announced in a live broadcast on Japanese TV NHK. Hatoyama, who took office in September, has faced criticism after backtracking on a promise to move an unpopular U.S. Marine base from Okinawa to ease the burden of the island, which hosts the majority of the United States military presence in Japan.
BBC News: Thai PM survives confidence vote over Bangkok protests
Thailand's prime minister has survived a no-confidence vote tabled in parliament in the wake of recent deadly street protests. Allies of Abhisit Vejjajiva backed the prime minister, who was facing censure over his handling of the protests.
Der Spiegel: Merkel's Search for New German President Full of Potential Pitfalls
As if she didn't have enough on her plate, Chancellor Angela Merkel must now find a replacement for German President Horst Köhler, who resigned in a huff on Monday. If she fails to organize a smooth succession, fresh questions will be raised about her own leadership. Germany's political establishment, shaken by the sudden resignation of President Horst Köhler on Monday, is rife with speculation about the possible impact on Chancellor Angela Merkel's government as it emerged that she had warned him that quitting could plunge the country into a deep crisis.
CNN: Colombian presidential candidates prepare for runoff
What was trumpeted as an expected photo-finish in last Sunday's presidential election in Colombia turned out to be not so close, something that caught the two leading campaigns off guard, their respective candidates told CNN. Defense Minister Juan Manuel Santos received 47 percent of the votes, placing him in a runoff with former Bogota mayor Antanas Mockus who garnered 22 percent of the vote. Pollsters had placed the top two candidates in a statistical dead heat in the days leading up to the election.
BBC News: Namibia HIV women sue over forced sterilisation
Three women in Namibia are suing the state for allegedly being sterilised without their informed consent after being diagnosed as HIV positive. The women say the doctors and nurses should have informed them properly about what was happening. The rights group representing them, the Legal Assistance Centre, says it has documented 15 cases of alleged HIV sterilisation in hospitals since 2008.
BBC News: China and Japan 'back North Korea financial sanctions'
South Korea says it has persuaded China and Japan to take part in financial sanctions against North Korea. It comes in the wake of the sinking of a South Korean naval ship by a North Korean submarine. In a BBC interview, South Korean Foreign Minister Yu Myung-hwan speculated that the sinking of the Cheonan might have been the result of internal Pyongyang politics.
CNN: Knox appears in Italian court to face slander charges
American Amanda Knox, serving time in an Italian prison for the 2007 murder of her British roommate, appeared in court briefly Tuesday to face slander charges for saying that Italian police beat her during an interrogation, said her attorney, Luciano Ghirga. Police in Perugia, Italy, have always denied beating Knox and filed the slander charges against her. Knox, 22, of Seattle, Washington, was convicted in December of killing her British roommate, Meredith Kercher, in November 2007. Also convicted was Knox's ex-boyfriend, Italian Raffaele Sollecito. Knox was sentenced to 26 years and Sollecito to 25.
BUSINESS
For the latest business news: www.CNNMoney.com
CNNMoney: BP's $70 billion whipping
Despite the sharp fall in BP's share price following the company's inability to cap a leaking well in the Gulf of Mexico, most analysts say the selloff is overdone. BP shares sank nearly 15% Tuesday after the company's latest attempt to seal the leaking Gulf oil well failed over the weekend. The selloff accelerated just before the closing bell, when U.S. Attorney General Eric Holder announced a criminal probe into the spill. Since the accident happened April 20, which resulted in 11 deaths and an oil leak of up to 19,000 barrels per day, BP shares have fallen nearly 40%, wiping out nearly $70 billion in shareholder value. Before the accident the company had a market capitalization of nearly $183 billion. Now it's just below $115 billion.
New York Times: S.E.C. Is Said to Seek to Bar Wall St. Financier
As it investigates a suspected kickback scheme in New York's pension system, the Securities and Exchange Commission has been pushing to bar Steven L. Rattner, a prominent financier and former adviser to the Obama administration on the auto industry, from working in the securities industry for up to three years, according to three people told of the discussions. But Mr. Rattner has fiercely resisted the proposed penalty, setting up a face-off with the federal government, according to these people, who spoke on the condition of anonymity because the negotiations are intended to be confidential. It would be the most severe penalty for any of the Wall Street executives ensnared in the wide-ranging pension investigation, and it would carry a significant stigma for Mr. Rattner, whose rise in high finance catapulted him to the top of New York's social and political hierarchy.
Bloomberg: Yen Weakens as Hatoyama Quits; China Shares Reach 13-Month Low
The yen weakened after Japan's Prime Minister Yukio Hatoyama said he would step down less than two months before elections. China's stocks fell to a 13-month low amid concern fund-raising by banks will dilute shareholder value. Japan's currency fell against all of its most-traded counterparts. The MSCI Asia Pacific Index sank 0.7 percent to 111.44 as of 1:18 p.m. in Tokyo. Oil prices fell for a third day, while copper and zinc prices sank as much as 1.4 percent amid concern demand from China and Europe will decline. Hatoyama's resignation hurts the yen as political instability damps the appeal of the currency as a refuge from volatility.
New York Times: Disney Puts Tickets on a Facebook Site
The Walt Disney Company has created what it believes is a first-of-its-kind application allowing Facebook users to buy tickets to "Toy Story 3" without leaving the social networking site and while, at the same time, prodding their friends to come along. The application, called Disney Tickets Together, could transform how Hollywood sells movie tickets by combining purchases with the powerful forces of social networking. When you buy a ticket through Disney's application, for instance, it alerts your Facebook friends and prompts you to invite them to buy tickets of their own. Disney quietly introduced the service on May 26 with a simple post on the site's official "Toy Story 3" page, which has over 732,000 followers.
CNNMoney: Say goodbye to full-time jobs with benefits
Jobs may be coming back, but they aren't the same ones workers were used to. Many of the jobs employers are adding are temporary or contract positions, rather than traditional full-time jobs with benefits. With unemployment remaining near 10%, employers have their pick of workers willing to accept less secure positions. In 2005, the government estimated that 31% of U.S. workers were already so-called contingent workers. Experts say that number could increase to 40% or more in the next 10 years.
CNNMoney: Another floor mat issue – Ford Fusion owners warned
Federal car safety regulators are warning owners of 2010 Ford Fusion and Mercury Milan sedans of possible dangers from floor mats. Owners were told gas pedals could become stuck if all-weather floor mats are stacked on top of the cars' standard mats. Last fall, Toyota (TM) recalled cars because of a similar issue. That recall, which ultimately included about 5 million vehicles, started after a family was killed in a crash that was apparently caused by a gas pedal trapped by an all-weather floor mat.
CNNMoney: Zipcar files for $75 million IPO
Zipcar is seeking to raise $75 million through an initial public offering to pay off debt, the company said in a filing Monday. It would be the Cambridge, Mass.-based car-sharing company's first entry into the public market. As of Mar. 31, 2010, the company had more than $29.9 million in debt. Zipcar, founded in 2000, operates in 13 cities and on more than 150 U.S. college campuses. The company's total 2009 revenue was $131.2 million.
Investors Business Daily: U.S. Manufacturing Robust Last Month As Overseas Slows
U.S. manufacturing remained strong in May while construction spending jumped, according to separate reports Tuesday, suggesting that the world's largest economy remains resilient despite evidence of slowing elsewhere. The Institute for Supply Management's manufacturing index slid 0.7 point to 59.7, just below April's six-year high. Wall Street expected 59.4. It was the 10th straight month over 50, indicating growth.
Wall Street Journal: H-P Revamps Services Unit
Hewlett-Packard Co. said it plans to shed about 9,000 workers from its technology-services division while investing $1 billion to modernize the unit, as it moves to jumpstart growth in an industry that's lagged the economic recovery. H-P's restructuring comes two weeks after the Palo Alto, Calif., company said quarterly revenue in its services division—which runs computer systems for large companies and governments—rose 2% from a year earlier but declined by 3% when adjusted for currency differences. In contrast, other H-P divisions such as personal computers saw sales increase more than 20% year over year.
In Case You Missed It
CNN's Brian Todd explains underwater efforts by engineers preparing to cut the oil well's pipe and put a cap over it.
Paul McCartney wins the Gershwin Prize, then discusses the backstory behind some of the songs he likes performing.
Subscribe to the CNN=Politics DAILY podcast at http://www.cnn.com/politicalpodcast
And now stay posted on the latest from the campaign trail by downloading the CNN=Politics SCREENSAVER at http://www.CNN.com/situationroom