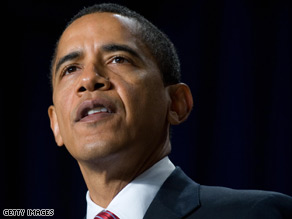 A new CNN poll indicates that most Americans think that President Obama is honest and trustworthy, but they are split over whether his presidency has improved race relations.
Washington (CNN) - Most Americans think that President Barack Obama's honest and trustworthy, but they are split over whether his presidency has improved race relations in the country, according to a new national poll.
A CNN/Opinion Research Corporation survey indicates that on race relations, the public is divided right down the middle over Obama's time in the White House. Eleven percent of those questioned say his presidency has created a new era of race relations; with 39 percent saying there has been some improvement in race relations since he took office. That adds up to 50 percent who see Obama's track record on race relations in a positive light.
But 33 percent say that Obama has not made any real changes in race relations and 17 percent say that his time in office has made race relations worse. That adds up to 50 percent who don't think that Obama has improved race relations at all.
Six out of ten people questioned in the poll, which was released Thursday, say the president is honest and trustworthy, with 39 percent saying they disagree. But when respondents are asked whether Obama is "honest and trustworthy enough to be president," the figure rises to 66 percent.
"The number of Americans who think the president is honest depends on how the question is worded - a phenomenon that pollsters first noticed during the Clinton administration," says CNN Polling Director Keating Holland.
"One likely explanation for the difference is that some Americans set the bar lower for public officials than for private citizens. A CNN poll taken in February, for example, showed that at least seven in ten Americans thought that George Washington and Abraham Lincoln had lied to the American public when they were president - one indication that many Americans assume a lower level of honesty for presidents," adds Holland.
Regardless of the wording, it is clear that most Americans consider Obama honest and trustworthy - an important reason why he has remained personally popular despite a drop in the number of people who approve of his performance in office.
The CNN/Opinion Research Corporation poll was conducted May 21-23, with 1,023 adult Americans questioned by telephone. The survey's overall sampling error is plus or minus three percentage points.
- CNN Deputy Political Director Paul Steinhauser contributed to this report