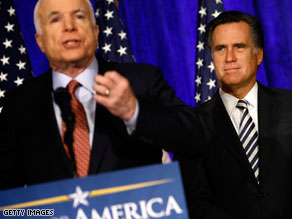 John McCain and Mitt Romney are teaming up Friday in Arizona.
(CNN) - They were once bitter rivals. But that's so 2007 and early 2008, when John McCain and Mitt Romney were battling for the Republican presidential nomination.
Friday they team up in Arizona, as the former Massachusetts governor helps campaign for Sen. McCain, who's battling for a fifth term in office.
Romney, who may make another bid for the White House, is scheduled to be a special guest at a McCain town hall meeting in Mesa, according to the senator's campaign. McCain is facing a tough primary challenge from the right launched by former seven-term Rep. JD Hayworth, who most recently was a popular conservative radio talk show host. The two will face off in Arizona's August 24 primary.
After dropping out of the hunt for the presidency in early 2008, Romney quickly backed McCain and campaigned for the GOP nominee in the general election. He has endorsed McCain's Senate re-election bid and campaigned for the senator in Arizona in March, when Romney was in Phoenix for a book signing.
Follow Paul Steinhauser on Twitter: @psteinhausercnn