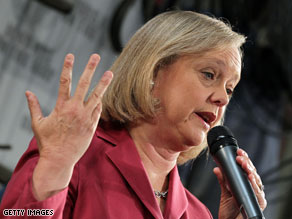 A new poll indicates Senate hopeful Meg Whitman has opened up a significant lead in the California GOP primary.
(CNN) – With four days left until California's primary, a new survey indicates that Meg Whitman has a two-to-one lead over her opponent in the battle for the state's Republican gubernatorial nomination.
A Field Poll released Friday morning shows that 51 percent of likely GOP primary voters support former eBay CEO Whitman, while 25 percent back California Insurance Commissioner Steve Poizner. Nearly one in five remain undecided.
The survey indicates that Whitman leads among all subgroups, including age, gender, geography, religion, ideology and Tea Party movement identification.
Whitman held a large lead over Poizner in numerous state polls earlier this year, but more recent surveys indicated that Poizner, a self made multimillionaire, was closing the gap, thanks to commercials questioning Whitman's conservative credentials, her stance on illegal immigration, and her ties to Goldman Sachs.
But Whitman, who's spent around $70 million of her own money on the campaign, has widened her lead in polls released over the past two weeks.
The Republican winner in the June 8 primary will face off in the general election against state Attorney General Jerry Brown. The former two term governor is the presumptive Democratic nominee.
More than six in ten questioned in the survey say Whitman has a better chance than Poizner to defeat Brown in November, with 21 percent saying that Poizner has the better chance to beat Brown.
The winner in November will succeed Republican Gov. Arnold Schwarzenegger, who is term limited.
The Field Poll was conducted May 27-June 2, with 511 likely California GOP primary voters questioned by telephone. The survey's overall sampling error is plus or minus 4.5 percentage points.
Follow Paul Steinhauser on Twitter: @psteinhausercnn