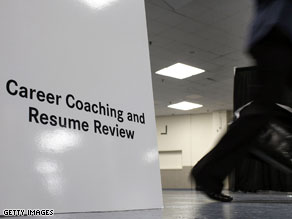 The unemployment rate fell to 9.7 percent in May.
Washington (CNN) - The nation's unemployment rate fell to 9.7 percent in May, the Labor Department reported Friday.
That's a drop of two-tenths of a percent from April's 9.9 percent level. Analysts had expected to rate to fall to 9.8 percent.
The Labor Department also reports that the economy added 431,000 jobs in May, the biggest monthly gain since March of 2000. But economists had forecasted a gain of 500,000 jobs.
Of the jobs added, 390,000 were in the government, with the private sector adding 41,000 jobs, down from 218,000 in April.
A top Congressional Republican was quick to react to the report.
"Count me among the millions of Americans who welcome a jobs report that shows jobs gained rather than more jobs lost," said Rep. Eric Cantor of Virginia, the House Republican Whip. "But a look beneath the numbers should give this Administration – and every American – cause for concern. We have to begin to address the structural deficiencies in our economy. Temporary or government jobs are not optimal, and private sector job growth simply isn't keeping pace with a growing labor force."
President Barack Obama is expected to comment on the unemployment report later Friday morning.
UPDATE 9:22 a.m.:
"I welcome job growth any day, week or month of the year, but the figures released today need to be stamped with 'Buyer Beware'," says Republican National Committee Chairman Michael Steele, in a statement.
"The underlying fact is that 9.7 percent unemployment is unacceptable by any standard. No amount of spin will resolve the fact that the President's policies have been a colossal failure when it comes to creating jobs. If his speech in Pennsylvania was any indication, President Obama has no intention of slowing his high-spending, big-government agenda that prevents the private sector from creating the jobs we need to put our economy back on track," adds Steele.
- CNN's Scott Spoerry contributed to this report