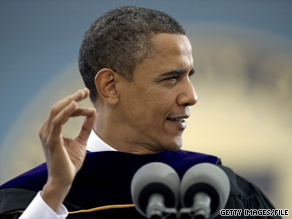 The Class of 2010 at Michigan's Kalamazoo Central High School will have an unusually high-profile commencement speaker Monday.
(CNN) - Unlike college, high school commencement addresses aren't usually known to draw celebrity speakers.
But for a group of Michigan high school students, Monday will bring a moment they're unlikely to forget.
President Barack Obama will deliver this year's graduation speech for the graduating class of Kalamazoo Central High School.
The school earned a visit after winning the administration's first annual "Race to the Top High School Commencement Challenge."
Watch: Obama aide explains why school won
To accommodate the crowd, the school has moved the event to Western Michigan University.
Graduating seniors were each given eight tickets. No tickets were handed out to the general public.
"I congratulate our winner, Kalamazoo Central High School, and all of our six finalists for their innovative and effective approaches to teaching, learning and preparing students to graduate ready for college and a career," Obama said in a written statement in May.

The White House asked Americans to help pick a winning high school from a list of six finalists. The list was cut to three recently, the White House said. Obama chose the winner.
"The race was neck and neck all the way to the end with all six schools within half a point of each other," a White House statement said. "Thank you to the more than 170,000 people who weighed in and rated the six finalist schools."
To compete, students from around the country had to submit a three-minute video and a short essay on how their school was helping prepare students to meet Obama's goal to have the highest proportion of college graduates in the world by 2020.
In its video entry, a parade of Kalamazoo Central students of various nationalities stand before a map of the world and say in their native language that they are going to college.
The other two schools that made the final cut were Clark Montessori Junior High and High School in Cincinnati, Ohio, and Colorado's Denver School of Science and Technology.