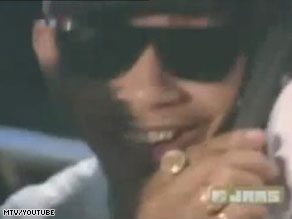 An Obama look-alike appears in a 1990s music video.
(CNN) - Whoomp, there he is! Or is he?
Conspiracy theorists suspect that a left-handed, dominoes-playing dude who appears in the music video for Tag Team's single "Whoomp (There It Is)" is none other than President Obama.
The Obama look-alike makes a cameo about a minute into the video, sporting shades, flashy rings and a Zack Morris cell phone.
Online message boards have been abuzz with what would be the best kept secret of the Obama presidency.
Their argument: The guy flashing a smile in the 1993 music video looks a lot like the president, who would have been about 31 at the time.