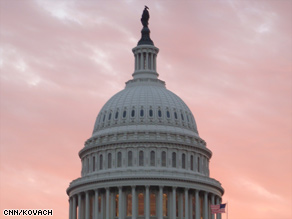 The CNN Washington Bureau's morning speed read of the top stories making news from around the country and the world.
WASHINGTON/POLITICAL
For the latest political news: www.CNNPolitics.com
CNN: Salazar defends 'pause button' on deepwater drilling
Interior Secretary Ken Salazar on Wednesday defended the Obama administration's six-month federal moratorium on deepwater drilling, which has come under fire from critics who argue that seeking offshore oil is vital for reducing the dependence on foreign supplies. Speaking before the Senate Committee on Energy and Natural Resources, Salazar said the moratorium was necessary so "as we move forward with any kind of deepwater operation, that we can assure the American public and we can assure that everyone who was watching that in fact it can move forward in a safe way." The moratorium comes as President Obama's oil spill commission investigates what caused the Deepwater Horizon oil rig explosion April 20. Its report is due in six months.
CNN: Democrats renew push for removal of oil liability cap
Top congressional Democrats renewed their push Wednesday for legislation that would remove all oil spill liability caps - a move some Republicans warn would lead to stronger monopolies in the energy sector while increasing U.S. dependence on foreign oil sources. Among other things, Democrats are targeting the 1990 Oil Pollution Act, which could limit BP's liability for economic damages incurred by the Gulf disaster to $75 million. Critics note that the amount is a small fraction of the cost a major oil spill like the Gulf disaster will inflict on communities. BP has said it will waive the cap on damages and pay "all legitimate claims" as a result of the Gulf spill, the largest in U.S. history.
Wall Street Journal: GOP Newcomers Raise Fall Stakes
Midway through a volatile primary season that has seen the electorate move right and a spate of incumbents knocked out, Republican voters are placing a clear bet that a roster of outspoken, anti-government candidates, many new to the national stage, can ride the country's anti-Washington mood to victory. Some Republican candidates are embracing the strongest small-government policies since the GOP's sweeping win in 1994, defying many analyst predictions that the election of President Barack Obama two years ago signaled a leftward tilt for the nation.
Washington Post: In primaries, female candidates didn't make gender an issue
With victories by several prominent women in Tuesday's primary elections came the familiar declarations that a "year of the woman" is underway. But in at least five races, something even more remarkable occurred: The candidates' gender never became much of an issue. Tuesday's elections put on display the increasing diversity of female candidates, as well as their growing resilience. They were for abortion rights and against them, old and young, part of the political establishment and new to it. Their male opponents attacked them - relentlessly, in some cases - apparently unworried about being seen as picking on a woman. The women touched on their gender, but did so sparingly. And they made few appeals to traditional women's issues.
Salt Lake Tribune: Bennett to endorse Bridgewater
Sen. Bob Bennett will throw his support behind Tim Bridgewater, one of the candidates who knocked the three-term incumbent from office, The Salt Lake Tribune has learned. Multiple sources familiar with the discussions between Bennett and the Bridgewater camp, speaking on condition of anonymity because they were not authorized to discuss the matter, confirmed that Bennett would formally endorse Bridgewater within the next few days. The Bridgewater campaign would not confirm an endorsement is imminent.