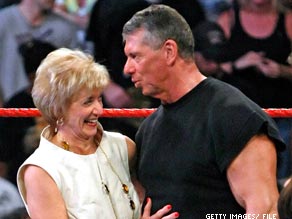 According to a new poll, former World Wide Wrestling CEO Linda McMahon is trailing Richard Blumenthal.
Washington (CNN) - Three weeks after acknowledging he had misstated his military record during the Vietnam era, a new poll suggests Richard Blumenthal maintains a large lead in the Connecticut Senate race.
But the Quinnipiac University survey shows that the Democratic Senate candidate's lead has been cut by 13 points since his public apology for previous suggestions he had served in the Vietnam War. Blumenthal served in the Marine Corps Reserves during the war and was stationed stateside.
Blumenthal, the state's attorney general, holds a 20 point lead over likely Republican rival and former World Wide Wrestling CEO Linda McMahon in the new survey, 55 percent to 35 percent. That compares to a 56-31 percent lead in a similar survey conducted in late May.
The survey also shows Blumenthal leading former Rep. Rob Simmons, who has suspended his campaign, by a 54-33 percent margin and businessman Peter Schiff by a 56-29 percent margin.
"Blumenthal has lost a little more ground to Linda McMahon, but he still has a comfortable lead," said Quinnipiac University Poll Director Douglas Schwartz. "Prior to the Vietnam controversy, Blumenthal led by 33 points. A week after the controversy, his lead was 25 points. Now it's down to 20 points.
The poll, conducted from June 2-8, interviewed 1,350 registered voters in Connecticut and carries a sampling error of plus or minus 2.7 percentage points.