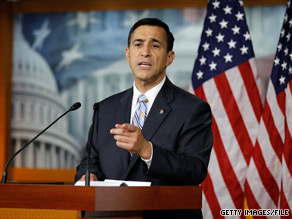 California Rep. Darrell Issa will address Pennsylvania Republicans on Friday.
Washington (CNN) - Rep. Darrell Issa, a driving force behind efforts to compel the White House to detail conversations with Democratic primary challengers, will deliver the keynote address Friday to the Pennsylvania Republican Party's summer meeting.
Rep. Joe Sestak, D-Pennsylvania, is one of the candidates that the White House unsuccessfully tried to convince to drop a primary challenge to Sen. Arlen Specter, D-Pennsylvania. A role in the administration was suggested as a way to entice Sestak to forgo a challenge to Specter, the Republican turned Democrat who President Obama backed in the primary. Sestak rebuffed the attempt and went on to defeat Specter in last month's election.
The White House held a similar conversation with Andrew Romanoff, a Democrat challenging Colorado Sen. Michael Bennet. Romanoff, the former Colorado house speaker, also dismissed the White House request.
Issa, who serves as the senior Republican on the House Oversight and Government Reform Committee, has called for an independent counsel to investigate the matter.
"After pledging to change the business-as-usual culture of Washington during his campaign, the Sestak-Romanoff controversies have lifted a veil on this Presidency that has revealed a Chicago-style politicking that is the antithesis of what candidate-Obama campaigned on," Issa, who represents a southern California district, charged in a statement sent to CNN.
The meeting is being held in Hershey, Pennsylvania. No word yet if Issa will also be addressing Colorado Republicans.