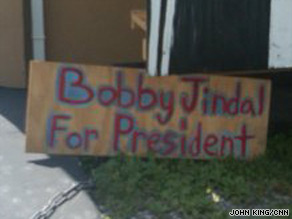 A 'Jindal for President' on Louisiana's coast.
(CNN) - He's said he has no plans to run for president in 2012, but Lousiana Gov. Bobby Jindal's handling of the oil crisis off the Gulf Coast may have earned him a number of new supporters who hope he reconsiders.
On the Louisiana coast this week, CNN's John King even passed by a homemade "Jindal for President" sign – something that made the Louisiana Republican chuckle.
"I've got my hands full down here, we've got to protect our state; we've got plenty of work to do in Louisiana," Jindal told King Thursday.
The 39 year-old governor of Indian descent has long been considered a rising star in the Republican Party, though his star power took a bit of hit last year following a poorly received response to President Obama's State of the Union Address.
Speaking at the Southern Republican Leadership Conference in April, Jindal – who faces reelection next year - said he will not be a candidate for president in 2012.
"I am not running for president of the United States," he said then. "I've got the job I want."