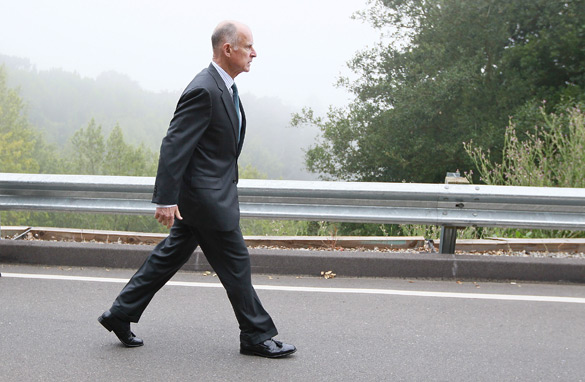 California gubernatorial candidate Jerry Brown alleged his opponent, Meg Whitman, of disseminating propaganda about him in the same way the Nazis did. (PHOTO CREDIT: Getty Images)
(CNN) - Given California's colorful political history, perhaps it's no surprise the just-kicked off gubernatorial race has taken a peculiar turn, with one candidate accusing the other of using Nazi-like tactics.
During an apparent off-the-cuff interview with a KCBS reporter published Wednesday, state Attorney Gen. Jerry Brown, the Democratic candidate, alleged opponent Meg Whitman of disseminating propaganda about him in the same way the Nazis did.
"It's like Goebbels...Goebbels invented this kind of propaganda," said Brown in reference to Joseph Goebbels, the Nazi Minister of Propaganda. "He took control of the whole world. She wants to be president. That's her ambition, the first woman president. That's what this is all about."
The comments were made while Brown was jogging and his campaign dismissed the remarks as mere "jogging talk."
"You know, by the time she's done with me, two months from now, I'll be a child-molesting..." Brown also said in the same interview. "She'll have people believing whatever she wants about me."
Jillian Hasner, Whitman's campaign manager, said in a statement that Brown's comments are "deeply offensive."
"Jerry Brown's statements comparing our campaign to a propagator of the Holocaust [are] deeply offensive and entirely unacceptable," she said.