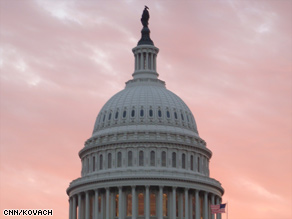 The CNN Washington Bureau's morning speed read of the top stories making news from around the country and the world.
WASHINGTON/POLITICAL
For the latest political news: www.CNNPolitics.com
CNN: Clyburn: 'Elephant dung' all over S.C. Dem primaries
A leading South Carolina Democrat charged Sunday that his state's recent Democratic primaries had been tainted. And House Majority Whip James Clyburn used some very colorful language to do so. In addition to the fact that Alvin Greene, an unemployed veteran with no apparent campaign apparatus, won Tuesday's race for the South Carolina's Democratic Senate nomination, Clyburn also told CNN of a suspicious element in his own primary race – a consultant with Republican ties worked for Clyburn's unsuccessful challenger.
CNN: In new ad, Reid takes on challenger over Social Security
It didn't take Harry Reid long to zero in on his Republican challenger's stance on Social Security. One day after the Senate Majority Leader came out with two campaign commercials touting his ability to create jobs in his home state, the Nevada Democrat has released another ad that paints Sharron Angle as out of the mainstream. Angle, once a long shot for the Nevada Republican Senate nomination, easily defeated 12 other candidates in last Tuesday's primary, thanks in part to help from the Tea Party Express (a national Tea Party organization) and the Club for Growth, an anti-tax group.
The Hill: Dems not showing Barrow the money after his vote on healthcare
Rep. John Barrow is not as popular among his Democratic colleagues as he used to be. Far fewer of Barrow's colleagues in the House have contributed to the Georgia Democrat's reelection campaign this cycle than they did in previous years. Barrow attracted widespread criticism from the left after voting no on the final health reform bill earlier this year. That vote has been a focal point of his primary challenger's campaign.
Wall Street Journal: Massachusetts Race Highlights Health Care
High health-care costs are so sensitive in Massachusetts that when two health-care company executives suggested consumers could help by watching their weight, the Boston Herald ran a sarcastic page-one headline: "It's Your Fault, Fatso." That sensitivity has been at the forefront in a three-way race for governor, with incumbent Deval Patrick struggling to save his seat, and may offer a glimpse of how the health-care overhaul will play out on the national stage in elections to come.
CNN: Pence rejects Daniels' proposal for truce on social issues
A leading congressional conservative disagreed Sunday with a suggestion by his state's governor that social issues be put on the back burner in order to allow policymakers to focus on turning the economy around and bringing the federal government's finances into balance. Speaking to The Weekly Standard, a conservative publication, Indiana's Republican governor, Mitch Daniels, said the next president "would have to call a truce on the so-called social issues" so he or she could focus on the fiscal problems facing the country. Asked about the comments, GOP Rep. Mike Pence of Indiana praised Daniels but rejected his contention about social issues as the midterm elections approach and as both parties begin to turn their attention to the 2012 presidential race.