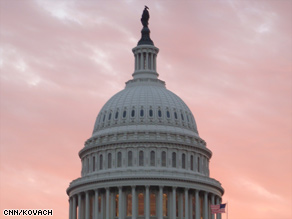 The CNN Washington Bureau's morning speed read of the top stories making news from around the country and the world.
WASHINGTON/POLITICAL
For the latest political news: www.CNNPolitics.com
CNN: Clyburn: 'Elephant dung' all over S.C. Dem primaries
A leading South Carolina Democrat charged Sunday that his state's recent Democratic primaries had been tainted. And House Majority Whip James Clyburn used some very colorful language to do so. In addition to the fact that Alvin Greene, an unemployed veteran with no apparent campaign apparatus, won Tuesday's race for the South Carolina's Democratic Senate nomination, Clyburn also told CNN of a suspicious element in his own primary race – a consultant with Republican ties worked for Clyburn's unsuccessful challenger.
CNN: In new ad, Reid takes on challenger over Social Security
It didn't take Harry Reid long to zero in on his Republican challenger's stance on Social Security. One day after the Senate Majority Leader came out with two campaign commercials touting his ability to create jobs in his home state, the Nevada Democrat has released another ad that paints Sharron Angle as out of the mainstream. Angle, once a long shot for the Nevada Republican Senate nomination, easily defeated 12 other candidates in last Tuesday's primary, thanks in part to help from the Tea Party Express (a national Tea Party organization) and the Club for Growth, an anti-tax group.
The Hill: Dems not showing Barrow the money after his vote on healthcare
Rep. John Barrow is not as popular among his Democratic colleagues as he used to be. Far fewer of Barrow's colleagues in the House have contributed to the Georgia Democrat's reelection campaign this cycle than they did in previous years. Barrow attracted widespread criticism from the left after voting no on the final health reform bill earlier this year. That vote has been a focal point of his primary challenger's campaign.
Wall Street Journal: Massachusetts Race Highlights Health Care
High health-care costs are so sensitive in Massachusetts that when two health-care company executives suggested consumers could help by watching their weight, the Boston Herald ran a sarcastic page-one headline: "It's Your Fault, Fatso." That sensitivity has been at the forefront in a three-way race for governor, with incumbent Deval Patrick struggling to save his seat, and may offer a glimpse of how the health-care overhaul will play out on the national stage in elections to come.
CNN: Pence rejects Daniels' proposal for truce on social issues
A leading congressional conservative disagreed Sunday with a suggestion by his state's governor that social issues be put on the back burner in order to allow policymakers to focus on turning the economy around and bringing the federal government's finances into balance. Speaking to The Weekly Standard, a conservative publication, Indiana's Republican governor, Mitch Daniels, said the next president "would have to call a truce on the so-called social issues" so he or she could focus on the fiscal problems facing the country. Asked about the comments, GOP Rep. Mike Pence of Indiana praised Daniels but rejected his contention about social issues as the midterm elections approach and as both parties begin to turn their attention to the 2012 presidential race.
Charleston Post and Courier: In S.C. House, few face challenger
The anti-incumbent movement that's said to be sweeping the nation sent only three South Carolina House members to the dust bin. Many of the 124 House members faced no challengers in the primary, and fewer than 50 will have any competition this November. Only six of the 18 seats from Berkeley, Charleston and Dorchester counties are contested this fall. House Speaker Bobby Harrell, R-Charleston, said House incumbents win and lose based on what's happening in their districts, more so than on a statewide or national level.
CNN: Frequent GOP critic of Obama 'tickled' that president will visit
Mississippi's Republican governor, a frequent critic of President Obama, is passing up an opportunity to criticize the president's handling of the oil spill in the Gulf of Mexico. Instead, Gov. Haley Barbour says he is "tickled to death" that the president will visit Mississippi on Monday. Barbour made the comments on Friday to Chief National Correspondent John King in an interview that aired on CNN's John King, USA.
Washington Post: Democratic establishment favorite may not be people's choice in N.C.
The focus of the political world over the past few months has been on anti-establishment Republican candidates winning Senate primaries in states such as Nevada and Kentucky. But Democrats aren't immune from that dynamic, either, as evidenced by the upcoming Senate runoff in North Carolina. A week from Tuesday, North Carolina Secretary of State Elaine Marshall and former state senator Cal Cunningham will square off for the right to face Sen. Richard Burr (R) in the fall - a not insignificant outcome, as national Democrats consider the race one of their best chances to pull off an upset in November's midterm elections.
Cincinnati Enquirer: Rand Paul promises to be 'vigilant' on gun rights
Republican U.S. Senate nominee Rand Paul told gun enthusiasts that if elected, he'll work to ensure that Congress doesn't pass any legislation that would restrict their rights to own weapons. The visit to the gun show kicked off a day of campaigning in Louisville. From there, Paul went to the Galt House, where he addressed the Kentucky Republican Leadership Conference. He delivered his normal stump speech and assured the crowd that he and U.S. Sen. Mitch McConnell, R-Ky., who supported Paul's opponent in the Republican primary, are on good terms. At the gun show, he was treated like a pop culture icon as people rushed to him following his speech to ask for his autograph and wish him well.
CNN: Crist vetoes bill requiring ultrasound for abortion
Former Republican turned independent Gov. Charlie Crist vetoed a bill on Friday that he said "places an inappropriate burden on women seeking to terminate a pregnancy." The bill would have required a woman to have a mandatory ultrasound – and pay for it – before having an abortion. Women would have also had to view the live image and listen to the doctor describing the fetus. Crist's veto of Florida House Bill 1143 is yet another example of the governor vetoing a bill favored by Florida Republicans. In April, he vetoed an education bill that would have made the process of firing Florida teachers easier.
Dallas Morning News: Perry blasts White, accepts nomination at GOP convention
Gov. Rick Perry launched blistering attacks on rival Bill White and the ways of Washington on Friday, urging his party not to take Democrats for granted. In front of thousands of delegates at the Dallas Convention Center hungry for political red meat, Perry blasted White, the Democratic nominee for governor, as a big-government liberal bent on bringing Washington values to Texas.
Pittsburgh Post-Gazette: Sestak, Toomey on opposite sides of energy debate
The spotlight on energy issues, from the Deepwater Horizon disaster in the Gulf to the debate over development of Marcellus Shale gas wells, illuminates the clear philosophical differences between Pennsylvania's Senate candidates. From drilling to the overall debate on global warming, Republican Pat Toomey and Democrat Joe Sestak take contrasting positions. Those overlapping issues have provided ammunition for persistent sniping between the campaigns.
CNN: Obama's push for spending to boost economy gets mixed reaction
President Barack Obama sent a weekend letter to congressional leaders seeking approval for previously proposed spending measures intended to protect the nation's economic recovery, but initial response Sunday was mixed. The Saturday letter to the leaders of the House and Senate asked for the Senate to approve an $80 billion measure offering extended jobless benefits as well as tax breaks and better access to credit for small businesses. In the letter, Obama also sought congressional support for proposals totaling about $50 billion to help state and local governments avoid layoffs and service reductions.
Washington Post: On Capitol Hill, Ways and Means staff director wields rare power
If you ask congressional insiders to name the most powerful woman on Capitol Hill, surprisingly, they don't all say Nancy Pelosi. Another name immediately comes to mind, one that few people outside the inner sanctums of the House know: Janice Mays, longtime staff director of the House Ways and Means Committee. Mays is the most powerful woman in Congress you've never heard of. Just don't tell her that.
CNN: Financial records show justices enjoy overseas travel
Justices of the Supreme Court enjoyed a whirlwind schedule of overseas and domestic trips in the past year, newly released financial records show. Seven of the nine members of the current court traveled outside the United States to more than a dozen European and South American nations, to teach and receive honorary awards. The information, along with their financial assets, is detailed in forms all members of the federal judiciary are required to file annually. The busiest traveler, as he has been in recent years, was Justice Antonin Scalia, who noted 22 domestic and international trips in 2009 - many of them to promote a book he co-authored on advising lawyers how to successfully argue their
NATIONAL
For the latest national news: www.CNN.com
CNN: New sensors deployed to gauge oil spill
BP began deploying pressure sensors on its ruptured undersea well in the Gulf of Mexico on Sunday in an effort to fine-tune estimates of the worst oil spill in U.S. history, government and company officials said. BP used remote-controlled submarines to begin positioning the sensors inside the well, located 5,000 feet below the surface of the Gulf, company spokesman Mark Proegler said. The sensors were requested by federal experts who have been trying to gauge how much oil has been pouring from the well, which experts say could have been spewing as much as 1.7 million gallons of oil a day into the Gulf.
CNN: Obama to address nation on oil disaster Tuesday night
President Barack Obama will visit the Gulf states affected by the oil spill on Monday and Tuesday and then address the nation on Tuesday night from the White House on the next steps in responding to the environmental catastrophe, his senior adviser said Sunday. On his fourth visit to the Gulf region since the disaster began on April 20, Obama will make stops in Theodore, Alabama; Gulfport, Mississippi, and Pensacola, Florida, according to senior administration officials.
CNN: Arkansas flood toll now 19, 1 missing
Rescuers have found a 19th body and one person remains missing after last week's flash flood at an Arkansas campground, state police reported Sunday. The latest victim was discovered about half to three-quarters of a mile downstream from the campground, Arkansas State Police Capt. Mike Fletcher told reporters. Eighteen of the 19 bodies recovered so far have been identified, Fletcher said, and one person remains unaccounted for.
INTERNATIONAL
For the latest international news: http://edition.cnn.com
CNN: Ahmadinejad defends disputed election one year after vote
Iranian President Mahmoud Ahmadinejad defended last year's contested presidential election during a wide-ranging interview on state-run television Sunday, calling its outcome "the manifestation of the united and grand human will of 40 million people in a 100 percent free" vote. Ahmadinejad spoke a day after the first anniversary of the election, which sparked widespread outrage within the Islamic republic and gave rise to the opposition Green Movement, whose leaders accused the hardline regime of stealing the election and staging a brutal crackdown on protesters.
CNN: Humanitarian group calls for lifting of Gaza blockade
A report released Monday by the International Committee of the Red Cross is calling on Israel to lift a 3-year-old blockade against Gaza, saying "the closure is having a devastating impact on the 1.5 million people" who live in the Palestinian territory. The blockade was first imposed in 2007 after the militant group Hamas seized control of Gaza. It is designed to stop the smuggling of arms into the territory, the Israeli government says. Humanitarian aid is allowed into Gaza despite the blockade, but the ICRC says it is not enough.
New York Times: U.S. Identifies Vast Riches of Minerals in Afghanistan
The United States has discovered nearly $1 trillion in untapped mineral deposits in Afghanistan, far beyond any previously known reserves and enough to fundamentally alter the Afghan economy and perhaps the Afghan war itself, according to senior American government officials. The previously unknown deposits — including huge veins of iron, copper, cobalt, gold and critical industrial metals like lithium — are so big and include so many minerals that are essential to modern industry that Afghanistan could eventually be transformed into one of the most important mining centers in the world, the United States officials believe. An internal Pentagon memo, for example, states that Afghanistan could become the "Saudi Arabia of lithium," a key raw material in the manufacture of batteries for laptops and BlackBerrys.
CNN: Karzai, McChrystal in Kandahar to sell military operation
Afghan President Hamid Karzai and Gen. Stanley McChrystal, the top U.S. military commander in Afghanistan, say they've secured backing from local leaders for an upcoming military operation in the province. McChrystal took Karzai and some of his security chiefs to Kandahar, considered the heartland of Taliban country. With McChrystal in the front row, Karzai delivered a full-court press to a group of about 300 tribal leaders Sunday, in a bid to get their support.
BBC News: Jailed Swiss businessman Max Goeldi returns from Libya
A Swiss businessman, held in a Libyan jail for four months, has arrived back in Zurich. Max Goeldi was at the centre of a long-running diplomatic row between the two countries. He and another Swiss businessman were held after the son of Libyan leader Muammar Gaddafi was arrested in Switzerland in 2008.
CNN: Pakistan dismisses report of continued Taliban ties
Pakistani officials Sunday rejected allegations that their country's powerful intelligence agency still supports the Taliban and other Afghan insurgents after a paper from a Harvard academic accused the agency of continued links to the rebels. The powerful Inter-Services Intelligence agency does not "actually control the Afghan insurgency" and does not have "the ability to bring it to an end," Matt Waldman argues in a paper for the London School of Economics. The ISI is widely thought to have played a key role in creating the Afghan Taliban during the 1990s, but Pakistan officially denies supporting them now.
CNN: U.S., Cuba set to talk about immigration issues
U.S. and Cuban officials are set to sit down together in Washington on Friday to discuss immigration and other issues, according to a State Department spokesman. Relations between Washington and Havana have deteriorated in recent months, in part because of Cuba's detention of American contractor Alan Gross, who has been held in Cuban prison since December. The two countries have not formally held immigration talks since February and next week provides another chance for the U.S. to call for his release.
Wall Street Journal: Support for Egypt's Opposition Parties Wanes
Egypt's opposition political parties, facing national elections in coming months, appear to be at their weakest point in decades amid heightened speculation that President Hosni Mubarak may not seek to extend his 29-year reign. The issue, say critics and opposition members: After three decades as the legal opposition in a country that for all purposes has had one-party rule, opposition parties are seen by voters who may desire to change the system as part of the system.
BBC News: Israeli wanted over Dubai killing 'held in Poland'
Polish authorities have arrested a suspected Israeli agent in connection with the murder of a Hamas operative in Dubai in January. Officials say the agent was arrested in early June. Media reports named him as Uri Brodsky. Germany is seeking his extradition over a forged German passport used by one of the killers, the prosecutors say. Mahmoud al-Mabhouh, one of the founders of Hamas's military wing, was found dead in a Dubai hotel on 20 January.
BUSINESS
For the latest business news: www.CNNMoney.com
Los Angeles Times: As businesses collapse, claimants still waiting for checks from BP
Across the gulf, residents already shell-shocked by the tar balls, oil soup and dead sea life washing up on their beaches are getting hit with a second wave: the sudden collapse of their livelihoods, and the equally intimidating challenge of getting BP to pay for it. President Obama, who on Monday makes his fourth visit to the gulf in six weeks, will try to compel BP to set aside a "substantial" sum in an escrow fund for economic damage claims. Senate Democrats on Sunday requested that BP set aside $20 billion that would be overseen by an independent party, a contingency that could put further stress on the oil giant, which has lost about half its market value since the April 20 explosion on the Deepwater Horizon drilling rig started the worst spill in U.S. history.
Wall Street Journal: Chevron Distances Its Ways From BP's
Chevron Corp. has come out swinging in its fight to continue drilling in the deep waters of the Gulf of Mexico, arguing that not all oil firms should be tarred with the brush of BP PLC's Deepwater Horizon disaster. In an interview with The Wall Street Journal, Chevron chairman and CEO John Watson said he accepts the need for tighter drilling regulations in the wake of the spill, which since April has fouled the waters and coastline of the Gulf. But Mr. Watson, 52, called unnecessary the six-month moratorium on deep-water drilling imposed by the Obama administration. The second-biggest U.S. oil firm by market capitalization after Exxon Mobil Corp., San Ramon, Calif.-based Chevron owns more Gulf of Mexico drilling leases than any other company and is the third-biggest oil producer there, after BP and Royal Dutch Shell PLC. It was considered a growth area for Chevron. Now, access to deep water may be in jeopardy.
CNNMoney: Investors could be in for a bumpy ride next week
Markets could be in for another bumpy ride next week as investors continue to look for clues on where the global economy is headed. There will be no shortage of data to fuel the debate between bears and bulls. Economic reports are due on manufacturing, real estate and inflation, among others. Stocks ended last week on a high note, with the Dow Jones industrial average booking its first weekly gain in a month. But analysts expect trading to remain volatile in the weeks ahead as investors await clear direction on the economy in the United States and abroad and the debt situation in Europe.
Investors Business Daily: Retail Sales' Slide First In 8 Months; Core Spending Up
Retail sales unexpectedly fell in May for the first time in eight months, the Commerce Department said Friday, adding to signs that the U.S. recovery is slowing. The 1.2% sales drop surprised analysts, who had expected a 0.2% rise after April's 0.6% gain. The decline raised fears that consumers, whose spending accounts for 70% of economic activity, will not be able to power the recovery as government stimulus wanes.
Bloomberg: Thailand to Make Offer to Buy Thaicom From Temasek
Thailand's government plans to offer to buy Temasek Holdings Pte's stake in satellite monopoly Thaicom Pcl, an aide to Prime Minister Abhisit Vejjajiva said. The Thai government's move to purchase Thaicom came as it battled anti-government protesters who used the company to transmit the signal of their satellite television station. Gunfire exchanges between troops and supporters of ex-leader Thaksin Shinawatra left 89 people dead over two months.
CNNMoney: Spirit Airlines cancels all flights as pilots strike
Hundreds of Spirit Airlines pilots walked off their jobs on Saturday morning after negotiations over pay with the low-cost carrier hit a stalemate. The two sides had worked through the night to reach an agreement, but could not resolve their differences. The airline cancelled all flights for Saturday and, in a message posted on its website, promised passengers a refund or a flight credit. Spirit pilots have complained that their pay is not proportional to those of their counterparts at other American airlines.
Business Week: Apple Under Growing Government Pressure to Ease Software Limits
Apple Inc., under growing scrutiny from antitrust regulators, may have to loosen restrictions on software developers and music labels to avoid legal wrangling with the government and prevent damage to how its brand is perceived by the public, lawyers and analysts said. Federal Trade Commission officials are preparing to review allegations that Apple is trying to trammel rivalry in mobile advertising, people familiar with the matter said last week. Regulators were already weighing a probe of Apple's treatment of Adobe Systems Inc., and the U.S. Justice Department has made preliminary inquiries into Apple's behavior in the music market.
New York Times: Hollywood Hopes 'Toy Story 3' Can Spur Summer Sales
Save us, Buzz Lightyear. Grumpy moviegoers have left the film business trying to dig itself out of a summer slump after a series of big-budget disappointments and the lack of a single blockbuster comedy. Memorial Day weekend attendance was the lowest since 1993. Box office receipts for the next weekend plunged 24 percent compared with the same weekend a year earlier.
Fortune: Verizon Droid stocks low, help on the way
First the bad news: If you wanted to get your hands on a Droid Incredible, your prospects are pretty low at this point. Verizon is advertising no stock until mid-July but some retailers like Amazon say they they'll have stock by late June (and $50 off). They've obviously been selling 'incredibly' well. That means that the best Verizon Android device you can pick up right now is the 7-month old original Motorola Droid, right? Don't be so sure. While they are selling at pretty significant discounts, ($20+plan) Droids may also be selling out as well. Motorola CEO Sanjay Jha said they couldn't make enough to keep Verizon stocked. But that might be because a whole new lineup of Verizon Droids is clogging up the assembly lines.
In Case You Missed It
Alvin Greene's behavior has raised eyebrows across South Carolina. Don Lemon speaks with the U.S. Senate candidate.
Alabama Governor Bob Riley talks to CNN's Candy Crowley about his frustration with the Gulf oil spill response so far.
Subscribe to the CNN=Politics DAILY podcast at http://www.cnn.com/politicalpodcast
And now stay posted on the latest from the campaign trail by downloading the CNN=Politics SCREENSAVER at http://www.CNN.com/situationroom