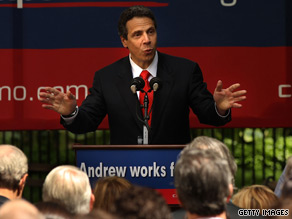 Andrew Cuomo continues to maintain a large lead over his GOP opponents in New York's gubernatorial race, according to a new poll.
(CNN) - A new poll indicates that Andrew Cuomo's favorability rating and his large lead over his Republican opponents in New York's gubernatorial battle have slightly slipped.
According to a Siena College survey released Monday, 59 percent of New York State voters have a favorable opinion of Cuomo, who is the Democratic nominee for governor, with 26 percent saying they hold an unfavorable view of the state's attorney general. Cuomo's favorable rating is down eight points from May and is his lowest in Siena polling since December of 2008.
Cuomo's leads against Republican gubernatorial candidates Rick Lazio and Carl Paladino are each down by six points in hypothetical general election matchups, but he still holds a better than two-to-one advantage over both men.
"Cuomo maintains big leads over both Republicans," says Siena pollster Steven Greenberg. "Although his lead among independent voters fell by about 20 points against both, neither Lazio nor Paladino wins a majority of Republicans against Cuomo, who has the support of at least 80 percent of Democrats against either Republican."
Cuomo, the son of former three-term New York Gov. Mario Cuomo, had been widely expected to make a bid to be the state's next chief executive. He formally announced his candidacy last month.
The Siena College poll was conducted June 7-9, with 808 New York State registered voters questioned by telephone. The survey's overall sampling error is plus or minus 3.4 percentage points.
–Follow Paul Steinhauser on Twitter: @psteinhausercnn