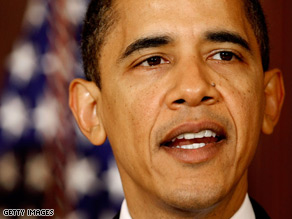 A top presidential historian says President Obama must angle tonight's address to the nation as more of a 'warlike update.'
Washington (CNN) - President Obama must angle his address to the nation on the Gulf oil disaster as more of a "warlike update" than the kind of addresses given by past presidents on national tragedies, a top presidential historian said.
"This is going to be a different kind of president address ... like we're in the middle of the war and he's giving an update on the war on the Gulf," said Douglas Brinkley, a professor of history at Rice University. "It's a battlefield report - particularly trying to show that progress is being made, although it's not fast enough for him."
Brinkley, who has lived and taught in New Orleans, Louisiana, has been a vocal critic of BP's cleanup efforts. He also has taken aim at Obama's response - noting that he should have given the speech weeks ago.
"Whenever America experiences a cardiac arrest like 9/11 and the Oklahoma City bombing, you have a window of about one week where you want to create a field of optimism and a principle of response that it's clear, decisive and urgent."
Read the full story here.