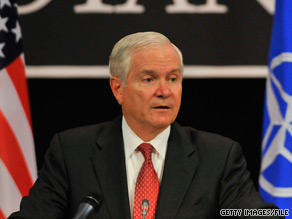 (CNN) - Military operations will need to be reduced for the rest of the year unless Congress approves additional funding for the wars in Iraq and Afghanistan, Defense Secretary Robert Gates warned senators Wednesday.
"I am becoming increasingly concerned about the lack of progress on the supplemental and strongly urge Congress to complete its work on the request as quickly as possible," Gates told the Senate Appropriations Committee.
The Pentagon has requested an additional $33 billion to support the added financial costs of President Barack Obama's new strategy for the war in Afghanistan, now the longest conflict in U.S. history. Gates told senators that if there is no passage of the funding by the July 4 congressional recess, "We will have to begin planning to curtail defense operations."
"Such planning is disruptive, can be costly and especially in a time of war, and I ask your help in avoiding this action," he said.