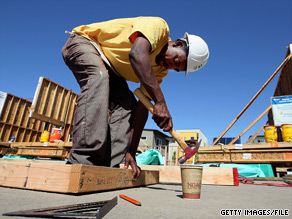 New home construction fell 10 percent in May.
New York (CNNMoney.com) - New home construction fell sharply in May - the first month after a homebuyer tax credit expired - from a month earlier, according to a government report released Wednesday.
Housing starts fell 10% from April to a seasonally-adjusted annual rate of 593,000 last month, the Commerce Department said. Economists were expecting housing starts to fall to only 655,000.
On a year-over-year basis, housing starts rose 7.8% from May 2009.
Building permits declined 5.9% to a seasonally-adjusted rate of 574,000 from April. Economists had anticipated a more modest decline to 631,000.