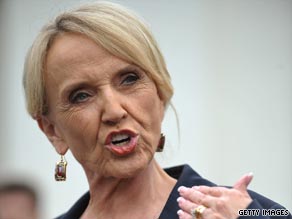 Gov. Jan Brewer is upset over Secretary Clinton's statement that the U.S. Justice Dept. plans to file a lawsuit against Arizona's new immigration law. The Justice Dept. later said no decision has been made.
(CNN) - Arizona Gov. Jan Brewer is fuming over a comment by Secretary of State Hillary Clinton to an Ecuadorean television station that the government will file a lawsuit against Arizona's new immigration law.
In a statement Thursday, Brewer said she learned of plans for the lawsuit from the June 8 interview Clinton gave to NTN24.
According to a transcript of the interview, Clinton said that President Barack Obama had spoken out against the law because he believes the federal government should set immigration policy.
"And the Justice Department, under his direction, will be bringing a lawsuit against the act," Clinton said in the interview.
On Thursday, a Justice Department spokesperson said no final decision had been made on the matter.
"The department continues to review the law," said the spokesperson, Tracy Schmaler.
Brewer's statement said she was "stunned and angered" by Clinton's statement that a lawsuit would be filed.