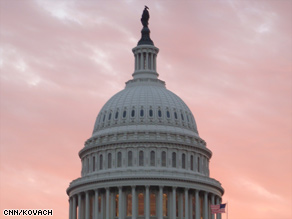 The CNN Washington Bureau's morning speed read of the top stories making news from around the country and the world.
WASHINGTON/POLITICAL
For the latest political news: www.CNNPolitics.com
CNN Poll: Rise in disapproval of Obama handling of oil spill
Six in ten Americans disapprove of how President Barack Obama's handling the oil spill in the Gulf of Mexico, a jump from last month, according to a new national poll. A CNN/Opinion Research Corporation survey also indicates that vast majority of the public disapproves of how BP has handled the environmental disaster and two-thirds say making a profit rather than cleaning up the spill is oil giant's top priority. Fifty-nine percent of people questioned say they disapprove of how the president is dealing with the spill, up eight points from May. Forty-one percent say they approve of how Obama's handling the crisis, down five points from last month.
Washington Post: Gulf oil spill puts industry-friendly Republicans in tight spot
Who says there's no such thing as loyalty in politics? Rep. Joe L. Barton (R-Tex.), who has received more than $100,000 in campaign contributions from the oil industry during this election cycle, revealed Thursday that he may be the only person in America who believes that BP deserves an apology for the way it has been treated during the Gulf of Mexico oil spill. This is not the moment to be seen as coddling Big Oil. The GOP leadership has laid out a set of talking points that spread blame in all directions - toward the company, the White House and the regulators who looked the other way. But some Republicans are having trouble bringing themselves to say anything bad about an industry that has been so good to them.
CNN: Arizona governor: Government planning to sue over immigration law
Arizona Gov. Jan Brewer is fuming over a comment by Secretary of State Hillary Clinton to an Ecuadorean television station that the government will file a lawsuit against Arizona's new immigration law. In a statement Thursday, Brewer said she learned of plans for the lawsuit from the June 8 interview Clinton gave to NTN24. According to a transcript of the interview, Clinton said that President Barack Obama had spoken out against the law because he believes the federal government should set immigration policy.
Des Moines Register: Rep. Steve King draws criticism from right for remarks
Some conservatives are backing away from U.S. Rep. Steve King after the Iowa Republican's recent comments about blacks and immigration, but one political expert doubts King will face consequences at the polls this November. The most widely distributed comment from King this week came in a national radio interview, in which he said President Barack Obama "favors the black person." He also said this week on the floor of the House that racial profiling "has always been an important component of legitimate law enforcement." And, in a statement released last week, he said the shooting death of a 15-year-old Mexican high school student by a U.S. Border Patrol agent could have been avoided if the Obama administration "had lived up to its responsibility under the Secure Fence Act to build fences on our border."
CNN: Democrats unveil midterm election get-out-the-vote effort
The Democratic National Committee announced details Thursday of a new addition to their get-out-the-vote efforts, which includes a website and a focus on recruiting new voters for the midterm election. Democratic leaders vowed to spend $50 million, which they describe as an unprecedented sum, for their "Vote 2010" efforts, which include the unveiling of a new "Raise Your Vote" campaign. Party officials say the new campaign is specifically geared toward making voting registration and getting information about voting as easy as possible for people in any state across the country to access. DNC staffers say this is the first-ever comprehensive voting information and registration hub ever housed at the party headquarters.
Politico: Palin backs more 'Mama Grizzlies'
Sarah Palin continued female Republican candidates Thursday evening, announcing her support for a trio of GOP candidates whom she called "liberty-loving 'Mama Grizzlies'." Palin, writing on her Facebook page, announced she is supporting Rep. Cathy McMorris-Rodgers' (R-Wash.) re-election bid, political commentator Star Parker's bid for the House in California and Rep. Mary Fallin's (R-Okla.) bid for governor in Oklahoma.
CNN: Republican Given Ultimatum
Under fire for appearing to shield BP from criticism Thursday morning, Rep. Joe Barton was told by House GOP leaders later in the day to apologize "immediately" or lose his position as the senior Republican on the House Energy and Commerce Committee, several Republican sources tell CNN. House Minority Leader John Boehner, R-Ohio, and House Minority Whip Eric Cantor, R-Virginia, delivered the pointed demand to Barton, a Texas congressman.
St. Petersburg Times: Scott and McCollum are kick off GOP gubernatorial primary with steel-toed boots
The battle lines in the GOP primary for governor became sharper Thursday as the candidates made the contest official and escalated a heated race with a new round of nasty attacks. Rick Scott, a wealthy but untested Naples businessman, made his first major public appearance to describe "the message we're selling," and accused rival Bill McCollum of breaking the law in hiding his connection to a shadowy political group. McCollum, who is lagging in the polls, went on the attack, telling reporters his rival has a "suspicious background" that makes him unfit to hold office. The Republican attorney general's supporters boldly suggested Scott personally profited from abortions as the CEO of a major hospital chain.
CNN: FL Dem. wants ethics probe of opponent, Meek camp: it's a 'stunt'
It's an unusual campaign tactic: a Florida Democrat running for the Senate is running a television ad against his opponent that will likely never be seen by voters in Florida. The opponent's campaign dismisses it as nothing more than a political stunt. The new TV ad was released Thursday by real estate investor Jeff Greene, locked in an increasingly bitter Democratic primary with Rep. Kendrick Meek. Greene's spot will only run in the Washington area.
Las Vegas Sun: Armed revolt part of Sharron Angle's rhetoric
There's no doubt a chunk of the electorate is angry at the federal government. But are voters willing to take up arms? U.S. Senate candidate Sharron Angle seemed to raise that specter in three interviews in the past six months, suggesting that some would seek "Second Amendment remedies" if Congress isn't reined in. She said the purpose of the right to bear arms is to check the federal government. But she stopped short of saying that she would support an armed uprising.
CNN: S.C. Dems keep Greene as Senate nominee
Democratic Party officials in South Carolina voted Thursday to uphold the result of their controversial Senate primary even though the winner was Alvin Greene, an unemployed political novice who stands almost no chance of defeating Republican Sen. Jim DeMint in November. Meeting in Columbia, members of the state Democratic Party executive committee voted by a 38-7 margin to reject a protest from former state lawmaker Vic Rawl, the establishment-backed candidate who unexpectedly lost last Tuesday's primary to Greene.
Salt Lake Tribune: Matheson gets a leg up from Obama's campaign
Rep. Jim Matheson, D-Utah, is a self-professed fiscally conservative "Blue Dog" Democrat who conspicuously skipped President Barack Obama's 2008 nominating convention and voted against his preferred health care bill, but he's getting some support from the president's campaign apparatus. The congressman also got the White House's blessing for a mailer that touts his help with last year's economic stimulus bill, Matheson campaign manager Julie Merz said. Some Democrats in the past have questioned Matheson's detachment from his party's leader, and especially his absence from the Democratic National Convention in Denver, but the mailer includes a photo of the president.
CNN: White House begins new stimulus push
The Obama administration's economic stimulus program has allocated $620 billion so far and created or saved at least 2.3 billion jobs, Vice President Joe Biden said Thursday. Biden appeared at the daily White House news briefing to kick off what the White House calls "Recovery Summer," a six-week push to highlight what the administration says will be jobs created this summer and fall by a surge in federal stimulus spending across the country.
CNN: GOP filibusters wide-ranging benefits and tax bill in Senate
Senate Democrats failed Thursday to overcome a Republican filibuster of a bill to extend unemployment benefits and prevent Medicare doctors from having their reimbursements cut. All Republicans opposed ending debate on the wide-ranging bill, forcing further negotiations on specific provisions to seek a possible compromise. Senate Majority Leader Harry Reid complained Republicans were simply stalling progress on the bill, and he and other Democratic leaders said the GOP filibuster showed Republicans were aligned with special interests such as oil companies and Wall Street hedge funds.
CNN: Senate Democrats struggle with climate change legislation
Senate Democrats Thursday seized on the environmental disaster in the Gulf of Mexico as a reason to pass climate-change and energy legislation, but internal policy differences will not be easy to overcome and may also leave many disheartened. Members of the Democratic caucus met behind closed doors to discuss various legislative proposals, telling reporters afterward that no single vision has emerged as the way forward.
NATIONAL
For the latest national news: www.CNN.com
CNN: Lawmakers slam BP chief at hearing
Rising public anger over the oil disaster in the Gulf of Mexico hit the boiling point Thursday as BP CEO Tony Hayward was subjected to a bipartisan barrage of criticism during a long, heated day of testimony on Capitol Hill. Democrats and Republicans alike repeatedly accused the embattled British corporate chieftain of refusing to answer their questions, cutting corners on safety, and turning a blind eye to mounting scientific evidence of an unprecedented environmental tragedy.
CNN: Judge favored by BP has financial ties to oil industry
The judge that BP wants to hear an estimated 200 lawsuits over the Gulf of Mexico oil disaster gets tens of thousands of dollars a year in oil royalties and is paid travel expenses to industry conferences, financial disclosure forms show. Lawyers who practice before U.S. District Judge Lynn Hughes say he's tough but fair, and a CNN review of his cases found he ruled in favor of oil companies only slightly more often than he ruled against them. But his connections to the industry have raised eyebrows at a time when BP is under fire for the worst oil spill in U.S. history.
CNN: Times Square car bomb suspect indicted on 10 counts
A federal grand jury in New York on Thursday indicted a suspect in the Times Square bombing attempt on 10 counts, some of which carry a mandatory life sentence. Faisal Shahzad, 30, faces charges of conspiracy and attempt to use a weapon of mass destruction, conspiracy and attempt to commit international terrorism and other counts, according to a Department of Justice statement. Six of the charges carry a maximum life sentence if convicted, including two that bring a mandatory life sentence, the Justice Department said.
INTERNATIONAL
For the latest international news: http://edition.cnn.com
CNN: Around 300,000 people displaced inside Kyrgyzstan
About 300,000 people are now estimated to be internally displaced in Kyrgyzstan by ethnic violence, the U.N. refugee agency said Thursday, citing information from the Kyrgyz interim government and non-governmental organizations. Families and host communities were sheltering many of them, but at least 40,000 people were in need of shelter, according to the Office of the U.N. High Commissioner for Refugees.
Washington Post: Iraq ill-equipped to cope with an epidemic of mental illness
Even as a pullback of American troops marks a winding down of the war, more and more Iraqis are seeking medical treatment for trauma-induced mental illnesses, and the medical community is unable to keep up. Across Iraq, 100 psychiatrists are available to serve a population of about 30 million people, Iraq's psychiatric association says. Many people self-medicate, and prescription drug abuse is now the number one substance abuse problem in Iraq.
CNN: Chinese agency: At least 46 killed, 50 missing in China floods
At least 46 people were killed and 50 were reported missing after heavy rain caused flooding and mudslides in southern China, the state-run Xinhua news agency reported Thursday. The Chinese Ministry of Civil Affairs announced on its website that more than 238,000 people had been evacuated from their homes in the regions of Fujian, Guangdong, Hunan, Jiangxi, Guangxi and Sichuan, Xinhua reported.
CNN: Pakistani soldiers killed, missing in border clashes with militants
Three dozen Pakistani soldiers are missing after a Taliban attack on a Pakistani post along the Afghan border, the Pakistani military said Thursday. The attack occurred Monday in Mohmand Agency, a district in Pakistan's federally administered tribal areas. Two days later, Pakistani security forces launched raids in three areas of Mohmand Agency, killing 38 militants and capturing 23, the military said. Ten security officers were also killed.
BBC News: Sweden votes to replace nuclear plants
The Swedish parliament has approved the replacement of nuclear reactors, marking a change to previous policy towards nuclear power. The plan, proposed by the government, passed narrowly by two votes. In 1980, a Swedish referendum decided to phase out its reactors by 2010, although the target was later abandoned. Sweden's 10 reactors, at three power stations, supply about half of the country's electricity.
CNN: Arubans urge Holloway's father to delay search during Peruvian probe
Aruban authorities are urging Natalee Holloway's father, Dave Holloway, to delay volunteer search efforts in her disappearance until police get better information on the case from Peruvian investigators who have spoken to Joran van der Sloot, prosecutor Peter Blanken said. Police do not want their investigation jeopardized or possible evidence contaminated in the Bubali Bird Sanctuary, a swamp area where Joran once said he dumped Holloway's body, Blanken said.
New York Times: What Crisis? The Euro Zone Adds Estonia
Guess what? The funniest thing happened in Europe on Thursday. A new country joined (yes, joined) the euro zone. And the mood here was upbeat. With a debt crisis that appears to be spreading from Greece to Spain, membership for the country, Estonia, might seem more curse than blessing. There had been speculation that countries might abandon the single currency. And some doubt Estonia is even ready for the move.
CNN: A benchmark 100,000 Iraqi refugees to be resettled
A notable 100,000 Iraqi refugees have been referred by the United Nations refugee agency for resettlement, composing approximately one-fifth of the total number of Middle Eastern refugees aided by the program. U.N. High Commissioner for Refugees Antonio Guterres announced this Thursday during his visit to Syria, which hosts approximately 45 percent of Iraqi refugees submitted for resettlement. He spoke about how huge an achievement this was for the UNHCR and the refugees.
Guardian: Job schemes to go as coalition shelves projects worth £10.5bn
The coalition government today froze or cancelled £10.5bn worth of projects announced in the dying days of the Labour government, suspending new libraries, hospitals, job schemes for young people and an £80m investment in the nuclear industry in Sheffield. The symbolic Labour policy of free swimming for children and pensioners was also scrapped outright. The government said it was forced into difficult cuts by the "irresponsible planning" of its predecessor, but Labour accused the Tory-Liberal Democrat coalition of being ideologically driven to reduce the size of government and its involvement in stimulating the economy.
CNN: Pirates get 5 years in prison in first trial in Europe
Five Somali men were convicted of plotting a hijack at sea and sentenced to five years in prison in the Netherlands, in the first trial of pirates in Europe, a prosecution spokesman said Thursday. The court rejected their claim that they were innocent fishermen, said Wim de Bruin, a spokesman for Netherlands National Prosecutor's Office, noting that no fishing gear was found in their boat. The five were captured by the Danish navy in January 2009 in the Gulf of Aden, off Somalia, after a cargo ship with Dutch Antilles flag was attacked.
BUSINESS
For the latest business news: www.CNNMoney.com
CNNMoney: Stocks erase losses by close
Stocks erased losses to end higher Thursday as a rally in commodity and consumer shares helped investors to look past dour reports on jobs and manufacturing. The Dow Jones industrial average gained 24 points, or 0.2%. The S&P 500 index added less than 2 points, or 0.1%, and the Nasdaq composite ended just above unchanged. Stocks were mixed to higher early in the session as investors weighed a rise in weekly jobless claims with better news out of Europe. But the tone turned negative after the release of weaker-than-expected readings on manufacturing and leading economic indicators.
Investors Business Daily: Google Aims To Remake TV Ads, Gets Decidedly Mixed Reception
Google turned heads in May when it announced a software platform for television set-top boxes it says will breathe new life into the old broadcast medium. It's just the latest attempt by Google to extend its reach beyond the Web and transform an industry it sees as outdated and inefficient. Despite creating an online ad market that has challenged everyone from newspapers to TV, Google has a less impressive track record when it comes to cashing in on those seasoned industries directly.
Business Week: Americans May Have 'Mere Hours' to Disclose UBS Accounts to IRS
U.S. citizens and residents with UBS AG accounts are racing the clock to disclose their secret holdings to the Internal Revenue Service after the Swiss Parliament ratified an agreement to surrender the names of 4,450 bank clients, tax lawyers said. Swiss lawmakers yesterday ended a standoff and approved the bank's settlement with the U.S., allowing the names to be transmitted to tax authorities as early as this week. Lawyers said Americans who ignored an IRS offer last year to reduce penalties in exchange for voluntary disclosures are now flooding their offices with calls seeking advice on how to avoid possible sanctions, which could include prison sentences.
CNNMoney: Feds bust 485 mortgage fraudsters
The Justice Department on Thursday trumpeted its efforts to crack down on mortgage fraud, saying it launched an interagency plan to detect costly scams. Attorney General Eric Holder, FBI Director Robert Mueller and Housing and Urban Development Inspector General Kenneth Donohue held a news conference in Washington to introduce "Operation Stolen Dreams," a three-month-long "takedown" of mortgage fraud schemes throughout the nation. The operation has already netted the arrests of 485 fraud artists. There are 21 agencies involved in the efforts.
Wall Street Journal: Motorola Cuts Pie Unevenly
Motorola Inc. is planning to funnel billions of dollars to its money-losing cellphone business when it splits off into a separate company next year. Under a structure now taking shape, Motorola is planning to buy back most of its debt and give the bulk of its remaining cash—roughly $3 billion to $4 billion—to a new company centered on the cellphone unit, according to people familiar with the matter. The Schaumburg, Ill., company would also free the cellphone company of pension liabilities and most other obligations, highlighting how hard the Motorola board is pushing to ensure the viability of the business.
CNNMoney: Central banks join gold rush
Foreign governments have been getting in on the recent gold rush, driven by continued fears about Europe's debt crisis and the pace of the global economic recovery. Those concerns have been propelling the precious metal to record highs over the past 18 months. In fact, gold closed at a fresh record high of $1,248.70 an ounce Thursday. Last year, foreign central banks were net buyers of gold for the first time since 1997. India, China and Russia have been the biggest buyers. And more recently, the Philippines and Kazakhstan jumped into the fray with big purchases of the precious metal during the first quarter, according to data released by the World Gold Council Thursday.
Wall Street Journal: Consumer Price Drop Squeezes Profits
In what is good news for shoppers but bad news for many companies, U.S. consumer prices fell 0.2% last month from April, even as commodity prices from metal to fuel to food remain higher than they were a year ago. The result: Many companies are finding their profit margins squeezed. The Labor Department Thursday said that excluding volatile food and energy prices, consumer prices rose a modest 0.1% in May. Compared to a year ago, prices, excluding food and energy, have risen only 0.9%, the smallest increase since 1966.
Bloomberg: Citigroup Looking Past Volcker May Seek $3 Billion for Funds
Citigroup Inc. plans to raise more than $3 billion for its private-equity and hedge funds, even as U.S. lawmakers consider banning banks from owning and investing in so-called alternative funds, people with direct knowledge of the plan said. Citi Capital Advisors, which oversees about $14 billion, may seek $1.5 billion for private equity this year and $750 million for hedge funds, said the people, who declined to be identified because the plans aren't public. An additional $1 billion is targeted next year for hedge funds, the people said.
In Case You Missed It
CNN's Wolf Blitzer gets reaction from Louisiana Rep. Charlie Melancon to Rep. Joe Barton's 'shakedown' remark.
Rep. Bart Stupak tells CNN's John King he was frustrated by BP CEO Tony Hayward's evasions on Capitol Hill.
Subscribe to the CNN=Politics DAILY podcast at http://www.cnn.com/politicalpodcast
And now stay posted on the latest from the campaign trail by downloading the CNN=Politics SCREENSAVER at http://www.CNN.com/situationroom