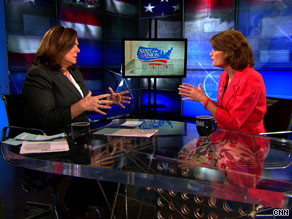 'I don't think that there is the political ability to put a price on carbon,' Sen. Lisa Murkowski said Sunday.
Washington (CNN) – A leading Republican on energy policy issues said Sunday that a compromise proposal for instituting a partial cap-and-trade system for carbon emissions was a political non-starter in the Senate's highly partisan atmosphere. Instead, Alaska's Sen. Lisa Murkowski suggested that an energy bill that lacked cap-and-trade provisions could garner 60 votes and would begin to lay the groundwork for achieving the goal of reducing carbon emissions.
Speaking earlier on CNN's State of the Union, Sen. Joe Lieberman, I-Connecticut, was open to considering a proposal that would forgo an economy-wide carbon cap-and-trade system in favor of such a system applicable only to energy utilities. Lieberman told CNN Chief Political Correspondent Candy Crowley that, by his estimation, there are currently 50 senators who favor a comprehensive cap across the entire economy and roughly another 20 senators who are undecided, a situation that leaves the door open to garnering the 60 votes needed to prevent a filibuster.
But, appearing just after Lieberman on the broadcast, Murkowski, who is the ranking Republican on the Senate Energy and Natural Resources Committee, said a carbon cap limited to just the energy utility sector was not likely to pass in the Senate.
"It still puts you in the world of cap-and-trade," she told Crowley. "And this is where we just simply have not been able to get to 60."
Sounding a frequent GOP rejoinder on the issue of cap-and-trade, Murkowski said instituting a system that puts a price tag on carbon emissions could cost U.S. jobs at a time when the economy is still struggling.
She also told Crowley, "I don't think that there is the political ability to put a price on carbon, as we're speaking [today]. There is nothing out there that, I believe, gains the acceptance of folks to get to 60, to make an energy policy that is workable."
Instead of the bill championed by Lieberman and Sen. John Kerry, D-Massachusetts, Murkowski backs an alternative that does not include cap-and-trade provisions. She said the alternative bill was a step in the right direction even though it does not meet President Obama's call for a comprehensive energy bill that includes a far reaching cap-and-trade system.

"Let's focus on something that gets us toward that goal, which is reduction in our emissions," she said.
Murkowski added, "Let's build on the art of the possible, instead of requiring, as the president seems to want to do, that we have to have a cap-and-trade piece or it isn't comprehensive."
Murkowski also said the controversy caused by last week's apology to BP by Rep. Joe Barton, R-Texas, who accused the White House of conducting a "shakedown" of the company, was a distraction from the real issues and needs of the Gulf Coast region as it deals with disastrous oil spill caused by a blown-out BP deepwater well.
"Let's not be distracted by saying, you know, Joe Barton made this gaffe or this - this inappropriate comment. Let's focus on what we need to do, which is getting relief to the Gulf, making sure that they have every asset possible, making sure that we've got a claims compensation system that works for them. Let's focus on providing what the people of the Gulf need, not pointing fingers back and forth and saying, oh, you know, what you said was wrong."