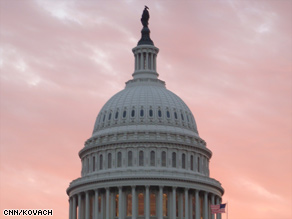 The CNN Washington Bureau's morning speed read of the top stories making news from around the country and the world.
WASHINGTON/POLITICAL
For the latest political news: www.CNNPolitics.com
CNN Poll: Half say Gulf will never recover
Nine in ten Americans say that the situation in the Gulf of Mexico is still out of control, but roughly half say that it is not getting any worse, according to a new national poll. But will the oil spill get any better? A CNN/Opinion Research Corporation survey released Friday indicates that about half the public says that the Gulf will eventually recover, with half saying that will never happen.
CNN: Democrats continue hammering GOP over Barton apology to BP
A top Democrat kept up the Joe Barton drumbeat Sunday, saying the Republican legislator's defense of BP last week was an example of GOP ideology that favors big business. Republicans seeking to change the subject countered that the nation's focus should be on efforts to stop the Gulf oil gusher and criticized the Obama administration for failing to make that happen.
Washington Post: Five governor's races could indicate GOP success in 2012
The roots of a Republican political renaissance in 2012 lie in the Rust Belt. That swath of manufacturing- based states in the Midwest - Illinois, Ohio, Wisconsin, Michigan - with tentacles that reach as far east as Pennsylvania, has been the epicenter of the economic difficulties in the country over the past few years. Each state is hosting a competitive gubernatorial race this fall. Republicans argue that a clean sweep (or close to it) would immediately change the electoral calculus heading into the nationwide redistricting in 2011 and President Obama's reelection race in 2012.
CNN: Lieberman: Comprehensive energy bill can be done this year
Echoing President Obama's Oval Office address to the nation last week, Sen. Joe Lieberman, I-Connecticut, said Sunday that a comprehensive energy bill can be done during this midterm election year. Lieberman added that he hoped the Gulf oil spill would help motivate lawmakers to support the controversial legislation. Lieberman, one of two principal architects of an energy bill that includes a cap-and-trade system for carbon emissions, also suggested that support for his bill is about 10 senators shy of the 60 votes needed to avoid a filibuster.
CNN: Kagan e-mails show confident, brassy side to Supreme Court nominee
More old documents unveiled are offering more fresh signs that Supreme Court nominee Elena Kagan was an eager, tough-talking political player while working as a lawyer in the Clinton White House. In one e-mail, she criticizes one of President Bill Clinton's most important speeches as "presumptuous." The latest and final batch of more than 80,000 pages - mostly e-mails– were released Friday by the William J. Clinton Presidential Library. The 50-year-old Kagan was nominated to the high court May 10 by President Barack Obama, and her confirmation hearings begin June 28.