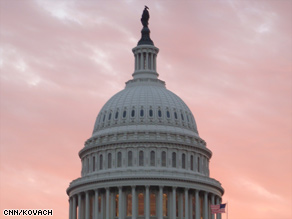 The CNN Washington Bureau's morning speed read of the top stories making news from around the country and the world.
WASHINGTON/POLITICAL
For the latest political news: www.CNNPolitics.com
CNN Poll: Half say Gulf will never recover
Nine in ten Americans say that the situation in the Gulf of Mexico is still out of control, but roughly half say that it is not getting any worse, according to a new national poll. But will the oil spill get any better? A CNN/Opinion Research Corporation survey released Friday indicates that about half the public says that the Gulf will eventually recover, with half saying that will never happen.
CNN: Democrats continue hammering GOP over Barton apology to BP
A top Democrat kept up the Joe Barton drumbeat Sunday, saying the Republican legislator's defense of BP last week was an example of GOP ideology that favors big business. Republicans seeking to change the subject countered that the nation's focus should be on efforts to stop the Gulf oil gusher and criticized the Obama administration for failing to make that happen.
Washington Post: Five governor's races could indicate GOP success in 2012
The roots of a Republican political renaissance in 2012 lie in the Rust Belt. That swath of manufacturing- based states in the Midwest - Illinois, Ohio, Wisconsin, Michigan - with tentacles that reach as far east as Pennsylvania, has been the epicenter of the economic difficulties in the country over the past few years. Each state is hosting a competitive gubernatorial race this fall. Republicans argue that a clean sweep (or close to it) would immediately change the electoral calculus heading into the nationwide redistricting in 2011 and President Obama's reelection race in 2012.
CNN: Lieberman: Comprehensive energy bill can be done this year
Echoing President Obama's Oval Office address to the nation last week, Sen. Joe Lieberman, I-Connecticut, said Sunday that a comprehensive energy bill can be done during this midterm election year. Lieberman added that he hoped the Gulf oil spill would help motivate lawmakers to support the controversial legislation. Lieberman, one of two principal architects of an energy bill that includes a cap-and-trade system for carbon emissions, also suggested that support for his bill is about 10 senators shy of the 60 votes needed to avoid a filibuster.
CNN: Kagan e-mails show confident, brassy side to Supreme Court nominee
More old documents unveiled are offering more fresh signs that Supreme Court nominee Elena Kagan was an eager, tough-talking political player while working as a lawyer in the Clinton White House. In one e-mail, she criticizes one of President Bill Clinton's most important speeches as "presumptuous." The latest and final batch of more than 80,000 pages - mostly e-mails– were released Friday by the William J. Clinton Presidential Library. The 50-year-old Kagan was nominated to the high court May 10 by President Barack Obama, and her confirmation hearings begin June 28.
CNN: McConnell: GOP filibuster of Kagan nomination possible
The top-ranking Senate Republican refused Sunday to rule out a filibuster against Elena Kagan's confirmation to the Supreme Court. Senate Minority Leader Mitch McConnell, R-Kentucky, told "FOX News Sunday" it was possible that Republicans would try to prevent a vote on Kagan's nomination when the issue comes before the chamber. The Senate Judiciary Committee begins hearings on the nomination June 28. Previously, other Republican senators had indicated a filibuster against Kagan was unlikely. McConnell, however, would only say it was too soon to determine the possibility.
The Hill: As midterms near, gay rights activists press same-sex marriage issue
Gay rights activists see a chance to get the gay marriage issue back into the midterm campaign conversation thanks to an upcoming court ruling in California. Geoff Kors, executive director of Equality California, said his organization fully intends to make it a campaign issue this year, and said he is confident it will work, at least in California's statewide races. The group is fully engaged in both the race for governor and attorney general. "I think the issue of marriage equality is clearly going to drive turnout here in California," Kors said.
Idaho Statesman: Rep. Mike Simpson says Rep. Walt Minnick could help oust House Speaker Nancy Pelosi
Freshman Democratic Rep. Walt Minnick won't discuss a conversation he had with Idaho GOP colleague Mike Simpson about the role Minnick might play in removing Speaker of the House Nancy Pelosi, D-Calif. Simpson says he told Minnick that members of the moderate Blue Dog Coalition of Democrats will hold the balance of power if Democrats retain control in the November election and could deny Pelosi re-election in January 2011. Simpson said he counseled Minnick during a May 29 flight from Washington, D.C., to Salt Lake City about how the Blue Dogs could make history.
CNN: Williams steps aside as chairman of Tea Party Express
Conservative radio talk show host and prominent Tea Party activist Mark Williams is giving up his role as the chairman of the Tea Party Express, Williams told CNN Saturday. Williams said his decision stemmed from his involvement in two other major projects. One is opposing the construction of a mosque near the site of Ground Zero in New York, where the twin towers of the World Trade Center were destroyed by Islamist hijackers on September 11, 2001. The other is leading a recall effort against some members of the Sacramento City Council and running for a spot on the local body himself after the council voted to boycott Arizona over its new immigration law.
Lexington Herald Leader: Paul urges unemployed to settle for less
Republican U.S. Senate candidate Rand Paul on Friday urged Americans who have been unemployed for many months to consider returning to the workforce in less desirable jobs rather than continue relying on government unemployment assistance. Paul was responding to a question from Wylie about Thursday's Senate Republican filibuster of a $120 billion package of additional jobless benefits and state aid. Tens of thousands of Americans will have exhausted their unemployment benefits this month without that extension. Paul said he supports the filibuster. If the Senate thinks the bill is necessary, it needs to find the money to pay for it elsewhere in the federal budget rather than add to the $13 trillion national debt, he said.
CNNMoney: Nevada takes dubious jobless title from Michigan
Nevada's jobless rate hit a record high last month and is now the highest in the nation, the first time in four years that Michigan doesn't hold that distinction, according to a government report released Friday. Senate Majority Leader Harry Reid, D-Nev., also said in a statement that mounting unemployment in the state is a sign that Nevada continues to suffer from extreme economic conditions.
The Hill: Sens. Grassley, Bond ratchet up long-simmering dispute with HUD
Two senior Republicans are ratcheting up a long-simmering dispute with the federal Department of Housing and Urban Development over how officials are spending funds under the 2009 stimulus law. Sen. Chuck Grassley of Iowa, the ranking member of the Finance Committee, and Sen. Kit Bond of Missouri, the ranking member of an Appropriations Committee sub-panel on housing, sent HUD Secretary Shaun Donovan a page letter this week detailing their complaints.
Des Moines Register: New Culver ad sets table for big serving of attacks
Gov. Chet Culver on Thursday launched his first television advertisement of the general election campaign, a pointed criticism of Republican Terry Branstad's fiscal management during his own time as governor. The ad sets the tone for what strategists and observers expect to be a hard-hitting campaign, where Culver, a Democrat, one of the nation's more vulnerable incumbents, will try to keep Branstad on the defensive.
Washington Post: Gubernatorial candidate Haley withstands S.C. whispering campaign
There's a whisper campaign going on in South Carolina this month, but it's not what you might think. The whisper is that the political smear tactics that this state made famous don't seem to be working this time around. It started a couple of weeks ago, when two separate allegations of adultery were directed at Nikki Haley, a Republican candidate for governor. Voters either didn't believe the unsubstantiated claims or didn't care; Haley won 49.5 percent of the vote in the GOP primary. She and the runner-up, Rep. Gresham Barrett, will face each other Tuesday in a runoff.
CNN: 'Failure is not an option,' Dem says of Afghanistan
The chairwoman of the Senate Intelligence Committee is painting a grim picture of the U.S. effort in Afghanistan, but Sen. Dianne Feinstein, D-California, insists that the effort must continue. "Failure is not an option," Feinstein said in an interview broadcast Sunday on CNN's "State of the Union." Feinstein agreed that the training of the Afghan army continues to face significant challenges, but she said the Afghanistan-Pakistan theater is too strategically important to U.S interests not to continue the U.S. military operation.
NATIONAL
For the latest national news: www.CNN.com
CNN: BP document: Worst-case scenario - 4.2 million gallons daily in Gulf
A BP estimate made after the explosion of the Deepwater Horizon noted that as much as 100,000 barrels per day could leak into the ocean if the blowout preventer and wellhead were removed, a higher worst-case scenario than previously reported. According to an internal BP document released Sunday by Rep. Edward Markey, D-Massachusetts, BP believed that the worst-case scenario could be as high as 100,000 barrels, or 4.2 million gallons of oil per day.
CNN: Official: Justice Department plans to sue over Arizona law
Obama administration lawyers are planning to file a legal challenge to a controversial Arizona immigration law within a month, according to a senior administration official. Federal government lawyers who have been working on the expected challenge for several weeks will most likely file their arguments in federal court in Phoenix in the days leading up to July 28, when the statute is scheduled to take effect, the official said.
INTERNATIONAL
For the latest international news: http://edition.cnn.com
CNN: Polish presidential election is headed for a runoff, exit polls show
Poland's presidential election produced no clear winner Sunday, preliminary exit polls showed. The leading candidate, interim President Bronislaw Komorowski, failed to garner more than 50 percent of the vote, which would have clinched victory in the first round of voting to replace President Lech Kaczynski, who was killed in a plane crash in April. The election pitted Komorowski, the parliament speaker who has been acting president since the crash, against Kaczynski's twin brother, Jaroslaw Kaczynski. According to exit polls, Komorowski had 45.7 percent of the vote to Kaczynski's 33.2 percent. If those polls are accurate, a second round of voting will be needed to decide the winner. That election would likely take place July 4.
CNN: Santos declares victory in Colombian presidential runoff
Former Colombian Defense Minister Juan Manuel Santos declared victory Sunday in Colombia's presidential runoff, winning more than 69 percent of the votes with nearly all votes counted. During a victory celebration in Bogota's El Campin coliseum, Santos vowed to continue his fight against the Revolutionary Armed Forces of Colombia, or FARC, a leftist guerrilla group that has been waging war against Colombia's central government since 1960s.
CNN: Firm tied to Blackwater gets Afghan contract
A firm affiliated with the former Blackwater security company has been awarded a contract to provide protection to U.S. consulates and diplomats in the Afghan cities of Herat and Mazar-e Sharif, a U.S. State Department official confirmed on Saturday. The official said U.S. Training Center got the contract on Friday. It is part of Xe, the new name of Blackwater Worldwide. Blackwater became the target of widespread outrage in Iraq after its contractors were involved in the September 2007 shooting at Baghdad's Nisoor Square that left 17 civilians dead and 24 wounded, straining relations between Iraq and the United States.
BBC News: Aid agencies launch Niger appeal
Two major aid agencies have launched $10m (£6.7m) appeals for drought-stricken Niger in West Africa. About seven million people – half of the country's population – face food shortages after crop failures last year. Aid organizations Oxfam and Save The Children say the situation is growing more critical by the day.
CNN: Iran executes militant group leader
Iranian authorities have executed the leader of a Sunni militant group blamed for dozens of attacks in the country, state media said Sunday. Abdolmalek Rigi, who headed Jundallah (Soldiers of God), was hanged after being convicted of committing 79 crimes, including armed robbery, planting bombs and attacks against police and military forces, Press TV reported.
Washington Post: In marriage-centric India, shortening the path to divorce
Even in India's most traditional cities, a powerful new profession has arrived: the divorce lawyer. Divorce rates are rising in India as the fast-growing economy unleashes unprecedented financial freedoms and mobility, especially among women and young city dwellers. But divorce cases often drag on for years, clogging already backlogged courts and causing painful and even violent family disputes.
CNN: Toll in China flood rises to 147
The death toll from heavy flooding in southern China rose to 147, as authorities forecast more rain in coming days. In addition, the mud flows and floods have left 93 people missing and prompted the evacuation of more than 1 million people, the state-run China Daily newspaper reported, citing the Ministry of Civil Affairs.
Guardian: George Osborne facing budget backlash
The backlash against the coalition's £85bn emergency budget will begin today as business leaders, children's charities and unions representing six million public employees come out against the planned tax rises, pay freezes and spending cuts, marking the end of the government's honeymoon period. The moves come after the chancellor yesterday warned that everyone would have to play their part to reduce the public deficit. He described announcements due tomorrow as the "unavoidable budget", claiming he faced the toughest test of any chancellor in history to prevent the country embarking on a "road to ruin".
CNN: Study: Millions in Bangladesh exposed to arsenic in drinking water
It could be the worst mass poisoning in history. And the terrible irony is that it may all be due to an idealistic push to clean up drinking water for some of the world's poorest people. A new study published in British medical journal The Lancet says that up to 77 million people in Bangladesh are being exposed to toxic levels of arsenic, potentially taking years or decades off their lives. An international team of researchers from Chicago, New York and Bangladesh followed 12,000 people over the past decade, monitoring their arsenic intake and mortality rates from contaminated wells.
BBC News: Turkey's PM Erdogan vows to 'annihilate' PKK rebels
Turkey has vowed to fight Kurdish rebels until they are "annihilated", after attacks killed 11 soldiers. PM Recep Tayyip Erdogan said Saturday's "cowardly" assaults would not end Turkey's determination to fight the Kurdish Workers' Party (PKK) "to the end". There has been a sharp increase in the number of recent clashes with the PKK.
BUSINESS
For the latest business news: www.CNNMoney.com
CNNMoney: Wall Street reform comes down to the wire
With one week down and one week to go on negotiations melding the two Wall Street reform bills, lawmakers have a lot of tough decisions ahead. House and Senate negotiators had set a goal to finish work on reconciling the bills – aimed at preventing the next financial crisis – before President Obama heads to Canada on Friday for two major summits of world leaders. So crunch time is on. Negotiators meet again Tuesday, which only leaves them a few days. And they have yet to consider some of the more complicated and controversial issues, such as protecting consumers who buy financial products and shining a light on complex financial contracts.
CNN: Asia markets climb on China currency plans
Markets in Asia moved up on news that China would eliminate its peg to the U.S. dollar, an issue that has ratcheted tensions between Washington and Beijing. As of Monday morning, China's central bank had not moved the currency price nor clarified how much it would allow the value of the yuan to move up or down. Still, the markets reaction to Saturday's announcement that the move would come was positive.
CNNMoney: Stretching the market rally
A two-week advance looks to continue this week, as investors consider the latest on the global economy - but the early summer correction may not be over. After slumping almost 14% in six weeks, stocks, as measured by the broad S&P 500, have now gained back just over 6% in the past two weeks. That's good news for investors who were worried that the correction - a selloff of more than 10% from the highs - would become a bear market, a selloff of over 20%. But the stock recovery has been mostly technical and trading-driven, rather than based on changes in the underlying issues that sparked the selling in the first place. That factor suggests another bump down is coming, perhaps later in the summer.
Bloomberg: Bond Sales Make Comeback as Swap Spreads Narrow: Credit Markets
Corporate bond sales are back to levels not seen since April as interest-rate swap spreads show investors are gaining confidence that Europe's debt crisis is contained. Total SA, Europe's third-largest oil producer, and Petah Tikvah, Israel-based Teva Pharmaceutical Industries Ltd. led $36.1 billion of global sales last week, the most since the period ended April 23, according to data compiled by Bloomberg.
CNNMoney: Looking for work? Unemployed need not apply
The last thing someone who is unemployed needs to be told is that they shouldn't even apply for the limited number of job openings that are available. But some companies and recruiters are doing just that. Employment experts say they believe companies are increasingly interested only in applicants who already have a job. Some job postings include restrictions such as "unemployed candidates will not be considered" or "must be currently employed." Those explicit limitations have occasionally been removed from listings when an employer or recruiter is questioned by the media though.
Wall Street Journal: Verizon Wireless Explores Dividend
Verizon Wireless might start paying a dividend in 2012, providing parents Verizon Communications Inc. and Vodafone Group PLC with a rich source of cash. The largest U.S. wireless carrier by subscribers has seen stellar growth and profits over the past few years. But the massive amounts of cash generated has gone primarily toward paying down debt, with Vodafone in particular getting little monetary benefit.
Fortune: Samsung to attack Blackberry with Android
According to a report this week, Samsung will be building Android devices that look like Blackberries with touch screens. It makes a lot of sense really: Apple and Google are slugging it out over candy bar-shaped phone designs while RIM is the biggest smartphone maker in the US and bigger than both Android and Apple internationally. Their traditional 'Blackberry design' is by far their most popular.
Wall Street Journal: States See Growth in Jobs
The sluggish U.S. jobs recovery is inching beyond the industrial South and Midwest, and is spreading toward the service-heavy economies of the two coasts, in a sign of hope for a labor force hit by the worst recession in generations. New Labor Department data, released Friday, showed that the decline in unemployment was widespread: The jobless rate fell last month from April in 37 states, plus the District of Columbia.
In Case You Missed It
Senator Lisa Murkowski (R-Alaska) responds to a DNC ad about the oil spill and Rep. Barton's recent apology to BP.
Sen. Roger Wicker condemns President Obama on his priorities on the Gulf oil spill and "Cap and Tax" policy.
Subscribe to the CNN=Politics DAILY podcast at http://www.cnn.com/politicalpodcast
And now stay posted on the latest from the campaign trail by downloading the CNN=Politics SCREENSAVER at http://www.CNN.com/situationroom