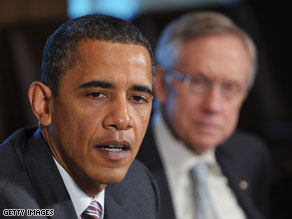 President Obama had planned to meet Wednesday with senators from both parties.
Washington (CNN) - President Barack Obama called Tuesday for the Senate to "stand up and move forward" on the issue in the aftermath of the Gulf oil disaster.
"This has to be a wake-up call to the country, that we are prepared and ready to move forward on a new energy strategy that the American people desperately want but for which there has been insufficient political will," Obama told reporters after a Cabinet meeting at the White House.
However, two Senate leadership aides told CNN later Tuesday that the White House abruptly postponed a planned meeting Wednesday with senators from both parties to try to reach agreement on a proposal that can pass the Senate.
The Senate aides, one from each party, did not know why the meeting was called off.
The White House had portrayed the talks as a chance for all participants to pitch their best ideas, similar to the health care summit earlier this year that emboldened Democrats to push through a Senate bill with no Republican support.
However, sharp differences between the two parties are evident, as well as some infighting among Democrats over what kind of final proposal would have a realistic chance of getting the 60 Senate votes needed to pass.
Updated: 8:32 p.m.