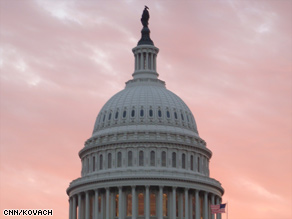 The CNN Washington Bureau's morning speed read of the top stories making news from around the country and the world.
WASHINGTON/POLITICAL
For the latest political news: www.CNNPolitics.com
CNN: South Carolina drama tops three primaries on Tuesday
Voters in three states head to the polls Tuesday, and in one of those states history might be made. South Carolina Republicans could make state Rep. Nikki Haley their first female gubernatorial nominee. She's in a runoff against U.S. Rep. Gresham Barrett. In neighboring North Carolina, Secretary of State Elaine Marshall faces off in a Democratic Senate primary runoff against former state Sen. Cal Cunningham, who was recruited by national Democrats. The winner will challenge Republican Sen. Richard Burr in November's general election. The fight for the GOP Senate nomination is capturing the spotlight in Utah, and the contest will be another test of the political strength of the Tea Party Express.
CNN: White House budget director leaving in July
Peter Orszag has told President Barack Obama that he plans to leave his position as White House budget director in July, an Obama administration official told CNN Monday evening. Orszag, 41, has been a key part of Obama's economic team, serving in his role as director of the Office of Management and Budget during the passage of the economic stimulus bill and this year's health care reform legislation. As budget director, he crafted policy, but also was a prime negotiator with congressional Republicans.
The Hill: Dems won't pass budget
House Democrats will not pass a budget blueprint in 2010, Majority Leader Steny Hoyer (D-Md.) will confirm in a speech on Tuesday. But Hoyer will vow to crack down on government spending, saying Democrats will enforce spending limits that are lower than what President Barack Obama has called for.
CNN: Proposed immigration measure stirs up Nebraska city
Voters in Fremont, Nebraska, are deciding on Monday the fate of a measure making national headlines and stirring up the continuing debate on immigration. Ordinance 5165 would, if approved, prohibit businesses from hiring illegal immigrants and halt landlords from renting to them. The issue has divided the city.
CNN: Haley earned $42,500 for consulting work while in legislature
Republican gubernatorial candidate Nikki Haley earned more than $40,000 in 2007 and 2008 consulting for one of South Carolina's largest engineering firms, according to tax records from those years released by her campaign on Monday. Haley's work for the firm, Wilbur Smith Associates, was first revealed last week when the campaign allowed reporters to view her 2009 tax records. The records showed that Haley collected $2,000 from the company, money she did not disclose on state ethics filings.
Wall Street Journal: Newcomer Upends Florida Race
Many Republicans in this state thought their party's nomination for governor was all but settled. Bill McCollum, Florida's buttoned-down attorney general, had statewide name recognition and newly burnished conservative credentials, thanks to his leadership of a 20-state effort to overturn President Barack Obama's health law in court. But in the course of a few weeks, a political newcomer has upended the race, launching a well-funded challenge to Mr. McCollum and taking the lead in two recent polls.
Washington Post: Ehrlich press chief's faux news reports part of growing campaign trend
As viewers watch scenes from a Little League baseball game, a familiar face appears to tell them that former governor Robert L. Ehrlich Jr. routinely steps off the campaign trail to watch his 10-year-old son play. "Family first and always, and that's the way it needs to be," Ehrlich (R), standing on the sidelines, tells Andy Barth in a three-minute piece that has a similar look and feel to many pieces Barth churned out during more than three decades as a television news reporter in Baltimore. Only this video was not cut for television. It is appearing on the Ehrlich campaign's Web site and Facebook page. And Barth is no longer a TV reporter. He's Ehrlich's press secretary. If that doesn't sound like objective reporting, it isn't. But that's the point.
CNN: Hayworth's 'free money grant' infomercial surfaces
Former congressman J.D. Hayworth has used several ads as part of his bid to oust Sen. John McCain in Arizona's Republican primary. But in 2007, Hayworth was appearing in a different kind of ad: an infomercial that promised billions of dollars in free government grants. The television ad promises free information about "hundreds of billions of dollars in government funding" to individuals who attend a conference on the topic.
New York Times: From Run for the White House to a Run Just to Stay in Place
Less than two years after he was defeated by Barack Obama, nothing seems quite the same for Senator John McCain, who has gone from being his party's candidate for president rallying 1,000 supporters at a Florida football stadium to furiously defending his Senate seat before 60 recession-weary residents in a Hampton Inn in Lake Havasu, Ariz. Mr. McCain's new position is one of defense: he is fending off a primary fight from the right flank of his party in the form of former Representative J. D. Hayworth, as well as withering criticism of his former position on immigration from constituents. He also seems to be engaged in a battle within himself, hewing to the high road, as he has historically done, but at times unleashing the anger he seems to feel about the outcome of the 2008 race.
Detroit Free Press: Candidates Virg Bernero, Andy Dillon spar over jobs
The two men seeking the Democratic nomination to be Michigan's next governor exchanged sharp jabs Monday over their records in public office and private enterprise in their first live, one-on-one televised debate. Dillon called himself "a different kind of leader" who could use his business experience to create new jobs in Michigan. Bernero called Andy Dillon a union-busting friend of Wall Street when he was a company turnaround specialist before he was elected to the Legislature. He called Dillon "Speaker of the Mess" who failed to adequately fund education, health and public safety services.
Washington Post: In S.C. twist, black candidate is expected to beat Thurmond's son in House race
The word many use to describe it is "irony." Here in South Carolina's coastal 1st Congressional District, an African American "tea party" conservative is running against the son of onetime segregationist Strom Thurmond in Tuesday's Republican primary runoff. And he is expected to win.
Lexington Herald Leader: New head of state Democratic Party donated to McConnell and Fletcher
The newly appointed chairman and executive director of the Kentucky Democratic Party has contributed to campaigns of prominent Republicans in recent years, including U.S. Sen. Mitch McConnell and former Gov. Ernie Fletcher. Records with the Federal Election Commission show that Daniel Logsdon, deputy chief of staff for Democratic Gov. Steve Beshear since September, gave $500 in September 2005 to McConnell's re-election committee.
St. Petersburg Times: Memo shows shadow group sought "final approval" of McCollum's manager in Scott slam
Attorney General Bill McCollum continues to distance himself from two shadowy political committees attacking his GOP primary opponent, but new evidence is surfacing to connect his campaign to the groups. The latest is an e-mail obtained by the Times/Herald that asks McCollum campaign manager Matt Williams "for final approval" of a television advertisement blasting challenger Rick Scott for fraud committed by a hospital chain he built.
CNN: Senate Dems outraise GOP but lag in cash on hand
Senate Democrats outraised their Republican rivals in the month of May, but for the first time this election season, the GOP committee reports having more cash on hand. The National Republican Senatorial Committee reported Monday raising $3.6 million last month, bringing the organization's total cash on hand to $18.1 million. The committee, charged with helping elect Republicans to the Senate, also reported Monday that it is debt free. The Democratic Senatorial Campaign Committee, meanwhile, raised $5 million in May and has $17.57 million on hand – about a $500,000 less than the Republicans. The Democrats have zero debt as well.
Washington Post: Puerto Rico, Virgin Islands go head to head on rum, fueling tensions in Congress
The rum wars have come to Washington. A fight over federal rum taxes pits Puerto Rico against the U.S. Virgin Islands and is sparking rare public tensions among Hispanic and African American lawmakers in Congress. Put simply, the argument involves whether tax dollars can be used to lure a Captain Morgan Rum distillery from Puerto Rico to the Virgin Islands, a project highly coveted for the tax revenue it promises.
CNN: Limbaugh bashes GOP for Barton response
Conservative talk-radio host Rush Limbaugh is taking aim at Republican leaders for rushing to demand Texas Rep. Joe Barton retract his controversial apology to BP CEO Tony Hayward during last week's congressional hearing. On his radio show Monday, Limbaugh suggested the GOP leadership likely agrees with Barton's sentiments, but are driven by recent national polls which suggest the majority of Americans support President Barack Obama's push for BP to set aside $20 billion for future liability claims.
NATIONAL
For the latest national news: www.CNN.com
CNN Poll: US views of Britain take hit in wake of spill
Americans' views of Great Britain have taken a hit in the wake of the massive BP-caused oil spill in the Gulf of Mexico, according to a new national poll. A CNN/Opinion Research Corporation survey released Monday indicates that 28 percent of the public holds a "very favorable" view of Great Britain, down 12 points from last year. That doesn't mean that Americans dislike Britain – only 13 percent feel that way, up a bit since 2009. Most of the change comes from Americans moving from the "very favorable" category to a "mostly favorable" view.
CNN: Oil industry's oversight agency renamed amid massive reform
The federal agency responsible for overseeing the oil industry has been renamed amid a massive reform effort following the BP oil disaster in the Gulf of Mexico, the Department of the Interior announced Monday. The Minerals Management Service will be called the Bureau of Ocean Energy Management, Regulation and Enforcement, according to an order signed by Interior Secretary Ken Salazar requesting the name change.
CNN: Shahzad pleads guilty to Times Square bombing charges
Faisal Shahzad, the 30-year-old Pakistani-American suspect in the failed Times Square bombing case, entered pleas of guilty Monday in federal court to all 10 counts he was facing. Shahzad, wearing a white skullcap, gray prison jumpsuit and orange T-shirt, was wearing handcuffs as he was escorted into the courtroom of U.S. District Judge Miriam Cedarbaum.
INTERNATIONAL
For the latest international news: http://edition.cnn.com
CNN: Afghan insurgents allegedly getting U.S. taxpayer money
The U.S. military is investigating whether American taxpayer dollars from a more than $2 billion contract are being used to pay off Afghan insurgents in return for not attacking contractors. The issue at hand is whether contractors working for the U.S. government in Afghanistan are paying protection money to local security companies, which in turn give the money to Afghan insurgents so they will not attack the contractors. The money allegedly ending up in Taliban or warlord hands is from a number of Pentagon contracts, according to a U.S. military official not authorized to speak publicly about the investigation.
CNN: Turkish army using Israeli-built drones
Despite an epic rift in Turkish-Israeli relations, Turkey's top general announced his troops are relying on new unmanned aerial drones recently purchased from Israel to battle Kurdish rebels. At an international military conference on Monday, the commander of Turkey's armed forces, Gen. Ilker Basbug, said that within the last 10 days, his troops had begun employing Israeli-made "Heron" drones on surveillance missions over Turkey's mountainous eastern border with Iraq.
Washington Post: British diplomat quits Afghanistan post
Britain's special representative for Afghanistan and Pakistan, who has criticized elements of the U.S. war strategy, has resigned and the new government of Prime Minister David Cameron is reviewing whether to fill the job, British officials said Monday. Sherard Cowper-Coles, the British counterpart of Obama administration special representative Richard C. Holbrooke, had held the position since early 2009, after serving nearly two years as ambassador to Afghanistan.
CNN: Growing concern in Brazil as number of flood victims increase
Officials in Brazil fear the death toll may rise as a result of persistent rain and flooding that has punished the northeastern states of Pernambuco and Alagoas, killing 33 people and leaving thousands homeless, officials said. More than 1,000 people are missing in the state of Alagoas; 500 people are unaccounted for in the town of Uniao dos Palmares in Alagoas alone, a state spokesman said.
BBC News: Greece 'to pay costs for stranded tourists'
Greece says it will cover the extra costs for any tourists stranded in the country as a result of industrial action or natural disaster. The offer is part of an effort to improve Greece's image, which has been damaged by strikes and protests over government austerity measures. Tourism generates almost 20% of the nation's income, but bookings are down by about 10%, industry experts say. Strikes are continuing, although the number of violent clashes has eased.
CNN: Van der Sloot 'emotionally immature,' psych report says
Joran van der Sloot has a low tolerance for frustration and "doesn't value the female role," according to excerpts from a psychological investigation report given to a judge by prosecutors Monday. According to the document, van der Sloot, suspected of killing a Peruvian woman late last month, "does not tolerate when someone tries to contradict him. It generates in him a challenging attitude."
CNN: Britain praises Israel's plans to ease Gaza blockade; U.S. 'gratified'
Britain's foreign secretary and the U.S. State Department's spokesman have joined the chorus of international leaders praising Israel's plans to ease its blockade of Gaza. Israel's decision is a "welcome step," State Department spokesman P.J. Crowley said Monday, but the U.S. will "wait and see how the policy is further developed."
BBC News: Japan sets targets to rein in national debt
Japan has set targets to rein in its national debt, the biggest in the industrialized world. New Prime Minister Naoto Kan has made fiscal reform a top priority, saying that without it the country could face the risk of a Greece-style crisis. Japan has been borrowing money for two decades, trying to bring its economy out of stagnation. Under the government's plan the budget would be brought back into surplus by the end of the decade.
CNN: 3 U.N. peacekeepers killed in Darfur
Three U.N. peacekeepers were killed and another was seriously wounded in a shootout Monday with unknown attackers in the West Darfur region of Sudan, the African Union-United Nations Mission in Darfur said. The soldiers from a UNAMID Protection Force Battalion were providing security to civilian engineers working at a site near the village of Nertiti, in the Jebel Marra area, around 11:30 a.m. (4:30 a.m. ET) when more than 20 attackers in camouflage battle dress began firing on them, UNAMID said in a news release.
BUSINESS
For the latest business news: www.CNNMoney.com
Wall Street Journal: Asia Shares Fall; Nikkei Down 0.9%
Asian shares were mostly lower Tuesday as investors took a breather after sharp gains the prior session, with demand ebbing after Wall Street pulled back on Monday. Asian currencies and the euro rose briefly against the U.S. dollar after Beijing lowered the dollar/yuan reference rate, but the gains evaporated as the yuan fell on apparent dollar-buying from Chinese banks. The positive impact on markets from China's weekend decision to allow greater flexibility in the yuan's exchange rate had worn off as it was clear that Beijing would not allow the currency to move quickly.
Business Week: How a Rising Yuan Could Affect U.S. Investors
U.S. investors have plenty of theories about the eventual impact of China's new currency policy: A higher yuan could boost commodity prices, encourage U.S. exports, control Chinese inflation, and spark U.S. inflation. Yet, investors say, it won't do any of these things soon. The People's Bank of China said on June 19 that it would "enhance the renminbi exchange-rate flexibility," allowing the value of the Chinese yuan to rise. The currency has been set at an artificially low level to facilitate Chinese exports.
CNNMoney: Troubled borrowers get help outside Obama mortgage plan
More troubled homeowners have fallen out of trial mortgage modifications than have received long-term help, a new government report released Monday shows. But nearly half of these borrowers received alternate help, while only 7% have fallen into foreclosure, according to the latest report on the administration's signature housing-rescue plan, Home Affordable Modification Program, known as HAMP. Also, trying to bolster the perception of its overall housing rescue efforts, the Obama administration separately debuted a so-called housing scorecard on Monday, which provided various statistics about the market's performance over the past two years.
CNN: Reports: More problems for iPhone 4 orders
As deliveries of the hotly anticipated iPhone 4 were set to begin, reports surfaced Monday of more problems with the Apple phone's ordering process. Last week, AT&T, the exclusive wireless provider for the iPhone, suspended pre-orders after its system was overwhelmed. On Monday, several technology websites reported receiving messages from readers that their iPhone pre-orders had been canceled without any further explanation.
CNNMoney: E-reader price war breaks out: Kindle, Nook cuts
As e-reader competition heats up, Barnes & Noble responded Monday by cutting the price of its flagship Nook to $199 and introducing a low-cost, Wi-Fi-only version for $149. Just hours later, Amazon hit back. It slashed the price of its popular Kindle to $189 - a deep discount from the original $259. Barnes & Noble's move sets the Nook's entry-level price level the same as the Kobo, an upstart e-reader backed by Borders. Cheaper than many competing readers, the Kobo sold out its first run and will begin shipping another wave of pre-orders next month.
Wall Street Journal: Intel, FTC Near an Accord
Intel Corp. and the Federal Trade Commission appear close to settling the agency's high-profile antitrust case against the chip giant, a development that could lead the Santa Clara, Calif., company to modify practices criticized by government agencies on three continents. Lawyers for Intel and the FTC on Monday submitted a proposed consent decree to the commission, asking for a suspension of proceedings in the case until July 23 while the deal is reviewed by the five FTC commissioners. Terms of the proposed agreement were not disclosed.
CNNMoney: Price hikes hammer individual health coverage
When health insurance costs rise for individual buyers, they soar: The average premium rose 20% in its most recent increase, according to a report released Monday. About 14 million Americans younger than 65 buy their own individual health plans, rather than purchasing coverage through their employers, said the report from the nonprofit group Kaiser Family Foundation. More than three-quarters of that contingent said they were recently hit with a price hike.
CNNMoney: China close to catching U.S. in manufacturing
China's manufacturing sector is on the brink of passing that of the United States, according to a report released Monday. Analysis of the latest government readings by economic research firm IHS Global Insight show that China's manufacturing sector nearly caught the U.S. output in 2009. The value of goods produced by China's factories reached about $1.6 trillion last year, compared to $1.7 trillion by U.S. manufacturers.
In Case You Missed It
Republican Sen. Tom Coburn talks about Supreme Court hearings and recent Father's Day comments by President Obama.
Senators mark the anniversary of last June's fatal DC Metrorail crash with a call for national transit safety standards.
Subscribe to the CNN=Politics DAILY podcast at http://www.cnn.com/politicalpodcast
And now stay posted on the latest from the campaign trail by downloading the CNN=Politics SCREENSAVER at http://www.CNN.com/situationroom