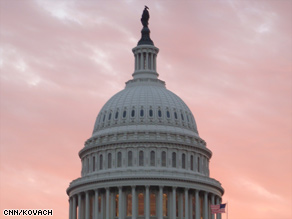 The CNN Washington Bureau's morning speed read of the top stories making news from around the country and the world.
WASHINGTON/POLITICAL
For the latest political news: www.CNNPolitics.com
CNN: South Carolina drama tops four runoffs on Tuesday
South Carolina Republicans made state Rep. Nikki Haley their first female gubernatorial nominee, handing her an easy victory in her primary runoff race against U.S. Rep. Gresham Barrett. Haley just missed out on winning the nomination outright in the June 8 primary, capturing 49 percent of the vote in a four-candidate field. She was short of the 50 percent-plus-one needed to take the nomination. Once facing long odds for the GOP nomination, Haley rose in the polls thanks in part to endorsements by former Massachusetts Gov. Mitt Romney and former Alaska Gov. Sarah Palin.
The Hill: Son of one-time segregationist loses to black Republican in S.C.
Republican Tim Scott earned a landslide victory against challenger Paul Thurmond in the Republican runoff in South Carolina's 1st Congressional District. There was no question that Scott was the candidate of the party's D.C. establishment in South Carolina's 1st congressional district.
CQ Politics: Lee Wins Utah GOP Nomination
Attorney Mike Lee won Utah's GOP Senate nomination Tuesday night and all but assured he'll be headed to Congress next year to represent his overwhelmingly Republican state. Lee's victory comes as the second rebuke of Sen. Bob Bennett (R) by state Republicans in two months. Bennett, whose willingness to occasionally partner with Democrats in the Senate made him a top target of tea party groups and conservative activists this cycle, was kept from the primary by finishing in third place at the GOP nominating convention on May 8.
CNN: Key Senate Democrat calls for McChrystal to resign
Sen. Byron Dorgan, D-North Dakota, became the first member of the Senate Democratic leadership on Tuesday to suggest that Gen. Stanley McChrystal should resign. Asked by CNN in a Capitol Hill hallway if McChrystal's comments in Rolling Stone magazine warrant resignation, Dorgan replied that if McChrystal "said what it was reported that he said, the answer is yes." Dorgan, who chairs the Senate Democratic Policy Committee, was visibly annoyed by McChrystal's comments, as were many of his colleagues.
St. Petersburg Times: Kendrick Meek and Jeff Greene trade barbs in Democratic U.S. Senate debate
You know a campaign is getting down and dirty when one candidate tells his opponent to quit insulting his mother. "How dare you attack the character of my mother," demanded Kendrick Meek of rival Jeff Greene on Tuesday, in the first debate between the major Democratic candidates for U.S. Senate."How dare you, Jeff Greene." Greene didn't apologize for attacking the Miami congressman for seeking earmarked federal funds from a developer who had hired Meek's mother, former U.S. Rep. Carrie Meek. Kendrick Meek denies any wrongdoing and says he didn't know developer Dennis Stackhouse — now facing fraud charges — had given his mother $90,000 and a Cadillac Escalade for consulting work.
CNN: New Yorkers want to hear more from Cuomo
New York State Attorney General Andrew Cuomo's got a sky high approval rating, and the Democratic gubernatorial candidate's far ahead of his Republican rivals in general election matchups, but according to a new poll voters want Cuomo to speak out about how he will fix the Empire state's budget woes. A Quinnipiac University survey indicates that 64 percent of New York state registered voters say Cuomo's not doing enough to explain his budget proposals, with a majority of Republicans, independents, and even Democrats in agreement.
Des Moines Register: Rand Paul has long history of controversial views
Rand Paul, Kentucky's Republican nominee for the U.S. Senate, has a long history of making unconventional comments about social programs, housing discrimination, military spending and limiting the role of government. A Courier-Journal review of two-dozen public appearances by the Bowling Green eye surgeon since 1998 shows that Paul has condemned Medicare as "socialism;" denounced seat-belt and anti-smoking laws as "Nanny-state" paternalism; called for voluntary, rather than mandatory, accommodation of people with disabilities; and suggested using satellites to monitor America's borders for illegal immigrants. Zealously advocating for free-market economics, he also has criticized private health insurance, saying it keeps patents from negotiating lower prices with their doctors.
Detroit Free Press: Cox campaign says its TV ads were stolen and posted on YouTube
The gubernatorial campaign of Attorney General Mike Cox said Tuesday that four of its unaired TV ads - each in some way a response to allegations that Cox was complicit in a cover-up of a rumored party at the Manoogian Mansion - were stolen by political opponents and posted on YouTube. The four ads, along with a video of what purports to be an internal Cox campaign poll on "Kwame-gate," appeared Monday afternoon on a YouTube channel called AnyOneButCox. This evening, the ads were removed.
The Hill: Ensign staff tell ethics panel inquiry that lobbying rule-breaking was known
In depositions to the Senate Ethics Committee, staffers for Sen. John Ensign have said the Nevada Republican and his senior aides knew a one-year lobbying ban was being broken when they helped a former staffer set up a short-lived career on K Street, according to two sources close to the investigation. The information was provided as part of a probe the panel is conducting into payments Ensign's parents made to Cynthia and Douglas Hampton. Ensign was having an affair with Cynthia, who is married to Douglas.
CNN: Sources say White House meeting on Senate energy bill postponed
President Barack Obama called Tuesday for the Senate to "stand up and move forward" on the issue in the aftermath of the Gulf oil disaster. However, two Senate leadership aides told CNN later Tuesday that the White House abruptly postponed a planned meeting Wednesday with senators from both parties to try to reach agreement on a proposal that can pass the Senate. The Senate aides, one from each party, did not know why the meeting was called off.
Politico: GOP 'expects' to attend Elena Kagan hearings
Sen. Jeff Sessions, the top Republican on the Judiciary Committee, said Tuesday Republicans "fully expect" to be at the confirmation hearings next week for Elena Kagan and would only boycott the hearings if "we had a really serious situation" where additional documents weren't produced. The Alabama Republican caused a stir Monday evening when he told POLTICO that the GOP senators on the Judiciary Committee may not show up next week to protest the administration's decision to prevent the release of a slew of documents related to Kagan's time as a senior aide in the Clinton White House.
Washington Post: Scott Brown's key vote gives Massachusetts firms clout in financial overhaul
State Street isn't one of the iconic firms of Wall Street. It doesn't even make the top 10 largest bank holding companies in the country. But on Capitol Hill this week, as lawmakers finalize new rules regulating Wall Street, Boston-based State Street wields enormous influence. The bank has a powerful advocate: Sen. Scott Brown (R-Mass.), whose vote the Democrats need to pass the financial overhaul bill. Brown is worried that a key provision in the regulations known as the "Volcker rule" would hurt State Street, BNY Mellon and other banks with major operations in his state. Even though Democrats have fought to include a strong version of the rule, which could restrict the kinds of trading banks engage in, Obama administration officials and Democratic aides on Capitol Hill say Brown is likely to get his way because his vote is critical for approval of the House-Senate draft. If he does, many other banks across the country could benefit.
CNN: Utah court says e-signatures acceptable for ballot petitions
Voters in Utah can now go online and sign a petition to qualify candidates for public office, the state's highest court ruled Tuesday. The unanimous decision ordered state officials to accept e-signatures on otherwise valid applications for a place on a ballot. The ruling came as voters went to the polls for primary elections in Utah.
CNN: Senate clears backlogged Obama nominations
The Senate cleared dozens of backlogged Obama administration nominations Tuesday, including two appointments for the National Labor Relations Board that will allow it to operate with full membership for the first time in two and a half years. Senators approved unanimously the appointment of Democrat Mark Pearce and Republican Brian Hayes to fill out the five-member board, which mediates labor-management disputes. Just last week, the Supreme Court ruled the NLRB acted without authority in more than 500 cases because it had just two members. Action on the nominations came only after Democrats agreed to put off a vote on another NLRB member, Craig Becker, to a full five-year term on the board.
CNN: Obama asks Congress to approve spending for border security
President Barack Obama asked Congress on Tuesday to approve $600 million in emergency spending for steps to increase security along the border with Mexico, a key issue in the immigration reform debate. In a letter to House Speaker Nancy Pelosi, Obama said the money would pay for hiring 1,000 new border patrol agents and 160 new Immigration and Customs Enforcement agents, two unmanned aircraft systems and other support for border security. Obama's letter also said the spending would be partially offset by canceling a $100-million Homeland Security program that the president described as "lower priority."
NATIONAL
For the latest national news: www.CNN.com
CNN: Obama 'angry' after reading McChrystal's remarks
The fate of the top U.S. military commander in Afghanistan hinges on his meeting Wednesday with President Barack Obama, who was "angry" after reading the general's remarks about colleagues in a magazine profile to be published Friday. Gen. Stanley McChrystal will likely resign, a Pentagon source who has ongoing contacts with the general said. The "magnitude and graveness" of McChrystal's mistake in conducting the interview for the article were "profound," White House press secretary Robert Gibbs said. Defense Secretary Robert Gates said McChrystal had "made a significant mistake and exercised poor judgment."
CNN: Interior Secretary says he will impose new drilling moratorium
Interior Secretary Ken Salazar on Tuesday called a six-month halt on deepwater drilling "needed, appropriate and within our authorities" in announcing he will issue a new order on a moratorium just hours after a federal judge blocked such a mandate. Salazar's statement did not give an exact date for when the new order would be imposed, saying only "in the coming days." He promised that the new order will include evidence that "eliminates any doubt that a moratorium is needed, appropriate, and within our authorities." U.S. District Judge Martin Feldman in New Orleans, Louisiana issued a preliminary injunction Tuesday against the ban, which halted all drilling in more than 500 feet of water and prevented new permits from being issued. The White House said it would appeal the ruling.
INTERNATIONAL
For the latest international news: http://edition.cnn.com
CNN: Source: Alleged bin Laden hunter released by Pakistan
An American man detained last week in Pakistan while on a hunt for Osama bin Laden was on his way back to the United States Tuesday with no charges filed, a source close to Gary Faulkner's family told CNN. Faulkner, 50, had been held by Pakistani authorities since June 13. Faulkner, who suffers from kidney disease, was given dialysis in a Pakistani military hospital in Islamabad and is in good condition, the source said.
CNN: Mexico files court brief against Arizona immigration law
Mexico on Tuesday filed a brief in federal court in Arizona supporting a lawsuit challenging the constitutionality of a tough new immigration law, Mexico's foreign ministry said. The lawsuit seeks to overturn SB 1070, a recently passed law due to go into effect late next month, which stipulates that police can ask the residency status of people being investigated for a crime.
Washington Post: Adviser to Israel's Netanyahu questions Mideast peace effort, new Iran sanctions
Israeli Prime Minister Binyamin Netanyahu's national security adviser said Tuesday that the push for Palestinian statehood has weakened Israel's standing in the world, and he suggested that the outlook is bleak for U.S.-mediated negotiations in the region. Uzi Arad, central in the crafting of Israel's stance on the Palestinians and on Iran's nuclear program, also argued that new U.N. Security Council sanctions on Iran are inadequate to thwart its nuclear progress. A preemptive military strike might eventually be necessary, he said.
CNN: Alleged drug kingpin arrested in Jamaica
Alleged druglord Christopher "Dudus" Coke was arrested Tuesday outside Kingston, Jamaica, police said. The arrest occurred just outside the capital city at about 4 p.m., said Commissioner Owen Ellington. He told reporters that police acting on intelligence picked up Coke, 41, and took him to the Spanish Town Police Station in St. Catherine. From there, he was taken via helicopter to Kingston, Ellington said.
BBC News: Budget: Ministers defend tax rises and welfare cuts
The government has defended the toughest Budget package of spending cuts and tax increases in a generation. Chancellor George Osborne said the measures, which will raise VAT to 20% and cut welfare spending by £11bn, were tough but needed to curb the deficit. Ministers have said they will do all they can to "protect the least well off" from the impact but Labour have warned it will cost thousands of jobs. Labour have accused the Lib Dems of being party to a "raid on the poor".
Wall Street Journal: EU Accelerates Plans for 'Single Sky'
European Union officials, burned by Europe's chaotic response to the ash clouds caused by a volcanic eruption in April, are fast-tracking plans to unify their patchwork air-traffic system. Unifying the 27-country bloc's national air-management systems under a project dubbed the Single European Sky is expected to cut flight times, reduce delays and trim both fuel consumption and carbon emissions more than 10%. EU transport ministers on Thursday are set to endorse a push to accelerate that effort.
CNN: Belarus to stop Russian gas deliveries to Europe
Belarus' president has ordered the halt of Russian natural gas deliveries to Europe via Belarus, his office told CNN Tuesday. The move comes as Russia is decreasing the amount of natural gas it sends to Belarus over what it says are unpaid debts. Belarus President Alexander Lukashenko said Russia owes Belarus $260 million for the natural gas it transports through the country, state news reported. Lukashenko's announcement came after Russian President Dmitry Medvedev ordered energy giant Gazprom to restrict gas supplies to Belarus because of what he says are unpaid debts.
Washington Post: Lack of electricity and water puts Iraqis on edge during heat of summer
Seven years after the U.S.-led invasion, Iraqis are taking to the streets to demand basic services they have not received, despite many promises and the expenditure of billions of dollars by the U.S. and Iraqi governments. Their anger has forced the hand of Electricity Minister Karim Wahid, who resigned Monday. In a news conference the same day, Wahid said the ministry could not keep up with demand and did not have enough money, adding that the situation was out of its control. On Tuesday, Prime Minister Nouri al-Maliki defended his government and Wahid. He blamed Iraqis for consuming too much electricity, squatters for tapping into and overwhelming the electrical grid, and the previous parliament for not approving billions of dollars for infrastructure projects to be undertaken with several foreign firms, forcing the government to take out about $2.1 billion in bonds this year. He also warned that Iraqis should expect power cuts for two more years.
BBC News: Spain ratifies labour reforms to cut unemployment
Spain's parliament has ratified labour reforms designed to bring down high unemployment. Measures include promoting youth employment and cutting the cost of firing workers, which critics say makes employers reluctant to hire more staff. Changes to the labour law follow spending cuts introduced last month in a bid to cut the large budget deficit.
CNN: At least 42 dead, 115,000 homeless in Brazil flooding
Brazilian President Luiz Inacio Lula da Silva met Tuesday with his emergency Cabinet as flooding in two northeastern states killed at least 42 people and left more than 115,000 homeless or displaced, the Agencia Brasil state news agency and civil defense officials reported. In Pernambuco state, 53 cities have declared a state of emergency, the nation's civil defense agency said. Thirteen people are dead and more than 42,000 are homeless there, the agency said. In Alagoas state, 22 cities have declared an emergency. At least 29 people are dead, officials said. More than 73,000 residents are homeless or displaced, the national civil defense said. More than 600 people have been reported missing in Alagoas.
BUSINESS
For the latest business news: www.CNNMoney.com
CNNMoney: Stocks slump in volatile trading
Stocks slipped Tuesday, giving up earlier gains in a very choppy session amid a worse-than-expected existing home sales report and the latest on the European debt crisis. The Dow Jones industrial average fell 149 points, or 1.4%. The S&P 500 index lost 18 points, or 1.6%. The tech-fueled Nasdaq composite lost 27 points, or 1.2%. Trading was volatile throughout Tuesday's session, with an early advance petering out after the release of the housing market report. But the tone turned decidedly negative in the last hour.
Bloomberg: Asian Stocks Decline as Yen Climbs on Drop in U.S. Home Sales
Asian stocks fell the most in two weeks, led by Japanese exporters, as the yen rose after a drop in U.S. home sales added to speculation the global recovery may be faltering. South Korea's won slid for a second day. The MSCI Asia Pacific Index retreated 1.1 percent to 116.84 at 12:50 p.m. in Tokyo, set for its largest drop since June 7. The yen strengthened against all major counterparts, climbing to the highest against the euro since June 11 and touching 90.37 against the dollar.
CNNMoney: Get ready for $11 a pack cigarettes
New York City smokers already pay the highest cigarette taxes in the nation, but a new state law will push those taxes even higher this summer. The state legislature on Monday approved a bill adding a state tax of $1.60 to every pack sold, effective July 1. The bill, which was signed by Gov. David Paterson, will raise the state tax to $4.35 per pack. That makes the Empire State's tax on smokes the highest in the nation.
Fortune: One more worry for banks: Wal-Mart
America's biggest banks are in retreat, tightening lending, increasing fees, and closing branches. But one company still wants to become your neighborhood bank: Wal-Mart. While the banking sector has been in turmoil, Wal-Mart has aggressively courted customers' pocketbooks, partnering with financial services companies to offer money transfers, check cashing and bill payments, and putting virtual checking accounts - refillable pre-paid debit cards - in the hands of more than two million customers. The company downplays its desire to garner a banking license, but recent changes in the banking and regulatory landscapes have only increased the eventual likelihood of a Wal-Mart Bank.
New York Times: JPMorgan Sets Sights Overseas
JPMorgan Chase emerged from the financial crisis as one of the strongest banks on American soil. Now it wants to make up lost ground overseas. The bank's chief executive, Jamie Dimon, announced a series of management changes toward that end on Tuesday, appointing one of his closest lieutenants to a new position with a mandate to start a global corporate banking business and scout out opportunities in Europe, Latin America and Asia.
CNNMoney: McDonald's warned: Drop the toys or get sued
A nutrition watchdog group is threatening to sue McDonald's if the fast-food giant won't stop using toys to lure children to its Happy Meals. The Center for Science in the Public Interest said Tuesday that it has served McDonald's notice of its intent to sue over what it says is unfair and deceptive marketing. In its notice letter, CSPI says that McDonald's toy-related promotions violate state consumer protection laws in four states and the District of Columbia. The letter gives McDonald's 30 days to agree to stop the practice before a suit is filed.
Wall Street Journal: States Face New Pinch as Stimulus Ebbs
Already-strapped states are about to face a new squeeze as the boost from federal economic-stimulus spending draws to a close and Washington looks increasingly reluctant to widen the nation's budget deficit. States have long known stimulus funds sent their way early in the recession would taper off in the first half of 2011. But many hoped a rebound in tax receipts would close the gap. While state revenues have rebounded somewhat, legislatures still must grapple with deficits totaling $127 billion over the next two fiscal years, according to the National Association of State Budget Officers.
Investors Business Daily: Existing-Home Sales Unexpectedly Dip
Home resales unexpectedly fell in May despite low interest rates and a tax credit aimed at boosting demand, an industry group said Tuesday, heightening worries about the strength of the U.S. economy as the Federal Reserve began a two-day meeting. Sales of existing homes, condos and town homes fell 2.2% last month to an annual rate of 5.66 million, the National Association of Realtors said. Analysts had expected a gain, to a 6.1 million rate. Sales were up 19.2% from a year ago. Disappointing housing, employment and retail sales data over the past month have raised concerns that consumers and the private sector won't be strong enough to power the economic recovery as government stimulus wanes later this year. But while growth is seen slowing somewhat, few see a double-dip recession.
CNNMoney: Rivals target Nintendo's aging Wii
Microsoft and Sony have set their targets squarely on Nintendo - and the casual gamers that made the Wii the most successful video game console of its generation. At the Electronic Entertainment Expo in Los Angeles last week, Microsoft unveiled Kinect for the Xbox 360 and Sony previewed Move for PlayStation 3. These console accessories will add motion-capture capabilities to their respective systems. That's the feature that made Nintendo's Wii an instant hit.
In Case You Missed It
Nikki Haley thanks supporters after winning a runoff to become South Carolina's first female GOP gubernatorial nominee.
Louisiana Gov. Bobby Jindal speaks to CNN's Anderson Cooper on his frustrations with the response to the gulf oil spill.
Subscribe to the CNN=Politics DAILY podcast at http://www.cnn.com/politicalpodcast
And now stay posted on the latest from the campaign trail by downloading the CNN=Politics SCREENSAVER at http://www.CNN.com/situationroom