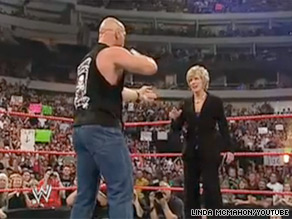 Linda McMahon is out with a new ad featuring clips from World Wrestling Entertainment.
(CNN) - Connecticut Senate candidate Linda McMahon is up with a new ad - the first in which she acknowledges her 30-year tenure as CEO of World Wrestling Entertainment.
"Before I decided to run for the Senate, I had a regular job," McMahon says before a string of hard-hitting wrestling footage is shown. "Okay, maybe not a regular job. I was the CEO of World Wrestling Entertainment, a soap opera that entertains millions every week."
A few more bodies are thrown around, followed by a clip of McMahon in the ring with a wrestler. The Republican candidate returns to break the news to voters: "That isn't real, but our problems are."
The one-minute ad began airing statewide on Thursday, according to a McMahon campaign spokesperson.
McMahon has come under fire from Democrats in her state for the WWE's lax drug-testing policy in the late 1990s and early 2000s. Stringent testing resumed in 2006 after a high-profile wrestler linked to anabolic steroids died.
"Linda McMahon calls the WWE's programming a 'soap opera' in her latest ad, but McMahon is kidding herself if she thinks she can portray the very real impact of pervasive steroid abuse, violence-fueled programming, and abusive treatment of women – all of which she marketed to children – as an illusion," Kate Hansen, communications director for the Connecticut Democratic Party, said in a statement.
Connecticut Attorney General Richard Blumenthal holds a 20-point lead over McMahon, according to a June 10 Quinnipiac University poll.