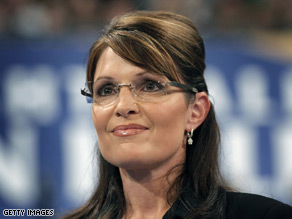 Supporters of Sarah Palin have 90 days to return nearly $400,000 in donations raised by her legal defense trust.
(CNN) – Supporters of Sarah Palin have 90 days to return nearly $400,000 in donations raised by her legal defense trust after an investigator ruled the fund ran afoul of state ethics laws.
The defense fund – established in April 2009 when Palin was governor of Alaska – was deemed unlawful because organizers used the word "official" to describe the fund on its website and appointed a public employee with ties to Palin to serve as its trustee.
"The Trust, and its website soliciting donations, if the funds were to be accepted by Governor Palin, would violate the Ethics Act by using the Governor's official position for personal gain," Tim Petumenos, the Anchorage attorney hired to investigate the matter, concluded Thursday in his report.
Specifically, Petumenos was concerned that calling the trust "official" and appointing an employee of the state to administer it gave the fund the appearance it was sponsored by the state of Alaska.
"The test…[is] whether, as a matter of policy and good government, public officials should serve in the capacity as a private trustee to solicit and administer private funds for the benefit of other public officials. The answer would appear to be no," Petumenos wrote.
But Petumenos' report made clear Palin acted in "good faith" and showed no intent to willingingly breach state ethics laws.
"Though the two reasons why the Trust violates the Ethics Act are important, they are not so obvious as to impute knowledge to Governor Palin, especially as her attorneys did not advise her of the ethics problems. Therefore, the evidence supports Governor Palin's contention that any violation of the Ethics Act was not a knowing violation," Petumenos wrote.
Meg Stapleton, a former spokesman for Palin who was instrumental in establishing the legal fund, defended the trust's actions but said the former Republican vice presidential nominee has determined it is not worth fighting the investigator's conclusions.
"Governor Palin has reached a point where she decided to agree to resolve this matter with the investigator rather than spend time and money fighting an ethics complaint about a fund that was created to reimburse her for the money she has spent fighting bogus ethics complaints drawn up by insiders and outsiders violating and abusing Alaska law," Stapleton said in a post on Palin's Facebook page.
Stapleton also announced a new legal fund has been established to benefit Palin as a private citizen.
The investigator's report comes a year after Palin resigned her post as governor of Alaska, saying that several ethics complaints initiated be Democratic activists served as too big a distraction.
"I'm not going to put Alaskans through that," she said in her resignation speech on July 3, 2009. "I promised efficiencies and effectiveness. That's not how I'm wired. I'm not wired to operate under the same old politics as usual."