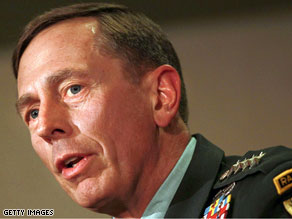 Gen. David Petraeus is on Capitol Hill Tuesday facing confirmation hearings.
Washington (CNN) - The planned withdrawal of troops from Afghanistan in 2011, along with with concerns over the progress of the counterinsurgency plan in a country described as a place "where empires go to die," will be front and center at Gen. David Petraeus' confirmation hearings Tuesday.
Petraeus was tapped by President Obama to replace Gen. Stanley McChrystal, who was relieved of his duties last week after the general and his staff were quoted in a Rolling Stone magazine article criticizing and mocking key administration officials.
But it's not just those comments that are making news - it's also conditions on the ground in Afghanistan.

Full story