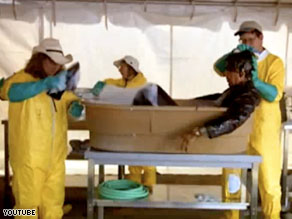 An actor meant to represent Sen. Richard Burr is scrubbed clean in a new ad paid for by a coalition of liberal groups.
(CNN) – A coalition of liberal advocacy groups is launching an ad campaign Wednesday that praises two senators for supporting clean energy policies while slamming three others the groups say fall short.
The initial $2 million ad buy is funded by VoteVets.org, the League of Conservation Voters, the Sierra Club and union group SEIU.
Democratic Sens. Claire McCaskill of Missouri and Harry Reid of Nevada are the two beneficiaries of the campaign running statewide for the next two weeks on broadcast and cable.
Getting the negative treatment are Republican Sens. Richard Burr of North Carolina and Republican Mike Johanns as well as Democratic Sen. Ben Nelson of Nebraska.
The ad that targets Sen. Richard Burr portrays the senator as an oil-covered animal that washes up on the beach. The narrator then says, "Senator Burr's record is a little … oily" as the actor is scrubbed clean in a large tub.
The positive spot, set to run in McCaskill's home state of Missouri, features a veteran of the Iraq War who thanks the senator for supporting the creation of clean energy jobs in the state.
"Clean energy offers the hope of new middle class jobs on which you can raise a family and send your kids to college," said SEIU president Mary Kay Henry. "If Senators care about working families, this is a no-brainer."
SEIU said in a statement the ads are part of a larger "$11 million ad campaign to help ensure that the U.S. Senate acts on comprehensive energy and climate legislation this summer."
In a statement to CNN, Sen. Nelson pushed back against the ads, saying "It seems special interest attack ads are the only thing bipartisan about Washington."
-CNN's Peter Hamby contributed to this report