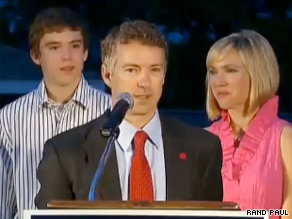 A spokesman said Kentucky Republican Senate candidate Rand Paul had a strong second quarter fundraising for his campaign.
Washington (CNN) - Republican candidate Rand Paul's latest fundraising haul is the "best one yet," his campaign spokesman told CNN Thursday.
David Adams said that Paul raked in $1.15 million in the past three months - the most he's raised in a quarter since beginning his bid for a Kentucky Senate seat. Adams could not say how much cash on hand the campaign has.
The campaign for Paul's Democratic opponent, Attorney General Jack Conway, has not yet revealed its numbers. Conway Press Secretary Allison Haley told CNN, "We don't release our numbers prior to filing."
The Federal Election Commission deadline for candidates to file second-quarter fundraising totals is July 15.

In the frenzied money race between the Republican and Democrat, Paul's campaign is making a bold prediction.
"The one number that you've gotten from us is more than you'll get from Rand's opponent," Adams told CNN.
"[Conway's] a guy who can write himself a check to makeup for the lack of confidence he's finding in the electorate," Adams said.
Conway's campaign press secretary Haley responded in a statement to CNN.
"In recent weeks, the discussion has been about Rand breaking a pledge not to accept money from bailout Senators, Rand's staunch support of BP and his out-of-the-mainstream ideas that Kentuckians can't afford – like abolishing scholarships for our children and subsidies for our farmers. This is just Rand Paul's desperate attempt to change the conversation," Haley said.