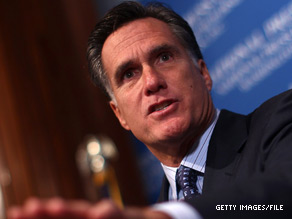 Romney is the only possible 2012 Republican presidential hopeful so far to donate money to the New Hampshire state party.
(CNN) - In what looks like another move towards a possible run for the White House, Mitt Romney is donating $20,000 to the Republican Party of New Hampshire.
According to the state party and a Romney spokesman, $15,000 of the contribution comes from Romney's New Hampshire political action committee, with the remaining $5,000 from his federal PAC. The former Massachusetts governor and 2008 GOP presidential candidate also donated $10,000 to the state party last year, bringing to $30,000 the amount of money he's donated to the Republican Party of New Hampshire this cycle.
"Governor Mitt Romney has demonstrated that he is committed to helping fiscally conservative Republicans take back New Hampshire in 2010. He has been a strong supporter of the New Hampshire Republican Party and he played an important role in many of our local and special election victories this cycle," said N.H. GOP Chairman John H Sununu, in a statement Thursday. "I am extremely grateful for Governor Romney's generous contributions, and look forward to welcoming him back to the Granite State in the future."
A state party spokesman says Romney will be back in New Hampshire on August 5, for a fundraiser to benefit the House Republican Victory PAC, which supports GOP candidates.
Romney is the only possible 2012 Republican presidential hopeful so far to donate money to the state party. New Hampshire holds the first primary in the nation, playing an influential role in the race for the White House. Romney came in second in the 2008 Republican primary, losing to eventual GOP presidential nominee Sen. John McCain of Arizona.

Romney, through his Free and Strong America PAC, has endorsed over 100 Republican candidates so far this 2010 midterm election cycle. The endorsements appear to be part of a strategy for Romney to build support among Republicans across the country, in advance of what many consider will be another bid for the White House.
Romney's endorsements of Nikki Haley in the South Carolina GOP gubernatorial primary, and of former Gov. Terry Branstad in the Iowa Republican gubernatorial primary, could help him in 2012, as those two states, along with New Hampshire, also hold crucial early contests in the presidential primary calendar.
Follow Paul Steinhauser on Twitter: @psteinhausercnn