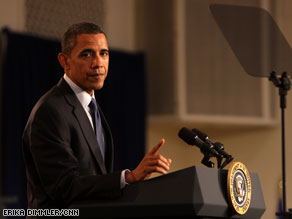 President Obama is pushing to get immigration reform passed this year.
Washington (CNN) - Immigration reform has been something of an albatross around the necks of politicians for years. The lack of a comprehensive federal policy has not only angered those in Congress, but the public as well.
And with President Obama's push Thursday to get immigration reform passed this year, analysts said the stakes are high even if it's not a top issue facing the country.
"We've been trying to do immigration reform steadily for the last five years and on and off for quite a bit longer than that," said Marc Rosenblum, a senior policy analyst at Migration Policy Institute, a nonpartisan think tank. "I think that voters are impatient - especially folks who have a real stake in this issue: immigrants and their families and business that employ them."
Rosenblum knows the daunting challenge immigration reform faces in Congress. As a fellow in the office of the late Sen. Ted Kennedy, he helped craft legislation during the 2006 immigration debate. The legislation ultimately failed to gain traction.
He said Arizona's controversial new immigration law, which many critics liken to racial profiling, has pushed reform to the forefront of Democrats' minds.
"The Arizona law definitely forced the issue and has raised its profile at the national level," Rosenblum said. "There's no question that Latino voters care about this issue and have tried to make that connection and that there are people in the Democratic leadership who are watching and concerned about it."
Obama took aim at the law, saying in a May news conference that the law was the wrong approach to tackling the issue - though he understood the impetus for it.
"I understand the frustrations of the people of Arizona and a lot of folks along the border that that border has not been entirely secured in a way that is both true to our traditions as a nation of law and as a nation of immigrants," he said.
Nathan Gonzales, political editor of the Rothenberg Political Report, said those concerns brought the immigration debate back after much of the attention has been focused on economic recovery and health care reform.
The law, he said, "probably prompted action from the White House."
And it's with good reason, according to a national poll.
In late May, a CNN/Opinion Research Corp. poll found that six in 10 respondents found that the federal government should focus on stopping the flow of illegal immigrants into the U.S., deporting those already here and supporting more border security.
The same poll also found that 57 percent of those surveyed favored Arizona's new law, while 37 percent opposed it.
Immigration is not necessarily a make-it-or-break-it issue for the influential voting bloc. A Pew study released in 2008 indicated that Latinos placed immigration second to last on a list of seven policy priorities. The economy, education and health care were ranked as more important.
Democrats, though, recognize that Latinos are important to winning office. In 2008, Latino voters overwhelmingly supported Obama at the polls.
As a presidential candidate, Obama promised to move on immigration reform, saying the election was a chance to quit playing politics and address immigration.
Republicans have largely been silent on the immigration reform push - though Sen. Lindsey Graham, R-South Carolina, helped craft legislation in the Senate alongside Sen. Chuck Schumer, a Democrat from New York. Sen. John McCain, R-Arizona, has also been a leading advocate over the years for reform.
Rosenblum, who worked on Obama's immigration transition team in 2009, noted many Republicans may be silent because they calculate that Democrats will get credit for any reform bill that is passed.
"On one hand, there's Republicans who perceive that they're harmed by this ... on the other hand, there's not a lot of Republicans who see they can benefit from it," he said. "I think in the long run, a lot of Republican leaders recognize that Latinos are the fastest-growing constituency in the country and they can't succeed without support from Latinos - and they can't be a monolithic anti-immigrant party."
And that may be why congressional Democrats are pushing the issue as the November midterm elections approach.
"I think the clock is ticking on large Democratic majorities," Gonzales said. "If the White House wants to get something significant done in the president's first term, they have to push for it now because I think that the best-case scenario for the Democrats after November will be narrow Democratic majorities. Other scenarios have them maybe losing the House."