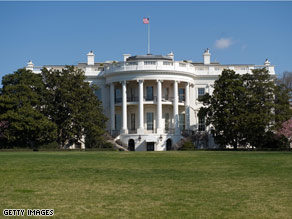 The top wage-earner at the White House, besides the president, makes just shy of $180,000.
(CNN) – Working at the White House includes long days, 7-day work weeks, and a demanding boss who just happens to have his finger on the button.
So what's the going rate to put up with these working conditions?
According to the salary list released by the administration Thursday, 23 White House staffers make $172,000, while two "detailees" – Michael Harsh and Timothy Love – top the list at nearly $180,000. "Detailees" are employees from other government offices who have been assigned to work at the White House for a period of time.
The White House is required to submit an annual salary list to both the U.S. Senate and House.
Most of President Obama's senior aides – including Chief of Staff Rahm Emanuel, Press Secretary Robert Gibbs, and adviser David Axelrod make $172,000 a year – the same salary they made last year due to a salary freeze the president implemented shortly after taking office.
However, rank-and-file White House staffers make considerably less, with the average salary is $82,700 a year, while the median employee salary is $66,000. The lowest full time salary is just under $38,000 a year.
Obama himself earns $400,000, double the $200,000 President Clinton earned annually during his eight years in office. The president's pay hike went into effect during the presidency of George W. Bush.
In all, the White House employs 469 staff members for a total payroll of nearly $40 million.

- CNN's Alexander Mooney contributed to this report