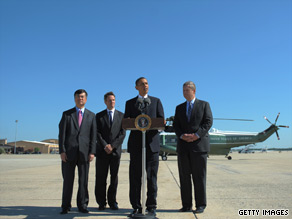 President Obama speaks about the monthly employment numbers flanked by Treasury Secretary Tim Geithner, Commerce Gary Locke, and Agriculture Tom Vilsack at Andrews Air Force Base.

Washington (CNN) - President Barack Obama reacted Friday morning to the June jobs report:
"This morning we received the June employment report. It reflected the planned phase-out of 225-thousand temporary census jobs. But it also showed the sixth straight month of job growth in the private sector. All told, our economy has created nearly 600-thousand private sector jobs this year," he said.
"That's a stark turn around from the first 6 months of last year, when we lost 3.7 million jobs at the height of the recession. Make no mistake, we are headed in the right direction, but as I was reminded on a trip to Racine, Wisconsin earlier this week, we're not headed there fast enough for a lot of Americans. We're not headed there fast enough for me either. The recession dug us a hole of about 8 million jobs deep and we continue to fight headwinds from volatile global markets. So we still have a great deal of work to do to repair the economy and get the American people back to work," Obama added.